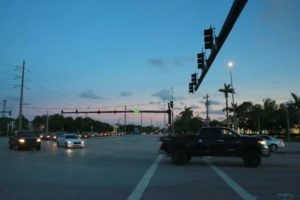 In Port Charlotte, one of the most common causes of car accidents is aggressive or negligent driving, and an example of this is improper turns. In fact, according to the Florida Department of Highway Safety and Motor Vehicles, there were over 7,744 car accidents in Florida that were caused by improper turns in 2017, which caused a range of injuries and sometimes even fatalities.
Improper turns occur in many different ways. They can refer to any kind of turn that violates the rules of the road and puts other road users and pedestrians in danger. Unfortunately, it's not uncommon for illegal, improper, or risky turns to result in dangerous and life-threatening collisions.
Regardless of the specific details surrounding your case, if you have been involved in a car accident that was caused by a vehicle improperly turning, then you have the right to hold them responsible for their negligence and the damages that they inflicted on you. You could be entitled to thousands of dollars in financial compensation, so to get the justice that you deserve, contact a Port Charlotte personal injury attorney today.
Our team of car accident lawyers at The Law Place has over 75 years of combined experience in helping clients and dealing with the Florida legal system. You can trust that our attorneys will do all they can to secure the compensation you deserve, so don't hesitate to contact us today to schedule a free consultation.
Call us now at (941) 444-4444! Phone lines are open 24/7.
Laws Surrounding Proper Turns in Florida
The majority of improper turn accidents occur when negligent drivers turn left, as they must wait until there are no vehicles coming the other way before turning. In fact, issues with improper left-turns are so serious that Florida Statute 316.122 states exactly how drivers should be turning.
According to the State of Florida, drivers who are turning left must yield the right-of-way to the following:
Vehicles that are passing them to the left.
Vehicles that are approaching from the opposite direction.
Pedestrians who are lawfully crossing the street by using a crosswalk or intersection.
This applies to drivers who are trying to turn left in the following areas:
Driveways.
Private roads.
Alleys.
Intersections.
Any driver that violates the above rules of the road could be charged with a moving violation and face fines.
Common Reasons Why a Driver May Make Improper Turn in Port Charlotte, FL.
There are many reasons as to how people may make an unsafe turn. The majority of the time, these improper turns are caused by reckless or negligent driving, but listed below are other common causes of car accidents:
Driving under the influence.
Distracted driving.
Low visibility.
Speeding, speeding up suddenly, or suddenly slowing down.
Fatigue.
Driver misjudgment.
Poor weather conditions.
Regardless of why the at-fault driver involved in your car accident made an improper turn, you could deserve compensation to cover the injuries and damages that you sustained. Here at The Law Place, we have a skilled personal injury attorney prepared to fight on your behalf to win you justice. Our Port Charlotte car accident lawyers have the knowledge and resources necessary to give you the best chance of receiving the compensation you deserve, so don't risk facing a big insurance company by yourself! Call The Law Place today to receive excellent legal advice in a free consultation with one of our experienced personal injury lawyers. We will be able to answer any questions you may have and can determine if your claim is valid and what the best legal options are for you.
Examples of Ways That Drivers Make Improper Turns in Port Charlotte, FL.
Victims of car accidents that were caused by improper turns can often be left suffering from serious injuries and trauma. Unfortunately, it's not uncommon for these types of accidents to also result in fatalities. Because of this, it's important to understand some of the most common ways that drivers make dangerous lane changes:
The driver does not signal before they attempt to turn.
The driver makes an illegal U-turn.
The driver fails to stop at a stop sign and give way.
The driver turns into traffic traveling the opposite way.
The driver turns from the incorrect lane.
The driver turns on a "no turn on red" sign.
The driver turns without the right of way.
If you were involved in a car accident because of a driver improperly turning in one of the above ways, or any others, then you should contact The Law Place today as you could be entitled to compensation.
Common Types of Injuries Sustained in Car Accidents
Just like in all other types of car accidents, improper turn car accidents can lead to injuries, the severity of which depends on the seriousness of the auto accident. However, some of the most common types of injuries that occur in auto accidents include the following:
Spinal cord injuries, such as paralysis.
Back injuries.
Neck injuries, such as whiplash.
Traumatic brain and head injuries.
Internal organ injuries.
Internal bleeding.
Disfigurement and dismemberment.
Broken bones and fractures.
Sprains, lacerations, cuts, burns, and bruises.
Wrongful death of a loved one.
Car accident victims are often also left suffering from emotional distress and mental trauma.
If you have experienced any type of impact or injury from a car accident in Port Charlotte or elsewhere in Florida, then you should get in touch with The Law Place for a free consultation as soon as possible! Regardless of how minor or major you believe your injuries are, you may still be entitled to compensation and so should contact a law firm for legal help and advice now. Our car accident attorneys have an impressive amount of experience and will be able to determine how much compensation you deserve and fight for your rights. So don't hesitate to call us and schedule a free case evaluation with an established Florida personal injury lawyer.
Damages Commonly Awarded After a Car Accident in Port Charlotte, FL.
If you have been involved in a car accident that was not your fault, then you may deserve compensation. Motor vehicle accidents can leave victims suffering from not only life-changing injuries and trauma but also heavy financial burdens, often from medical expenses. This is why it is so important to our legal team that you receive justice for everything you've endured and compensation to help you out.
Once you begin working with The Law Place, we will determine who is liable for the accident and estimate the number of losses you experienced and how much compensation you could therefore be entitled to. Below are some of the damages that The Law Place commonly recovers in cases like yours:
Medical bills – If the injuries you sustained were serious enough to require medical attention, then the medical expenses you now have should be covered by compensation. This includes past, present, and expected medical bills as well as any other related expenses, such as physiotherapy, surgeries, travel to and from appointments, prescriptions, and more.
Property damage – It is likely that your vehicle was somewhat damaged in the motor vehicle accident. Therefore, you should receive compensation to cover however much the repairs cost.
Loss of wages – It is possible that you could not attend work because of the injuries you sustained in the car accident. If you lost wages because of this, then you could deserve financial compensation to reimburse the wages you lost, as well as compensation to cover a loss of future earning potential if applicable.
Pain and suffering – The aftermath of a car accident can often leave victims suffering from a lot of emotional distress and mental trauma. They may also be unable to enjoy the activities and hobbies that they used to before the accident. If this is the case for you, then you could be owed compensation. However, this can be difficult to prove in court, and so it is crucial that you have an experienced and skilled personal injury attorney on your side to help fight for the justice that you deserve.
Wrongful death – If you, unfortunately, lost a loved one in an auto accident caused by an improper turn, then you should receive compensation to cover funeral costs, the loss of their wages, and loss of consortium. Our lawyers can also help you file a wrongful death lawsuit if this is what you wish to do.
While we know that no amount of money will be able to heal your injuries or the trauma that you are likely still experiencing, it will be able to help you manage the financial burdens you have been left with and will be able to act as proof that some form of justice has been served. So if you have been a victim of a car accident in Port Charlotte and are now suffering because of it, you should contact The Law Place.
Florida's Comparative Fault Law
Under Florida Statute 768.81, the State of Florida has a comparative fault law. This essentially means that any and all parties involved in a car accident can be assigned a percentage of fault based on the fact pattern. However, even if a court does deem you to be partially at fault, as long as the percentage is less than 50%, you can still file a personal injury claim, although your settlement will be reduced based on this percentage.
An example of this is that if a driver improperly turned and was therefore mainly at fault for a car accident, the victim could still be deemed partially at fault if they caused or exaggerated the crash, such as by speeding when the accident occurred. If the victim is therefore deemed to be 20% responsible for an accident, their final settlement will then be reduced by 20%.
Some people may find this difficult to understand when filing a lawsuit, and so this one of the many reasons why we advise you to work with a skilled personal injury lawyer. An attorney will be able to offer you legal advice and guidance that you can trust and will answer any questions that you may have. By hiring a lawyer, you will be ensuring that you have the best chance at winning your case.
How a Port Charlotte Car Accident Lawyer Could Help You
When you first think about hiring an attorney, you should look for law firms that have already worked in plenty of cases similar to yours, as they will be sufficiently experienced and knowledgeable and able to build a strong case in the pursuit of compensation.
Some specific ways that a Port Charlotte lawyer from The Law Place could help you are listed below:
Offer legal advice and answer any and all questions you might have, whether they're specific to your case or about the legal system in general.
Thoroughly investigate your case and gather evidence, such as witness statements and police reports, which will strengthen your case.
Determine the value of your case and how much compensation you should be entitled to by examining doctor's statements, medical bills, receipts, employment records, and more.
Communicate on your behalf with the defense and insurance companies.
Negotiate a fair settlement to ensure that no one is taking advantage of you.
Fight on your behalf in court if an agreeable settlement cannot be reached.
If you have been injured in an accident that wasn't your fault, then you have the right to hold the negligent driver responsible for the impact on you and your life. Our team of reputable accident attorneys wants to help you seek compensation, so call The Law Place today for a free consultation.
How Much Will My Accident Lawyer Cost?
It's quite common for people to be reluctant before hiring a personal injury lawyer because they're worried about how much it could cost them. Often, victims of car accidents assume that adequate legal representation isn't affordable and are concerned that they'll end up facing extra costs on top of the financial burdens they're already struggling under.
Fortunately, the attorneys at The Law Place work on a contingency basis, also known as no-win-no-fee, meaning that you don't need to be hesitant! This means that, unless we win your case, you won't be charged for our services. Even if we are successful, you won't have to pay us anything from your own pocket – instead, the legal fees will be subtracted from your settlement. And because The State Bar Association monitors our law firm, you can rest assured that we won't be charging you any unexpected costs.
How Should I Deal With My Insurance Company?
It is the law in Florida that all accident victims notify their insurance companies within 24 hours of the incident happening, except in extreme circumstances. However, we strongly recommend that you speak to a personal injury lawyer before you contact your insurance company if possible.
This is because insurance companies have claim adjusters and their own personal injury lawyers, who work solely to discredit your claim and ensure they only have to pay out as little as possible. Therefore, by speaking to an attorney first, you will know exactly how to speak to them and what to say. If you aren't able to contact a law firm beforehand, you should just try to keep your statements as short as possible and stick to the truth, but don't offer any more details than what's necessary. You should also avoid speaking about your injuries; otherwise, this could damage your lawsuit.
Contact The Law Place Today!
If you or a loved one have been involved in a car accident caused by a negligent driver making an improper turn in Port Charlotte or elsewhere in Florida, then it's crucial that you have a personal injury lawyer on your side to ensure that you get the maximum amount of financial compensation possible for your case. We know that you deserve justice for all you've had to endure, and we are ready to fight for it on your behalf.
The attorneys at our law firm have decades of experience in dealing with the Florida legal system, and so you can be assured that we are more than prepared to help you with your case. So don't risk your settlement by fighting a big insurance company alone; let us work alongside you to ensure that you have the best chance at receiving the compensation that you deserve.
Our phone lines are open 24 hours a day, 7 days a week, so call The Law Place now at (941) 444-4444 and schedule a free consultation today!