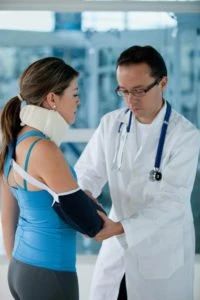 It is common to forget about the passengers involved when a car accident happens. However, it is often the case that passengers suffer from serious injuries even though they had no part to play in the collision happening. Passengers are entitled to be compensated for any personal injury they have suffered in a Port Charlotte car accident. This can include any damage to property, any loss of earnings as a result of their injuries, or any pain and suffering resulting from the accident.
If you were injured as a passenger in a Port Charlotte vehicle accident, you should seek legal assistance from an accident lawyer. Here at The Law Place, we have over 75 years of combined experience in many practice areas, including with car accidents. Our team of car accident lawyers can help you make a strong claim for any damage you have sustained as a passenger in a motor vehicle accident. Our law firm offers a free consultation where you can speak to an accident attorney with no strings attached.
Don't hesitate to call us. The sooner you do, the better chance we have at winning your case in Port Charlotte.
Contact us today at (941) 444-4444 for your free consultation with an accident lawyer in Port Charlotte, Florida. Our lines are open 24 hours, 7 days a week.
Types of Injuries Sustained by Passengers in Car Accidents in Port Charlotte, Florida
Vehicle accidents can lead to passengers suffering from serious injuries. Depending on how serious the crash was, the damage you sustain may vary. Some of the most common injuries we from passengers of auto accidents include:
Fractured and broken bones.
Cuts, lacerations, bruises, or burns.
Damage to the head and neck, including

whiplash

.
Traumatic brain injuries.
Paralysis.
Internal bleeding.
Internal damage, including damage to organs.
Regardless of how serious an injury was from a car accident in Port Charlotte, you may still be able to claim compensation against the party responsible. In order to figure out whether you are entitled to compensation, we recommend speaking with an experienced car accident lawyer. Our law firm has a group of experienced Port Charlotte car accident lawyers who can guide you through the legal process and advise you on your rights to compensation.
Which Driver Do I File a Claim Against in Port Charlotte, FL?
If you are the passenger in an auto accident, it can be difficult to determine who you should sue in order to claim any compensation. All car accidents are unique, and establishing liability will completely depend on the particular facts of your case. Car accident lawyers will be able to assist you in determining who you should file a claim against for the personal injury you've sustained in a car crash.
It is important to remember when making a claim against another driver that you will have to deal with their insurance company also. It is often the case that insurance companies will use the information you have given them against you in order to devalue your claim. This is because they typically prioritize making a profit overpaying out any money to victims. We recommend that you speak to a car accident lawyer prior to contacting an insurance company so that they can guide you on what information you should divulge. If you are unable to speak with a lawyer prior to contacting them, make sure that you minimize the amount of information you give them. Only talk about the facts of the accident and try not to give much information about your physical injuries.
It is possible for you to file a claim against the following parties:
The driver of the car you were a passenger of –

Florida Statute 627.7407

provides that Florida is a no-fault state. This means that irrespective of whether they were at fault, you can make a claim under their insurance policy. If the driver was not the owner of the car at the time of the accident, it is possible to file a claim against the insurance policy of the car owner.
The other driver – It may be possible to sue the other driver provided that they can be found liable and that the crash was serious.
Your own insurance – If you owned the car at the time of the accident, you could try to make a claim under your own policy.
The Duty of Care in Port Charlotte, FL.
If you are a driver in Port Charlotte or anywhere in the State of Florida, you automatically owe every other road user a duty of care to keep the roads safe. This means that you mustn't act negligently when driving, which could include driving recklessly or generally creating an unsafe environment on the road. This duty of care is judged on standards of reasonableness, meaning you must take all rational steps to prevent vehicle accidents from happening.
In order to establish liability on the other party, you must demonstrate the following:
A duty of care, which is automatic in Florida.
A breach of that duty, which can include driving recklessly or negligently.
Your injuries were a direct result of the driver's breach of their duty.
You suffered damages as a result of this breach of duty.
An experienced Port Charlotte personal injury attorney can help you prove that the other party was liable. They will conduct all the investigating on your behalf in order to build a strong case. Schedule a free consultation with our law firm today to discuss whether it is possible for you to claim compensation.
Damages in a Port Charlotte Vehicle Accident
If it can be proven that another party was liable for your vehicle accident in Port Charlotte, experienced accident attorneys will be able to claim damages on your behalf. Depending on how severe your injuries were, there may be a number of different types of damages available to you. These could include:
Medical bills – If you were injured as a result of a motor vehicle accident, you can claim for any medical costs, including hospital appointment costs, future medical bills, and any transport to and from these appointments.
Lost wages – If you have been left unable to work as a result of your Port Charlotte auto accident, you can claim for any lost earnings, including any potential future earnings.
Pain and suffering – It is possible to claim for any emotional or physical distress you have suffered as a result of the accident.
Wrongful death – Here at The Law Place, we know that no amount of compensation can make losing a loved one easier. However, our personal injury lawyers can help you claim expenses for any funeral costs or a loss of income to the family household.
Florida's No-Fault Insurance Laws
Florida Statute 627.736 indicates that all drivers are required to have motor vehicle insurance which includes personal injury protection (PIP) of a minimum of $10,000 in addition to property damage coverage of up to $10,000. When an accident happens, PIP will cover 80% of medical expenses in addition to 60% of lost income, only up to the policy's maximum. If you are a passenger, the policy of the driver of the vehicle will cover your expenses, regardless of whether they were at fault.
It is often the case that the damages you sustained go beyond what is covered under the insurance policy. When this happens, the only option for you to be duly compensated may be to file a personal injury claim. Port Charlotte car accident lawyers can help you with making this claim to ensure you receive the compensation you are owed from the auto accident.
What Will Florida Personal Injury Lawyers Do for Me?
Research has shown that having representation from an experienced injury lawyer increases your chances of a payout by 90% following motor vehicle accidents. In addition, those who have legal assistance are known to receive payouts that are 60% higher than those without a lawyer.
At The Law Place, we offer a free consultation where you can receive legal advice from an experienced attorney. There are no strings attached to this consultation, meaning that if you don't think we are the right law firm for you, then you are under no obligation to continue. If you decide to choose us as your legal representatives, however, we will assign an experienced attorney to your case who will fight tirelessly to ensure that you receive legal justice.
They will conduct all of the investigating and communicating on your behalf and use this evidence to build a strong accident claim for you. We have built a strong client-attorney relationship and are known for achieving the best results for our clients. This means that you can relax knowing that your case is in good hands.
Contact The Law Place Today
Here at The Law Place, we know that motor vehicle accidents are stressful and traumatic, particularly when you are a passenger and are unsure of what rights you have. Our law firm is here to relieve any additional stress you may have from trying to navigate the legal system and deal with Florida law. Whether you have suffered an injury, have had your property damaged, or whether a wrongful death has occurred to someone you love who was a passenger in a car, we will fight for any compensation you are owed.
Our law firm has over 75 years of experience in numerous practice areas, including cases involving vehicle accidents. Our team of lawyers is skilled in managing personal injury claims, and we always offer the highest standard of legal practice. We offer a free consultation where you can speak with one of our attorneys about your case and decide whether you want to proceed with us as your legal representatives. We will advise you on whether you have a valid injury or insurance claim and fight for you every step of the way.
If you have been a passenger in a vehicle accident in Port Charlotte, contact us today at The Law Place at (941) 444-4444 for your free consultation. Our lines are always open to fit in with your busy schedule.