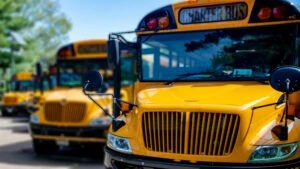 School buses must meet high standards of safety due to the vulnerable young passengers they carry. As a result, a school bus is one of the safest vehicles on the road. Although rare, school bus accidents do still happen. According to the National Highway Traffic Safety Administration (NHTSA), four to six school-age children die each year on school transportation vehicles.
If a school bus accident does occur, the bus driver is required to follow specific safety protocols to prevent children from further danger. School bus drivers should undergo regular training to stay up-to-date with the latest safety regulations to maximize the safety of children on and around their buses.
If a school bus driver fails to follow the necessary safety protocols, this can lead to situations that put children in danger, sometimes with fatal results.
If your child was harmed in a school bus accident, or if you were driving the school bus at the time of the crash, you should seek legal representation and advice regarding personal injury laws. For free general information regarding school bus accident protocols or to discuss your case involving a school bus accident with an experienced attorney, call The Law Place today. We offer a free case evaluation to new clients so that you can receive no-obligation free legal advice to help you decide on your next steps.
Our phone lines are open 24 hours a day, 7 days a week. Call us today at (941) 444-4444. 
School Bus Safety Features
School buses are the most regulated vehicles on the road, where they are designed to be safer than passenger vehicles in terms of preventing collisions and injuries. This is why school children are around 70 times more likely to get to school safely in a bus than in a regular car. This includes design features that make them highly visible, such as flashing red lights, stop-sign arms, and paint color. Regulated safety features on school buses include seat belts, high crush standards, protective 'compartmentalization' seating, and energy-absorbing seat backs.
In order to protect students while getting on and off a school bus, there is a law in place that makes it illegal for a driver to pass a school bus that is dropping off or picking up passengers, regardless of the direction in which they approach the bus.
In order to ensure that other drivers do not illegally overtake them, school buses are fitted with an extendible stop-arm device and a flashing signal light system to alert other drivers of their pending action. Flashing yellow lights indicate that the bus is preparing to stop and unload or load children, and red flashing lights and an extended stop-arm indicate that the bus is currently loading or unloading children. If another driver sees the yellow flashing lights, they should slow down and prepare to stop their vehicle. If they see the red flashing lights, then drivers must stop their car and wait until the red lights stop flashing and the stop-arm is withdrawn.
What Are the Protocols Following a School Bus Crash?
Despite the design and safety features on school buses that make this unlikely, accidents do happen. Bus drivers are required to follow certain protocols in the event of a bus accident, regardless of whether it was a minor fender bender or a serious collision.
Secure the Vehicle
The first thing that a bus driver should do in case of a bus accident is to ensure that the vehicle is out of danger. This means securing the bus and parking it out of the way of traffic or any hazards at the scene. A driver should also remember to put on warning signs to alert other drivers of the accident. Once the bus is secure, the driver should stay where they are until professional assistance arrives.
If the accident has made the bus unsafe, then the bus driver should evacuate all passengers from the bus to a safe location away from the road.
Check All Students and Ensure Safety
Once the bus is secured in a safe place, the next step is to check on the passengers. The driver should check every student on the bus to see the extent of any resultant injuries. This will make the driver aware of any severe injuries that need immediate medical attention. In this case, the driver should call emergency medical services and the police immediately.
For minor injuries, the driver should make use of the first-aid kit that should be stored aboard. If the accident was only a fender bender and there are no injuries, the school driver is permitted to continue on their route but must still report the accident to the school
Immediately Report the Accident
The final vital step following a school bus accident is to report the accident as soon as it has been determined that the school children on board are not severely injured. The school bus driver should contact the radio dispatcher of the school's transport department and make them aware of the school bus' location. The driver should also detail the bus number, the route number, the severity of the accident, and any injuries. The school superintendent and the principal should also be notified of the accident.
Once all of these protocols have been followed, the school has certain responsibilities. They must notify the parents of all children involved in the accident and decide whether they need to take action against the bus driver.
If you were driving the school bus, it is important that you document as much information about the crash as possible to ensure transparency and to use it in legal defense, if required. For this reason, we advise bus drivers to speak to any witnesses of the crash at the scene and to take their names and contact details. This could be useful for making an insurance claim later on. We recommend that you do not give any specific information to bystanders at the scene, insurance companies, or the media until you have consulted with an attorney. This is to prevent disclosed information from being used against you to devalue your insurance claim or as evidence of fault. Contact The Law Place today to discuss your legal options in a free case evaluation with one of our attorneys.
Who Is Liable After a School Bus Accident?
Accidents can happen at any time on the road, despite the efforts most drivers make to follow state traffic laws. Every driver in Florida has a duty of care to other drivers, passengers, and pedestrians. In other words, all drivers should do everything in their power to drive in a way that ensures the safety of others while operating a vehicle on the road. If a school bus driver fails to do this, then they could be found liable if their actions result in injuries, as per Florida Statute 768.81. If the injury was caused, for example, by a driver violating overtaking bus laws, then they could be held responsible if a child is hurt.
Following a school bus accident, it is up to the school to decide on the next steps. If any children were injured or if there were fatalities, the school should send a member of staff to the scene to talk to the medics and assess the scene. The school will most likely investigate the accident thoroughly and collect evidence such as photos taken at the scene and witness statements to determine whether actions should be taken against the bus driver, such as reassessing their employment or pressing charges.
If you are unsure of who was to blame following a school bus accident, you should contact an attorney.
How Do I Claim After a Bus Accident?
If your child has been injured as a result of a school bus accident, then you may be wondering who could be found legally responsible for the damages. Medical costs and emotional distress can take a serious toll on families, and if the accident could have been prevented, then someone should be held responsible for these costs. We recommend that you contact a personal injury lawyer to discuss the details of your case and determine whether you could be entitled to compensation for your damages.
A personal injury lawyer will be able to calculate your damages to determine how much you could be entitled to in compensation from your own insurance or another party's insurance.
This could include:
Medical bills –

Medical costs such as surgery, doctor's appointments, medication, and rehabilitation can leave families in serious economic instability.

Pain and suffering –

This include, for example, depression, PTSD, and insomnia.

Lost wages

– For the time taken off work, for example, to look after your child.

Wrongful death

– If you have suffered a tragic loss following a school bus accident, then you may be entitled to claim funeral and burial costs, as per

Florida Statute 768.21

.
Whether you have been involved in a school bus accident as a bus driver, or are considering filing a personal injury lawsuit following a school bus crash, then you should seek legal advice.
Contact The Law Place
Here at The Law Place, we understand how stressful life can be following a serious accident. Call us today to arrange a free case evaluation, where you will receive no-obligation legal advice specific to your case that will help you decide whether you wish to open a personal injury claim. We are here to help.
Our phone lines are open 24 hours a day, 7 days a week. Call us today at (941) 444-4444.