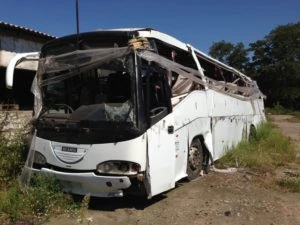 Public transport frequently runs through Venice, so it is easy to understand how, just like cars and motorcycles, they can also get into a collision. Buses are known as the most regular use of transportation for pedestrians. It is uncommon for buses to get into a collision, but when they do, it can be catastrophic for anybody involved and can leave dozens injured.
Buses are used daily throughout Florida by pedestrians, children, tourists, or anybody commuting to and from work. Taking the bus can offer so many conveniences to people. If you cannot drive or without a car, taking a bus is considered an accessible and cheap way to travel.
If you or a loved one were involved in a bus accident around the Venice area, you could be entitled to compensation or financial support for your inconveniences and emotional distress. You could be wondering where to go from here and what the next best steps are for you to take, but our personal injury lawyers are here to offer you the sufficient guidance and support you need.
Contact us anytime to schedule a free case evaluation at (941) 444-4444. Our law group is ready to work on your claim for you.
Typical Causes of Bus Accidents
There are a few common reasons surrounding bus accidents in Florida and many factors that add to this. But, no matter the cause, because of the large size of a bus and being able to carry big groups of people, any collision involving buses may be disastrous for anybody involved.
Poor weather – Heavy rain or fog can contribute to poor visibility.
Distracted driving – Checking your cell phone or looking at your appearance in the mirror.
Driving under the influence – Driving while high on drugs or intoxicated by alcohol is against the law and reduces your reaction times.
Vehicle malfunction – Broken tail lights or indicators.
Breaking road rules/regulations – Not following the highway code or rules of the road
Road rage – Aggressive or dangerous driving.
Poor visibility – Broken street lights or poorly lit streets can also increase the chance of a bus accident.
Possible Injuries Suffered
If you were involved in a bus accident, then the chances are you have sustained injuries, or if you know someone who has been killed in a bus accident, this is considered a wrongful death case. Some of the more usual injuries sustained from a bus or car accident are:
Whiplash.
Spinal cord injury.
Cuts and bruises.
Broken/ fractured bones.
Burns.
Amputation.
Death.
If you have to experience a loved one's death, you may be entitled to compensation to help cover loss of income to a family household, medical bills, etc. Florida Statute 768.21 states that you could be entitled to financial support for a wrongful death case, covering funeral expenses and loss of consortium.
Any of the above are considered some of the most severe injuries that could potentially be life-altering for anyone involved. Depending on the severity of the crash, you may sustain injuries that prevent you from carrying out your usual hobbies or daily activities. Or, in the most severe case, you may know someone who was killed. Dealing with a loved one's fatality can be emotionally distressing, so having to worry about expenses like funeral costs or medical bills can become overwhelming.
Establishing Who Is to Blame in Venice, FL.
The person or party who may be held responsible for a bus accident in Florida is:
The bus driver – Poor judgments may have been passed by the driver, such as wrongly pulling out, signaling incorrectly, or falling asleep at the wheel. Some bus drivers suffer from fatigue due to working long days.
Vehicle manufacture – Faulty parts may have been involved in the bus's manufacture, causing a vehicle malfunction.
Company negligence – It is the responsibility of the bus company to maintain their vehicles. Broken tail lights or brake lights are a common cause of accidents. It is the companies responsibility to maintains their buses and ensure there are no faulty parts. If a crash occurs because of a vehicle malfunction, then the bus company may be held responsible.
Reckless driving – The incident may not be the bus driver's complete fault, but another drivers' fault due to aggressive or dangerous driving on the road.
Reporting a Bus Accident
It is vital to take the following steps after being involved in a bus accident if you wish to receive compensation in the future.
Emergency response – If somebody is injured in a bus accident, it is crucial to ring emergency services to get the medical services to tend to your injuries.
Law enforcement – Contacting the police is mandatory, as per

Florida Statute 316.062

. Plus, a police report will act as documentation for the incident.
Documentation – Gather any relevant evidence at the scene by taking photographs, making notes, or even drawing a sketch of the scene. It also essential to record the road and weather conditions on the day of the incident. Recording such information can help you to gain compensation in future claims.
Witnesses – Collect witness information.
Bus Accident Liability in the State of Florida
In Florida Statute 627.7407, you can find information on Florida's no-fault law. No-fault law means it the passenger's responsibility to claim through their own insurance after an accident. However, if the damages exceed the policy limit of your insurance, you will need to contact an accident lawyer as you may be entitled to compensation. If you have suffered severe or life-changing injuries, you must make a claim as soon as possible so that our accident lawyers have more time to help you receive the compensation you deserve.
The Importance of Acting Quickly After a Bus Accident in Venice, FL.
Under Florida Statute 95.11, a claimant has up to four years to make an accident claim for injuries or damages. However, the sooner you inform an accident lawyer of the incident, the sooner they can get to work in retrieving all the relevant evidence and statements, all the while building a strong claim for you to use in court.
There is a chance that the longer you leave your claim, the less evidence your accident attorney will be able to retrieve from the crash. For example, CCTV footage from the bus accident may get deleted over time. There might also be a chance that witnesses or people involved in the crash may forget the collision as time goes on and provide false information later down the line if a claim is made.
The longer you leave reporting a crash to an accident lawyer, the more suspicious you may appear to a judge for not attempting to claim for the accident sooner. You may face accusations of trying to claim compensation unlawfully and for the sake of personal financial gain.
How Can a Venice Bus Accident Lawyer Help My Claim?
When facing repercussions from a bus accident, you may be wondering who to turn to, who to trust with your case, and what lies on the road ahead for you. A collision involving a bus has the potential to leave you with life-altering injuries, which may affect your future and day-to-day life.
Our group of accident lawyers is here to support you and help answer all of your questions and concerns. Our injury lawyers are always here to support you and guide you through this difficult time. You are not alone.
It is also crucial to have proper legal representation when facing a bus accident claim. The law can be complicated, and without representation, it may be challenging to be taken seriously. But with an accident lawyer legally representing you, you can leave all the hard work to us to lighten the stress on you, so call today.
The Law Place
Calling our law group will give you the chance to explain the event of the bus accident and help us better understand the details of your case. After this, we can immediately get to work on your claim by making the relevant phone calls and gathering evidence that can be used in your favor.
We understand how complex and confusing the law can be, and it can be unclear to understand what you could be entitled to in terms of compensation. But we are here to ensure that you are clear about your rights and that your claim is dealt with appropriately.
Contact our injury lawyers today. We are more than happy to help you and look forward to getting to work on your claim. Let us help you get the compensation you deserve. Call us for free at (941) 444-4444. Phone lines are open 24/7, and our law group is waiting eagerly for your call.