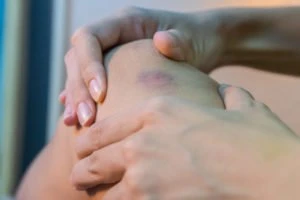 Car accidents happen on a daily basis in Tampa, FL. Not everyone will experience such an awful situation, but if you do, you will most likely require help from a lawyer. It only takes a small disruption, and in the blink of an eye, your world could be changed forever.
Upon imagining what a car accident may look like, you may think of the damage that has happened to the car, such as a smashed windscreen. Or the potential injuries to those involved, such as deep open wounds, head trauma, or even death. Yet, it has been recorded that soft tissue injuries tend to be most common in car incidents and not the ones previously stated. A large number of personal injury claims will include a form of soft tissue injury.
If you or a loved one has been involved in a car accident and has suffered soft tissue injuries as a consequence, then you might be entitled to compensation. We advise that you seek counsel from a reputable attorney that will be able to advise you accordingly. Here at The Law Place, we have combined experience of over 75 years and the know-how of handling soft tissue injury cases. Our phone lines are open 24/7, so call us today at (941) 444-4444 for a free consultation from a Tampa personal injury attorney.
Why You Should Get Legal Representation for a Soft Tissue Injury
There is a false assumption that when using an attorney to represent you in your claim for compensation that you will receive far less. However, this is not true. Research has proven that a minimum of 90% of those that used legal representation to represent their car accident case received the compensation they deserved. On average, those that sought-after legal representation received around $60,000 more than those that didn't have legal representation.
Most people will have insurance and will believe that this will cover the damages incurred, so they will not hire an attorney to represent them. However, insurance companies are corporate and only have one objective, which is to make a profit. Therefore, they will do their best to pay out the bare minimum, meaning that you could potentially walk away with far less than you deserve. For this reason, we highly advise that you are represented by a trustworthy law firm such as The Law Place.
In Tampa, following a soft tissue accident, you can claim for compensation on any damages that occurred. You will be entitled to more if the injuries are more severe. Below are some examples of what you can claim for:
Hospital expenses, which include travel.
Bills for surgery.
Prescription costs, whether they are one-off or repeat.
Mental and physical therapy charges.
If you have had to cancel an event such a holiday, you can claim back the loss incurred.
Any loss of income, whether it be past, present, or future.
Some costs are not always visible but can have a massive effect on your daily routine, such as post-traumatic stress disorder (PTSD).
We advise that you contact an attorney even if you are unsure of whether you have a valid case. Our initial consultation is free of charge, so we will be able to help you figure this out. Do not cause yourself any further stress and anxiety. With our phone lines being open 24/7, we are here to assist when you need it the most.
What Is a Soft Tissue Injury?
It might be a bit confusing figuring out what you can claim for, so we will briefly explain what soft tissue injuries are and how they can alter your claim.
A soft tissue injury predominately does not involve broken bones but is instead damage caused by impact to soft tissue. But, if the accident resulted in a fractured or broken bone, then you will likely have a soft tissue injury too. This can result in damage to the skin, muscles, tendons, and ligaments. Soft tissue injuries can also happen even when driving at a low speed; an impact at 10 mph can result in soft tissue injury.
Following a car accident, you will most certainly be full of adrenaline and feel fine as a result. Some people may even look well, but unfortunately, not all soft tissue injuries are visible and can only be detected via a health care check-up. Occasionally, a soft tissue injury will not be detected on an x-ray and can go undiagnosed. Due to this, you may go undiagnosed, and your injuries could affect you later on in life.
After being involved in a car incident, your number one priority should be your health. We highly advise that you seek medical attention even if you are feeling fit and well. Also, as not all injuries are picked up straight away and may develop over time, it is advisable to also book in a follow-up appointment. When it comes to your health, it is better to be safe than sorry.
You must have evidence to show that you went to the hospital or visited your practitioner. This is vital in being able to make a claim for a car accident. In order to make a claim, you only have 14 days to seek medical attention for your injuries following your car accident. This is specified under Florida Statute 627.736. Most insurance companies will attempt to dispute your claim if you do not have concrete evidence. This is why we stress how important it is to seek medical advice, do not let insurance companies dispute your claim.
After visiting the hospital and having a health check, your second priority is to contact a personal injury attorney. A lawyer will give you fair advice and will help you figure out whether you have a valid case based on your circumstances. You can contact us at The Law Place for a free consultation, and a personal injury lawyer will be able to give you advice with no strings attached.
Common Types of Soft Tissue Injuries
Explanations and examples of soft tissue injuries:
Contusion – The consequence of an impact at any speed can result in a contusion, commonly known as a bruise. A contusion can cause discomfort, swelling, and the skin will change color. Skin commonly appears blue or purple, and sometimes brown/yellow. Unlike common bruises from bumping yourself, a contusion from a car accident will take a lot longer to heal.
Sprains – A sprain can happen when the limb is suddenly jolted out of its natural range and commonly occurs to the ankle, knees, and wrists. You will certainly know if you have suffered a sprain as the pain is immediate and intense. Following an x-ray, it might show that you require surgery to re-attach the ligament if you have suffered a serious sprain.
Whiplash – This is the most common and well-known injury as a result of an accident. You can even sustain whiplash when traveling at a slow speed. Whiplash affects the muscles that support your spine and neck and occurs when your body is suddenly jolted back and forth. A consequence of whiplash can be back and neck pain, which can also lead to headaches.
Lacerations – This is an open wound that will often require stitches to heal it. However, if left untreated or kept unclean, it can result in far worse damage, such as an infection in your bloodstream.
Burns/abrasion – These can be caused by fire or friction, which results in an open wound. These types of injuries can be severe, resulting in skin grafts, scar tissue, infection, or loss of blood.
At first thought, a soft tissue injury doesn't sound like it would cause too much pain, but after reviewing the above examples, they can be far worse than anticipated. Suffering from a soft tissue injury alone can be stressful, so let us help you with this stress. Contact us today with any questions you may have, and we will aid you to the best of our ability.
Long Term Effects of Soft Tissue Injuries in Tampa
Pain and suffering go hand in hand with a soft tissue injury, and the road to recovery can be long and tiresome. A soft tissue injury can have long term effects on your life, as you may no longer be able to work or attend social events. You may also require daily medical care, meaning that you can no longer live independently. Not all injuries are visible to the naked eye, and you might also be suffering from post-traumatic stress disorder (PTSD) as a result of your accident. Depending on how severe your injuries are, it may take a long time for you to heal and recuperate. Not only will you suffer physically but also financially, as many costs can occur as a result of such injuries.
If you are not to blame for an accident that was the result of a negligent or reckless driver, then you are entitled to compensation, this is stipulated under Florida Statute 768.81. As Florida is a comparative negligence state, those guilty of causing a car accident should be held accountable whenever possible.
Once you have sought medical advice, we highly advise that you pursue legal consultation from a lawyer. It is stressful enough having to deal with the aftermath of a car accident, so let a lawyer lessen the burden. An attorney at The Law Place will gather all the evidence required to fight your case in order for you to receive the compensation that you are entitled to.
Contact a Soft Tissue Attorney at The Law Place
If you are in pain and are suffering from the consequences of a car accident, then you should speak to a personal injury lawyer as soon as possible. It is valuable to seek counsel from a personal injury attorney as they will help you understand the state laws and what rights you have going forward.
The team at The Law Place has combined experience of over 75 years in providing representation for motor vehicle accident victims. Following car accidents, our lawyers are here to provide advice on the measures you need to take. Our personal injury attorneys in Tampa are here to review and discuss your case, taking off that added pressure you may be feeling. Most cases can be settled easily, but on the rare occasion they go to court, we will be prepared to fight in your corner.
Don't suffer alone from soft tissue injuries following a car incident. To talk about your claim and receive the compensation you deserve, contact our Sarasota office today for a free consultation. We are open 24/7, meaning that our personal injury lawyers can be there for you when most needed. Call us today at (941) 444-4444.