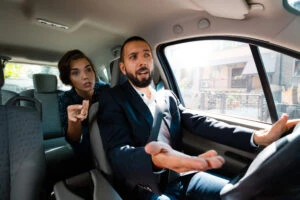 Millions of people across America use ride-sharing apps on a daily basis, especially in tourist-heavy states such as Florida, and unfortunately, as with any vehicle, there is always a risk of car accidents occurring.
The term 'rideshare' covers any ride-sharing service, but when it comes to rideshare accident claims, Uber and Lyft are the most commonly referred to providers Since 2011, Uber and Lyft accidents have been responsible for a 2% to 3% increase in traffic deaths across the United States of America. This is equivalent to roughly 1,100 fatalities per year, according to a recent study.
Not only can an Uber or Lyft accident be traumatic and lead to serious injuries, but it can also be notably complicated to understand your rights as a paying passenger (in comparison to being another driver). The Law Place is here to help you understand the legal process and your own rights following your auto accident.
Here at The Law Place, our dedicated car accident lawyers possess 75 years of combined experience in dealing with rideshare accident victims, such as yourself, and their resulting insurance claims.
We will utilize this knowledge and experience to ensure that you receive the financial compensation you deserve. Our lawyers recognize how difficult this time may be and we will work tirelessly to unload some of this stress and seek legal justice and fair and reasonable compensation on your behalf.
To learn more about what a Lyft and Uber accident lawyer could do for you or to schedule a free consultation with our law firm, contact us today.
Our phone lines are open 24 hours, 7 days a week, so call today to speak to a Tampa personal injury lawyer.
What Should I Do if My Uber or Lyft Driver Causes an Accident?
Uber and Lyft accidents can be extremely distressing, and at the time of the accident, you may not know what to do. Here are some quick tips which may help ensure your safety whilst also helping your rideshare accident lawyer build your claim:
Alert the emergency services – Florida law stipulates that you must alert the emergency services if a car accident occurs. This is outlined within Florida Statutes 316.062. Medical professionals can assist those injured at the scene, and law enforcement officers can write a police report regarding the accident – both of these things are helpful in personal injury cases.
Seek medical attention immediately- In some car accidents, not all injuries will be visible. For instance, a concussion or internal bleeding may not have immediately obvious symptoms. Therefore, it is extremely important to see a doctor following your auto accident. This is also vital from a legal point of view. As per Florida Statutes 627.736, you must seek medical attention within two weeks of an accident occurring.
Take photos and notes – If you are able to do so, then it will be immensely helpful for your case if you can take some pictures of the accident scene. These can help your Lyft accident attorney if you wish to seek compensation, as it can aid them when it comes to building up vital evidence. You could also try to note down everything you remember about the accident and how it occurred (e.g., if your Lyft driver was speeding or if there was notable driver negligence on behalf of the other driver involved).
Gather useful contact details – Again, if you are stable enough to do so, then it can be extremely helpful to gather the contact details of your Uber or Lyft driver (e.g., their Tampa Uber and Lyft ID code), as well as any witnesses. These details should include their full name, address, phone number and/or email address, and the required insurance details of any drivers involved. Additionally, the full name and badge number of any attending law enforcement officers could prove useful.
Do not sign anything – Rideshare drivers may ask you to sign something on behalf of their insurance company or employers. You should not do so without a Lyft accident lawyer saying it is OK to do so, nor should you accept any fault openly or declare fault. Rideshare accidents can be difficult to navigate when determining liability, so always wait until you have an experienced Lyft/Rideshare accident lawyer on your side.
Once you feel healthy enough to do so, it is best to contact an experienced rideshare accident attorney as soon as possible. They will be able to get the ball rolling to ensure all relevant evidence is gathered and all legal deadlines and rules are adhered to.
Contact The Law Place today to learn more about the services we can provide to you and your case via a free consultation.
Who Is Responsible for My Rideshare Accident?
Determining liability within Uber or Lyft accident cases can be very difficult. If other drivers were involved and they were negligent, then they could be appointed as the at-fault driver, and any claims would be made with their insurer.
If your Lyft or Uber driver was negligent, then you will not be at fault (as a passenger) and could claim compensation. However, if your accident involved an off-duty Uber or Lyft driver, then it is the rideshare driver who is held liable, rather than the rideshare companies.
Rideshare companies will have insurance policies in place for these scenarios. For instance, Uber has its own strict insurance coverage policy. It is as follows:
If the Uber app is turned OFF – Only the driver's individual car insurance can be used in this case due to them not technically being 'on the job'. Uber cannot be held responsible if an accident occurred whilst the app is off.
If the Uber app is turned ON, but the Uber driver is not yet transporting a passenger – The driver's own personal insurance coverage, as well as Uber's contingent liability insurance, can be used in these Uber accident cases. This includes up to $100,000 in bodily injury liability coverage.
If the Uber app is turned ON and the driver is on a trip with a passenger inside – Uber accident victims will be able to access Uber's commercial insurance coverage in this case. This covers up to $1 million in third-party liability as well as $1 million in uninsured motorist coverage.
A Tampa Uber or Lyft accident attorney will be able to explain this process to you further.
Schedule a free consultation today to learn more about who could be held liable for your car accident.
How to Determine Liability Following an Uber/Lyft Accident.
Following a Tampa Uber/Lyft accident, you may feel unsure who to blame. A Lyft accident lawyer from our law firm will be able to walk you through the concept of liability. Florida law stipulates that four criteria must be met to establish liability these are:
Did the defendant owe you a duty of care – Rideshare drivers owe their passengers a duty of care to behave as a reasonable professional to ensure the safety of those in the rideshare vehicle, other drivers, and pedestrians.
Did the defendant breach their duty of care – If a rideshare driver fails to act as a reasonable driver would (e.g., they are speeding or distracted at the wheel), which endangers those around them, then this could be considered a breach of their duty of care to other road users.
Did the breach cause bodily injuries – Car accidents must possess an element of causation in order for a personal injury claim to succeed, i.e. the breach of duty must have directly caused any injuries. This can either be via action (driving under the influence) or inaction (failing to check red light).
Did this Lyft/Uber accident cause damages – Your personal injury attorney must also be able to sufficiently prove that your Uber driver's negligence and the accident which followed caused enough damage that it requires compensation (e.g., if your injuries required medical treatment and thus hospital bills).
Uber and Lyft drivers could be considered to have breached their duty of care if they committed the following:
Speeding.
Distracted driving.
Driving whilst under the influence.
Aggressive driving.
Failing to stop at stop signs or red lights.
A personal injury lawyer from our law firm will be able to determine whether your accident could result in compensation or not via a free case evaluation.
What Damages Are Recoverable in a Personal Injury Claim?
If you have established who was at fault for your Uber or Lyft accident, then the next step in building your case is determining what you could be owed.
Medical Expenses
If you have sustained severe injuries which required medical attention, then any resulting bills can be accounted for within your insurance claim. You must, however, keep evidence of these lost wages. Similarly, any future medical expenses can also be considered, e.g., if you require ongoing physical therapy.
Lost Wages
If your injuries (mental or/and physical) meant that you had to have time off from work, then any wages lost from this period can be claimed for, again you would need evidence that the time off was a direct result of the accident.
Equally, if you cannot ever return to work (or have to change to a less demanding role) because of your injuries, then you could claim for a loss of earning potential.
Pain and Suffering
If you suffered from any mental anguish or loss of enjoyment in life (e.g., you cannot enjoy a hobby you once did) because of your car accident, then you could be compensated. Pain and suffering is, however, difficult to prove and translate into a settlement value, so it is advisable to have an Uber or Lyft accident lawyer do this for you.
Punitive Damages
If your Tampa Uber and Lyft driver is proven to have done something very wrong, then you could receive punitive damages. This type of damage is rare and is only awarded to punish an at-fault party if they have been grossly negligent or this is a repeat offense, so do not expect this to be automatically included within your settlement.
Wrongful Death
If you have sadly lost a loved one in a rideshare accident, then you may be able to file a wrongful death action. This is explained fully in Florida Statute 768.21. A settlement from this type of lawsuit often covers necessary funeral costs, outstanding medical expenses, and loss of consortium.
If you wish to claim compensation for your rideshare accident, then contact a personal injury attorney from The Law Place today. We are able to offer a free consultation whereby our Lyft/Uber accident lawyers can calculate what you could be owed.
Tampa Rideshare Accident Lawyer FAQ
Is Florida a No-Fault State?
Yes! Florida Statute 627.7407 outlines Florida's "no-fault" law. This law means that if you have been involved in a car accident, then all drivers involved must rely on their respective car insurance companies to make any claims.
This is regardless of who is identified as being at fault. If your claim, however, exceeds your own insurance coverage limits, then you may be able to go after another persona's driver's liability insurance. This could be your rideshare driver.
Uber and Lyft do require proof of insurance, but if, for whatever reason, your Uber or Lyft driver is uninsured, then you could have some issues. In which case, an Uber/Lyft rideshare accident lawyer is highly recommended.
What Is Personal Injury Protection Insurance Coverage?
Personal injury protection (PIP) insurance is a form of insurance that all drivers are required to have within their auto insurance policy under Florida law. Drivers should have a minimum of $10,000 PIP coverage within their policies.
PIP insurance will aim to cover any medical bills, lost earnings, property damage incurred because of your rideshare accident, as well as any additional costs (e.g., if you had to hire a babysitter to help you whilst you were in the hospital).
Whilst many auto insurance policies do not cover commercial use of the vehicle, it is becoming increasingly common for rideshare drivers to have this option when they take out insurance coverage, therefore, Uber drivers should be expected to do so if given the option.
For example, Florida Statutes 324.032 explains that all taxis must have liability policies, which cover a minimum of $125,000 per passenger for bodily injuries.
Does My Uber and Lyft Accident Claim Have a Time Limit?
Yes! The state of Florida has a strict statute of limitations on all personal injury claims. This is outlined within Florida Statutes 95.11. If you are seeking to receive fair compensation following a Tampa Uber and Lyft accident, then you will have four years from the date of your accident to make an insurance claim.
In the unfortunate case that you have lost a loved one and want to file a wrongful death action, then this time limit is reduced to two years from the date of the Uber and Lyft accident.
A personal injury lawyer from our law firm will be able to ensure you meet all necessary deadlines and explain these to you further.
Equally, if you want to receive compensation for a bodily injury, then you must have sought medical treatment within two weeks of your accident. If you failed to do so, then an insurance company can use this fact against you and argue that you did not suffer injuries severe enough to warrant compensation.
Contact our law firm to schedule a free legal consultation with our experienced attorneys to learn more.
How Much do The Law Place Attorneys Charge?
At The Law Place, we can sympathize with how much stress a Tampa Uber/Lyft collision can cause, and we realize that further financial burden will only add to this existing stress. Because of this, our law firm operates strictly on a Contingency Fee Agreement.
This form of payment provides no daunting, upfront fees, hence limiting any financial pressures. Instead, you will only pay our lawyer's fees once we have won the case. In the unlikely case whereby we fail, then you will not have to pay us a cent – a no-win, no-fee guarantee if you will!
If you want to learn more about our legal fees and payment plans, then do not hesitate to get in touch. We can offer a free initial consultation, whereby all of your questions and concerns can be addressed in a confidential, judgment-free setting.
Contact a Tampa Rideshare Accident Lawyer Today!
Here at The Law Place, we recognize how traumatic auto accidents can be, especially when they were not your fault. Our team is aware of the tactics insurance companies are most likely to use for personal injury cases following rideshare accidents, and we want to prevent you from falling victim to these tricks.
We will work tirelessly to ensure you get the compensation you deserve. Nobody deserves to suffer because of their Lyft or Uber driver's gross negligence.
A lawyer can access evidence that you may struggle to do so alone (including police reports, CCTV footage, phone records, and medical notes). These can all prove essential in whether you win or lose a case.
If you believe that you or somebody you know could be owed compensation following a Tampa Uber/Lyft accident, then contact our law firm today to schedule your free case evaluation.
Our phone lines are open 24/7 for your convenience.