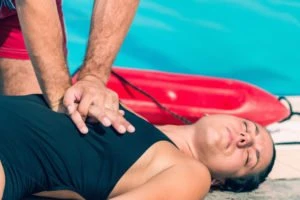 Taking a nice, soothing dip in a cool pool during a hot summer's day is a wonderful thing. Swimming pools can be a fun family day out and are a great way to cool down for adults and kids alike. This is why so many families across Tampa and the state of Florida decide to have pools installed in their family homes.
Most people are unaware of the dangers that a pool can bring, however. Every single day ten people die as a result of a pool drowning in the U.S; that's over 3,500 deaths a year. Out of these 3,500 deaths, 500 of them are children under the age of five according to data released by the Consumer Product Safety Commission (CPSC).
If you have suffered an injury or have lost a loved one in a swimming pool accident in Tampa, FL, then contact The Law Place. We have a team of skilled personal injury lawyers who have experience with cases like yours in Florida. Contact us today for a free case evaluation on 941-444-4444.
How Do Swimming Pool Accidents Happen in Tampa, FL?
In 2007 the government released new legislation to raise the awareness of pool safety, but it has had little effect on the number of cases of pool-based injuries in Tampa.
Swimming accidents don't just include drowning either. There are a number of other risks associated with pool ownership in Florida. Here are some common ones:
Diving boards – Unless the pool is deep enough, around six feet deep, diving shouldn't be permitted. Huge numbers of people every year have to seek medical aid due to brain damage and head trauma after diving into a shallow pool.
Slips and falls – With the excess water, surfaces around pools can be extremely slippery. This can easily lead to injuries like head trauma and broken bones, and occasionally death.
Submersion injuries – Partial drowning can have life-changing consequences and could lead to brain damage or coma.
Pool equipment – Pool drains can create a lot of suction; every year, a large number of cases where adults injure themselves due to this suction, although it happens a lot less often.
Our team of dedicated attorneys fight and win for Floridians.
Swimming Pool Negligence – Lawsuits and Claims
When someone you love has been injured by a swimming pool accident that wasn't their fault, the first thing you need to do is contact a reputable Tampa swimming pool accident lawyer like those found at The Law Place. We are contactable 24 hours a day, seven days a week.
To receive compensation for a pool accident that wasn't your fault, you will have to be able to prove someone else was negligent. To do this, they must have breached a duty of care. The Florida Statute 514.0315 sets out the safety requirements for public pools, so if any of these are breached, we will be able to use it in your case.
Liability
Premise liability happens when someone who owns a pool, knows or should have known about a dangerous hazard or aspect. If you own a pool and leave it half full of water or do not fence off your public pool when there is no lifeguard on duty, this is classed as premise liability.
Premise liability applies to the following:
Owners of any private or residential swimming pools.
Owners of a property that has a commercial pool on-site, for example, motels, health clubs, or apartments.
Government property such as school swimming pools or public pools.
In Tampa, premise liability is often used in court when the owner of a pool has not maintained their pool area to the standard expected of them. Also, if they have not supplied supervision when they should have, they should. Here are some cases we have seen in Tampa in the last ten years.
Lack of fencing – Pools that do not have fencing around them are 60% more likely to have an accident where someone drowns compared to those that have fences.
Warning signs – If a property owner has failed to install pool warning signs where they should have, and it is proven that a responsible pool owner would have shown those signs, they may be open to liability.
No supervision – If you own a pool and you have signs that state you have supervision, like one that says there is a lifeguard on duty, and an accident happens because there is no lifeguard, you will be liable.
We're here to serve you. Our phones are open 24 hours a day.
What Should you do After a Swimming Pool Accident or Drowning in Tampa?
Fortunately, serious swimming pool accidents are rare in Tampa. It is still good practice to familiarize yourself with the laws and the procedures you should follow if the worst case happens, however.
Preserve the evidence – If you are in a position to collect as much evidence as you can. For a good chance at a claim in Tampa, you should collect the names and addresses of all witnesses at the accident scene. Take photos of the swimming pool from all sides, take pictures of the signs and the fences and gates.
Document the accident – As soon as you are in a good enough position mentally and physically, document the events that led to the injury in as much detail as possible. Also, keep notes of the police reports, all conversations with doctors and emergency services, and witnesses.
Keep records – Keep a record of all medical bills, transport bills, and other damages. If you have to take time off work, document the loss of earnings.
We're Florida's top litigation team with over 75 years of combined experience
Contact an Experienced Tampa Swimming Pool Accident Attorney
The devastating effects of a swimming pool accident can change a person or a family's life forever. If someone has died, the grief and mourning can make the situation a really stressful one. If someone has been injured seriously, they may have to look at making changes to their life that will affect them forever.
If the accident was not your fault, you should not have to deal with all of this on your own, and you shouldn't be out of pocket for the costs of medical bills and pain and suffering. Pool accidents and the law that surrounds them can be difficult to navigate. The best chance you have to receive reasonable compensation for your injuries or the death of a loved one is to contact a reputable personal injury lawyer.
At The Law Place, we are here to help. We know how stressful and painful it can be to deal with an incident like this. When you contact us, you will get a dedicated lawyer to help you through your hardship. They will do your liaising and paperwork and allow you to focus on your mental and physical recovery.
After a free consultation with a skilled lawyer at our firm, you will be able to relax a little, knowing that we are fighting your corner. Call us today on 941-444-4444 for a free, no-obligation, consultation.