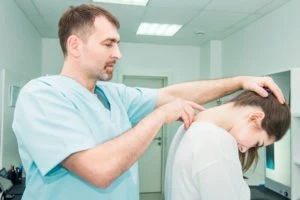 It is reported by The National Spinal Cord Injury Statistical Center (NSCISC) that 12,000 Americans a year sustain an injury to their spinal cord. Life for victims of a spinal cord injury can become extremely challenging, not just for them but also for their families.
Depending on the circumstances surrounding a spinal cord injury, you may be able to claim compensation. A Sarasota personal injury lawyer can navigate your journey through the Florida legal system to fight for the compensation you deserve. At The Law Place, we offer a free consultation, so get in touch today on 941-444-4444 and see how our law firm, which boasts over 75 years of combined experience, can help you.
The Spinal Cord and How an Injury Could Impact Your Life
The spinal cord runs through the spine and is part of the nervous system. It is a long and important communicator between the brain and the body, made up of fibers, nerves, and tissues which send nerve transmissions to the rest of the body, resulting in movements and feeling. Therefore, a spinal cord injury can result in long term loss of feeling and movement functions, the most severe being catastrophic injuries as a result of the spinal cord being severed.
What Can Cause a Spinal Cord Injury?
There are many causes of spinal cord injury, with varying degrees of severity, meaning no two injuries are the same. We have dealt with clients with varying spinal cord injuries. Here are some examples of what could cause a spinal cord injury.
Falls including seemingly minor slips to falls from height.
Car accidents.
Surgical errors.
Intentional assaults created by a knife.
Motorcycle accidents.
Cycling accidents.
Athletic and sporting accidents.
Secondary injuries as a result of cancer or osteoporosis.
What Issues Result From Spinal Cord Injuries?
The first difficulty most people will think of when discussing spinal cord injuries is paralysis, which, unfortunately, can be the case for some victims. However, there are also other consequences that can be devastating:
Loss of feeling that could be temporary or permanent.
Incontinence.
Uncontrolled shaking.
Breathing difficulty.
Tingling in hands and feet.
Paralysis.
Poor coordination.
Weakness.
Loss of sexual function.
How Do I Know If I Have a Claim for My Spinal Cord Injury?
You might be able to file a spinal cord injury lawsuit if someone acted recklessly, negligently, or in an intentional way that contributed to your injuries. Negligence is a legal term that is used to assess how a reasonable person should have acted in a situation. If your accident occurred because someone wasn't careful enough, then you deserve compensation.
If your injuries could have been prevented if someone was more careful, then according to Florida law, you deserve to be compensated for your damages. Our team of Sarasota injury attorneys can assess your case and tell you if they believe you have a strong claim.
What Do I Have to Prove to Win My Case in Sarasota?
To prove your case, you need to prove that:
You were owed a duty of care.
That duty of care was breached.
The breach caused your injuries.
Your injuries led to damages.
Duty of care means that someone owed you a duty to be careful; for example, all motorists have a duty of care to other drivers and pedestrians. Secondly, if they were not as careful as a reasonable person would be, then they breached that duty. If this led to injuries that cost you physically, emotionally, and financially, then you can claim for these damages.
What Losses Can I Claim in a Sarasota Spinal Cord Injury Case?
Following a spinal cord injury in Sarasota, your damages are likely to be extensive. Beyond medical expenses, you are likely to pay emotionally, and your daily life could be drastically altered. In order to receive maximum compensation, you should seek help from personal injury lawyers at The Law Place.
Lost earning capacity.
Costs for needed help around the house.
Medical expenses such as transport to and from appointments.
Mental anguish.
Emergency medical bills.
Medical expenses for follow-up care.
Expenditures for hand railings, wheelchairs, walkers, and other personal assistance devices.
Medical bills for long-term care, such as nursing or rehabilitative care.
Lost work.
Wrongful death.
How to Protect Your Rights in Sarasota
If you are considering seeking compensation after you or a loved one has suffered a spinal cord injury, then there are things you can do to prepare for the process. First, you will need to focus on the required medical care. You should work with professionals to accurately determine the extent of the medical care you will need. Be sure to save all of your medical records and bills, as well as any other costs associated with your injuries. Keep a journal of what procedures you are having done and how your injuries are affecting your everyday life.
You may also want to begin contacting witnesses and obtaining witness statements. However, when you hire one of our spinal injury attorneys at The Law Place, we will contact witnesses on your behalf. Our injury lawyers know how to ask the right questions and gather strong evidence to prove that you have a right for compensation. By letting us take the reins, you can have peace of mind and focus on your recovery.
Contact The Law Place Today
At The Law Place, our injury lawyers are dedicated to fighting for justice. You deserve compensation for your medical expenses, as well as your pain and suffering. No amount of money can make up for what you are going through but could help to make your life a little easier.
Get in touch with our law firm today by calling 941-444-4444, and we will arrange a free consultation. That way, you can get all of the information you need before you make any commitment to us. Don't go through it alone; get help from someone dedicated to your cause.