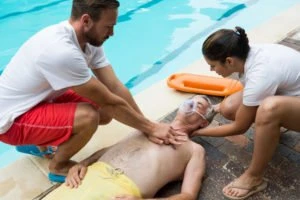 There is nothing better than taking a quick dip in a cool swimming pool on a hot day. Swimming pools provide hours of fun to adults and children alike. Unfortunately, they also cause thousands of injuries and fatalities every single year in Florida.
Luckily, most people never have a serious incident in a pool. But the statistics don't lie, across the United States, ten people die every single day from drowning in a swimming pool, that's over 3500 deaths a year. Five hundred of these deaths are children under five, according to the U.S. Consumer Product Safety Commission (CPSC).
If you or a loved one has been in a swimming pool accident, then contact The Law Place today on 941-444-4444 for a free consultation with an experienced Florida lawyer.
How do Swimming Pool Accidents Happen in Florida
Even with the government's introduction of pool regulation law in 2007 and a number of campaigns to raise awareness of the dangers of pools, drowning still remains one of the leading reasons for death amongst young children.
Drowning isn't the only cause of pool-related injuries either, and there are lots of other associated risks that come with swimming pool ownership. Here are some of the other common dangers.
Diving boards – Unless the pool is at least 6 feet deep, and diving should be prohibited in every pool. Hundreds of people every year have to seek medical care due to brain damage and head trauma after diving into a pool that is too shallow.
Slips and falls – With the addition of water, the surfaces around pools can be notoriously slippy. This can lead to a range of injuries from head trauma to broken bones, even death.
Submersion injuries – Partial drowning can lead to some serious injuries. Lack of oxygen can lead to brain damage and coma.
Pool equipment – Pool drains can create a huge force of suction; every year, children and adults alike receive injuries due to this suction, although it is a lot rarer than other injuries on this list.
Our team of dedicated attorneys fight and win for Floridians.
Swimming Pool Negligence – Lawsuits, Claims and Liability in Florida
The first thing you need to do if you or a loved one has been the victim of a pool accident that wasn't your fault in Florida is to contact a reputable Sarasota swimming pool accident attorney. Here at The Law Place, we have dealt with cases like yours before and will be able to help you navigate the complex laws around pool accidents, so call us today, and we are available 24 hours a day seven days a week.
The question of liability when it comes to swimming pool injuries depends on the accident itself as well as where it occurred and if there was a duty of care. There are three different factors that could play a part.
Premise Liability
The first factor we look at when we look at swimming pool accidents is whether or not the owner of the property is liable for your injuries. This usually happens if they knew about or should have known about a hazardous condition on their property. When it comes to swimming pools, it is the owner's responsibility to take all reasonable steps to ensure that their pool is safe to everyone who has access to it, including trespassers.
Premise liability applies to the following.
Owners of any private or residential swimming pools.
Owners of property that has a commercial pool on site. For example, motels, health clubs, or apartments.
Government property such as school swimming pools or public pools.
In Sarasota, premise liability is usually used when the owner of a pool has failed to maintain their pool area or have not supplied supervision where they should. These are the most common reasons in Sarasota.
Lack of fencing – Pools that have a lack of fencing around them are 60% more likely to have a drowning than those that are fenced according to the CPSC. If it can be shown that a responsible pool owner would have made sure there was fencing installed and they did not, they could be liable for a swimming pool accident.
Warning signs – If a property owner has not installed pool warning signs, and it is shown that a responsible pool owner would have shown signs, they may be liable for a pool accident injury. A deep pool without a "swim at your own risk" or a public pool without a "No lifeguard on duty sign" are both examples of this.
No supervision – If you own a pool and you have stated that you would supervise guests or have signs showing that there is a lifeguard on duty and an accident happens un-supervised, the owner of the pool can be held liable.
Lack of maintenance – If a property owner fails to maintain their pool, for example, the pool is only half full of water, they could be liable for damages if someone dives in. Another example would be if someone cannot get out of a pool due to a lack of ladders.
Negligence
In accordance with Florida Statute 768.81, negligence is a basis for a claim. Under negligence laws, a person is liable in Sarasota county if they have caused an accident due to failure to do what a reasonable person would do under the same circumstances. For example, if a pool ladder is installed incorrectly, or if a lifeguard has lied about their qualifications.
Another form of negligence is called negligence per see, commonly known as strict liability. This places fault on a party if they violate a law. These usually relate to construction laws placed upon contractors regarding covering pools or locking gates during construction.
Products Liability
Product liability in Sarasota county is a type of strict liability claim and does not depend upon negligence. The main basis for this type of liability is when a manufacturer releases a product that is later found to be defective when the product leads to drowning or injury. When this happens, the manufacturer, wholesaler, retailer, and fitters can be found liable. There are three types of defects that can play a part in this:
Design defects that were in the product before it has been made.
Defects that occur during the manufacturing process.
Defects such as inadequate safety warnings.
One example of this is when a pool manufacturer creates an underwater pool drain that is so strong that a child cannot escape the suction. If this results in an injury, this is classed as a design defect.
What Should You Do After a Swimming Pool Accident or Drowning in Sarasota?
Luckily, pool accidents in Sarasota are rare. It is worth familiarizing yourself with the process you should follow in the case of a swimming pool accident.
Preserve the evidence – If you are able too, collect as much evidence as possible. For a successful claim in Sarasota, you should try and collect the names and addresses of all witnesses. Take photos of the swimming pool from different angles, including the signs and the fences and gates. If there is any pool equipment, take pictures of that also.
Document the accident – As soon as you are able, document the events that led to the injury. Also, keep notes of the police reports, all conversations with doctors and emergency services, and witnesses.
Keep records – Keep a record of all medical bills, transport bills, and other damages. If you have to take time off work, document the loss of earnings, if you have to see a therapist, a document that too.
We're Florida's top litigation team with over 75 years of combined experience
Contact an Experienced Sarasota Swimming Pool Accident Attorney
The aftermath of a swimming pool accident that has resulted in a fatality or a life-changing injury can be chaotic for those involved. This boiling pot of emotions can lead to clouded judgments and bad decisions.
Sarasota law can be difficult to navigate and finding out who is to blame can take some investigation. Hiring a skilled personal injury lawyer in Sarasota is the easiest way to ensure that you can seek the compensation that you deserve.
Here at The Law Place, we have dealt with numerous swimming pool accidents in the Sarasota area. When you contact us, you will get a dedicated personal injury lawyer for your personal injury case. Call us today for your free consultation.
After a free consultation and after agreeing to representation, we take over everything. We liaise with all of the parties involved, do your investigation, and represent you. This leaves you free to focus on your mental and physical wellbeing. We have over 75 years of dealing with cases just like yours in the Sarasota area.
Don't let someone else's negligence in Florida ruin your life; get in touch on 941-444-4444 today!