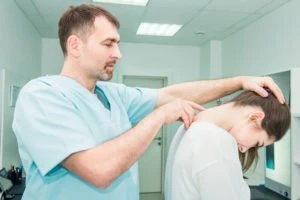 Spinal cord injuries are some of the most serious injuries people can ever suffer. Data has been published by The Miami Project to Cure Paralysis, highlighting that there are over 17,000 new spinal cord injuries reported every year in the United States. Spinal cord injuries are severe because they can change a person's life forever. They can completely debilitate someone.
If you or someone you love has been injured in an accident, our personal injury lawyers may be able to help you win compensation. If you have suffered a spinal cord injury, we recognize that no amount of compensation could ever take away the trauma that you experienced. It may, however, be able to help ease any financial stresses and burdens that mounting medical costs may be causing you. Our St. Petersburg spinal cord injury attorneys have helped countless clients with their spinal cord injury cases, and they can help you too.
We have practices areas all over the State of Florida, so no matter where you have suffered your spinal cord injury, we have personal injury lawyers to help you. Our phone lines are open 24 hours a day, 7 days a week. To schedule your free consultation with a personal injury attorney in St. Petersburg, FL., call us now at (941) 444-4444.
What Is a Spinal Cord Injury?
A spinal cord injury involves damage to the spinal cord. Spinal injuries of any kind are incredibly severe as they cause paralysis and change the lives of accident victims forever.
When accident victims first suffer a spinal cord injury, they may suddenly experience a loss of mobility and feeling below where the injury was suffered. This is because the spine forms an important part of a person's central nervous system. Where the spinal injury is suffered will determine how paralyzed an accident victim will be.
Although St. Petersburg spinal cord injuries seem very severe, not all injuries are severe enough to result in paralysis. Some motor vehicle accident victims will only experience bruising to their spinal cords and nothing more. Regardless of the severity of your spinal injury, a personal injury attorney at The Law Place will be able to help you file a claim. For some free and honest legal advice, phone us today for a free case evaluation.
What Is the Most Severe Injury to the Spinal Cord?
A St. Petersburg spinal cord injury of any kind can be severe. However, some have more dramatic consequences than others. Injuries and damage to the bones higher up in the spinal cord will typically be more severe than those that occur lower down. Spinal cord bones are grouped into three sections. Damage to the top section of bones is dangerous because it can greatly impact someone's respiratory muscles. This means that a person could potentially struggle to breathe by themselves.
Medical professionals use two terms to refer to the different losses of sensation that spinal cord injury victims can experience. These are:
Quadriplegia – This is used to describe the loss of sensation that someone can experience in their arms and legs.

Paraplegia – This is used to describe the loss of sensation that someone can experience in their legs and lower body.
How Much Is a Spinal Cord Injury Worth?
The cost of your spinal cord injury will likely be determined by the severity of your injury. The more severe your physical injuries are, whether that be spinal cord injuries, back injuries, or neck injuries, the greater the payout you can expect to achieve in compensation. If you have suffered an accident or medical malpractice in St. Petersburg that resulted in your spinal cord injury, an injury attorney at our law group will be able to help you.
No matter the severity of your accident and injuries, it is well worth seeking legal advice and the help of reputable and trustworthy injury lawyers. Accidents that cause damage to the spine and/ or neck are often million-dollar cases. The National Spinal Cord Injury (SCI) Statistical Center has reported data indicating that a spine injury case can be worth between $350,000 to over $1 million in the first year. This is an incredible financial payout that you could be missing out on if you don't seek the legal advice of a St. Petersburg personal injury lawyer today. If you are thinking of filing a claim, call us today to schedule a free consultation with one of the Florida lawyers at our law group.
Can the Spine of a Person Who Was Injured Be Repaired?
Unlike other parts of the body, a damaged spinal cord does not have the ability to repair itself. Only professional medical treatment has any chance of repairing a spine. Although, these injuries are incredibly severe, and the likelihood of medical treatment working is slim.
If you have suffered an injury, you should definitely seek medical attention. We are not doctors and, therefore, cannot provide you with the medical statistics. If you have suffered a spinal cord injury and are curious whether you may ever fully recover, you should contact your doctor for further information.
Has Anyone Ever Recovered From a Spinal Cord Injury?
When someone suffers a car accident or other kind of accident in Florida that results in damage to the spine, it is usual for spinal cords to swell and for a person to feel an immense amount of pain. This swelling can affect one person in a particular way and can affect someone else completely different. There is not a standard timeline for recovery. For some people, this swelling will reduce days, or weeks, after the accident. This reduction of swelling may enable a person to regain some sensation and mobility.
Only a few individuals who have suffered spinal cord accidents have ever completely recovered from their accidents. These injuries are incredibly complex and are often life-changing. If your injury is permanent and will affect you for the rest of your life, you must call an attorney today. The costs for such an injury will be immense. We can help you file a legal claim to achieve compensation that covers medical bills, medical care, lost wages, pain and suffering, and much more.
How Can a St. Petersburg Spinal Cord Injury Lawyer Help Me?
An injury lawyer at our law firm will be able to help you in several ways. Here are some of the things that we can do for you:
Examine the facts surrounding your case.

Gather all of the necessary evidence to prove negligence.

Answer all of your questions.

Offer you some honest and unbiased legal advice.

Handle all of the legal paperwork on your behalf.

Represent you in all negotiations with insurance companies.

Legally represent your case in

court

.
For more information on how our lawyers can help you, please don't hesitate to give us a call today.
What Kind of Compensation Could I Achieve?
Any kind of compensation can aid massively with recovery after suffering an accident. Our attorneys have helped clients receive compensation to cover the following:
Medical expenses.

Permanent disability and/ or disfigurement.

Lost employment wages.

Reduced earning capacity.

Wrongful death.

Pain and suffering.
How Much Does It Cost to Hire a Lawyer?
There is a frequent misconception in St. Petersburg, Florida, that hiring a lawyer is costly and unaffordable for most people. This is simply not the case! Our law group works on a contingency basis. This means that if you seek our legal guidance and representation, you do not have to pay us a dollar upfront. All of our legal costs will be deducted from the final financial settlement that we can achieve for you. This means that you have absolutely nothing to lose! If we are unsuccessful in winning your compensation, you do not have to pay us anything. This also means that you will never receive any surprise bills.
Our contingency work and the contingency work of other law firms in Florida are monitored by The State Bar Association. We follow all of their guidelines and regulations strictly. If you have further questions concerning how our fee structure works, please don't hesitate to give us a phone call. In a free consultation with an attorney at our law firm, you will be able to get the answers to all of your questions.
Contact The Law Place Today!
If you have suffered a spinal cord injury in an accident or through medical malpractice, we are here to help you win the justice that you deserve. If you contact us today, we will be able to organize a free consultation with a reputable member of our legal team.
We are available 24 hours a day, 7 days a week, to listen to your call. Phone us now at (941) 444-4444.