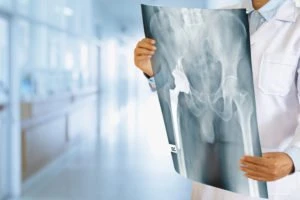 As you get older, your joints will begin to suffer from decades of wear and tear, especially the hips and knees. Eventually, it may become necessary to have one or both of your hips surgically replaced. Modern advances in medical technology have enabled people to help to regain a great deal of mobility due to a replaced hip. Unfortunately, when the company that creates the artificial hip is negligent in designing it or manufacturing it, the results can be catastrophic and, in some cases, life-threatening. Defective hips can limit the mobility of users, as well as cause them persistent pain and swelling.
If you or a loved one are suffering due to a defective hip replacement, contact us at The Law Place today on (941) 444-4444 for a free no-obligation consultation, and one of our experienced personal injury lawyers in Sarasota, FL, can advise you with regards to taking legal action and help in obtaining the compensation you deserve.
Procedure Overview
A hip replacement is a common type of surgery where a damaged hip joint is replaced with an artificial one and is commonly performed in the United States and around the world. Adults of any age can be considered for metal hip replacements, but most are performed on people from ages 60 – 80. A modern artificial hip joint is designed to last at least 15 years. When done correctly, patients will have a significant reduction in pain and improvement in their range of movement.
The most common reason hip replacements are osteoarthritis, but other conditions that can cause hip joint damage include; rheumatoid arthritis, hip fracture, septic arthritis, and disorders that cause unusual bone growth.
Metal hip replacement is major surgery and is only performed if other treatments such as steroid injections or physiotherapy have not improved pain or mobility. A patient needs to be well enough to cope with major surgery, as well as the intense rehabilitation that follows.
A metal hip replacement is done under a general anesthetic or under spinal anesthetic. The surgeon will make an incision into the hip, remove the damaged hip joint, and replace it with an artificial metal joint or implant.
What Defective Hip Implant Effects Serve as Sufficient Grounds for a Lawsuit in Sarasota, FL?
A lawsuit for a metal-on-metal implant case is different from your typical product liability or medical malpractice case (although medical malpractice can certainly be a factor in some cases). In the United States, losses that occur as a direct result of a faulty or poorly designed metal on the metal implant can serve as grounds for a lawsuit. Some of the most common adverse effects from a defective implant include:
Decreased mobility or loss of mobility.
Severe pain and discomfort.
Infections (which can necessitate hospitalization, surgery, or replacement of the implant).
Metallosis.
Inflammation and swelling.
Bone damage.
Loosening or malfunction of the defective metal hip.
If you're not sure if you are eligible to pursue a lawsuit, you should contact a lawyer who can advise you. At The Law Place in Sarasota, our attorneys have ample experience in this filed and would be happy to assist you.
What Is Metallosis?
Metallosis is a serious medical condition that can arise when metal particles are released by the metal hip. Metal particles are formed when the metallic components of the hip implant grind against each other.
Those metal particles can make their way into the bloodstream, resulting in serious health risk and metal poisoning that worsens over time. The metal particles can also damage the surrounding bone, muscles, and tissue, creating severe discomfort and pain.
Defects by Design and Manufacturing
When you opt for major surgery such as this, it is expected that you will suffer anxieties with regards to the medical procedure itself and your recovery. Still, you rarely stop to consider that issues you could face will occur due to the faulty design or manufacturing of your new joint. Sadly, this is often the case, and known defects have been connected to the companies outlined below.
Biomet
Biomet creates implants that are designed to replace the hip, knee, and shoulder. These hip implants involve metal on metal design structures, which can cause serious problems in patients, including metallosis. The U.S. Food and Drug Administration (FDA) has received hundreds of reports of complications that used the M2a Hip Implant line of products manufactured by Biomet.
DePuy ASR and Pinnacle
DePuy Orthopaedics has created several joint replacement products that also used metal-on-metal technology in order to help eliminate the problem of device failure due to overuse. The metal-on-metal hip systems have inherent problems with their design and can cause metallosis, infection, immobility, or painful dislocation. DePuy is a subdivision of Johnson & Johnson and has recalled some of its systems due to reports of adverse effects on patients. DePuy had to recall their ASR XL Acetabular System in recent years after approximately 40% of all clients that received the ASR XL implant suffered adverse effects and required a second replacement surgery to fix the problem.
Smith and Nephew
Smith & Nephew is another medical technology manufacturer that created an R3 Acetabular Hip System that was used in many hip surgeries. The company was proud of its innovative hip design, which was supposed to be used to treat severe wounds, broken bones, and sports injuries. Unfortunately, their system was recalled in 2012 after many patients suffered painful dislocations, infections, or bone fractures from the product.
Stryker Rejuvenate and ABG II Modular-Neck Hip Stems
Stryker is another medical products company that had to recall two different implant devices in 2012. The company remained largely unscathed by the controversy over all-metal hip devices but was confronted with complaints due to their innovative Rejuvenate and ABG II Modular-Neck Stems. These products involved various parts and were designed to give surgeons greater flexibility by offering them more anatomically correct implant components. The systems have a tendency to corrode after implantation, causing the loosening of the implant, and the release of toxic metals into the patients' bloodstream.
Zimmer Hip Replacements
Another hip replacement that has caused significant problems is created by Zimmer and uses something that a company calls Kinectiv Modular-Neck Technology. These hips also use the metal-on-metal design but use forged metal to make the implant more durable. Unfortunately, the poor construction of the Zimmer Durom Cup caused great pain in patients, and many individuals had to go back into surgery due to loose implants. The fixation surface wasn't adequate, as well.
Wright Hip Implants
Wright Medical has been designing, manufacturing, and marketing joint implants since 1950. This company created two items called the Conserve Plus and the PROFRMUR Z system, which both have proven to have high failure rates. The FDA has received reports of more than 200 adverse events of device failures and severe pain in the hip and groin area. The metal on metal design has also caused many individuals to suffer serious metal poisoning.
If you are not sure who manufactured your implant or can't see the company above, one of our attorneys can review your case to learn more about the options for your unique case.
What Kind of Compensation Can I Seek?
When filing a hip replacement lawsuit, you can seek compensation for a number of losses, including your medical expenses and hospital bills, your pain and suffering, lost wages, damage to relationships, and beyond. A lawyer at The Law Place in Sarasota FL can provide you with more information after learning more about your case.
Are Hip Replacement Surgery Claims Common?
Although a hip replacement commonly a low-risk procedure, there have been many successful claims in Sarasota alone. Some of the most well-known hip replacement cases in recent years have been DePuy, Biomet, and Zimmer. In each case, the devices failed to perform as designed. If you have been a victim of one of these companies or any other, a lawyer should be appointed to file a lawsuit on your behalf.
Why You Should Peruse a Product Liability Lawsuit
In some cases, companies will continue to manufacture a specific product despite evidence that it's defective, and in some cases, the information was actually suppressed. You may be entitled to compensation for damages, and a lawyer can assist you in pursuing legal action against the firm that provided the defective implant.
While some swelling, pain, and reduced mobility are common right after surgery, if they persist, it could be a sign that the implant isn't performing properly. Our Sarasota personal injury lawyers can assist you in filing a claim for damages if this is something you or a loved one has experienced. We are well versed in filing product liability claims and are available to assist you with filing an individual claim, filing a mass tort claim, or participating in a class-action lawsuit.
Time Limits
In most cases, Florida's statute of limitations, as detailed in Florida Statue 95.11, requires a person to file a personal injury claim within four years for negligence cases. However, the sooner, the better as your attorney will be better able to collect evidence and prove that your injury was a result of medical malpractice.
Trust Our Team of Sarasota Florida Attorneys to Help File Your Claim
Our Sarasota personal injury attorneys at The Law Place are ready to help patients who have been struggling with complications following a joint replacement. These lawsuits can serve as an effective option for recovering money to pay your medical bills, to cover lost wages, and to cover other losses such as pain and suffering.
Our law firm in Sarasota, FL, will work directly with you to advise you on how best to pursue legal action against the firm that manufactured the defective implant. With years of collective experience in product liability and defective medical device cases, The Law Place has the necessary skill and expertise to help you with your claim.
If you are a resident of Sarasota, FL, contact The Law Place today on (941) 444-4444 to arrange a confidential, no-cost consultation to discuss your case.