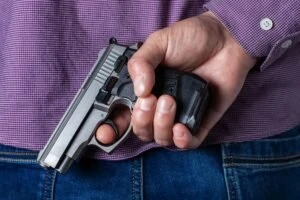 Travelers regularly attempt to transport their firearms through airports across the United States. Florida airports are amongst some of the top-rated airports for discovered firearms in the country. In fact, three Florida airports, including Orlando International Airport and Tampa International airport, rank within the top 10 airports for gun discoveries in 2022.
Florida is a relatively gun-friendly state, so you could be forgiven for thinking that the same applies to its airports or that you would not be subject to additional firearms restrictions in Florida airports. However, this assumption is incorrect. The passenger terminals of airports in Florida are listed as restricted areas in the Florida Statutes. As such, anyone found in possession of a gun in an airport, or trying to pass through a security checkpoint with a gun, could be charged.
Located in Seminole county, Orlando Sanford International airport is a popular choice for Floridians and visitors traveling across the United States and internationally. As such, many individuals attempt to travel from the airport with their guns, resulting in arrests and criminal charges.
If you were charged with gun possession at Orlando Sanford International airport, you are facing serious criminal charges. Securing legal representation as soon as possible to begin your defense will give you the best chance of avoiding a criminal conviction. Speak to an attorney as soon as possible to start early intervention in the case against you.
Contact The Law Place at (941)-444-4444 to book your free consultation with an experienced gun possession defense attorney today.
Is Gun Possession At Orlando Sanford International Airport A Crime?
Under Florida Statute 790.06(12)(a), carrying a concealed firearm in the passenger terminal at any airport, including Orlando Sanford International airport, is a criminal offense. Any individual caught attempting to pass through Transport Security Administration (TSA) checkpoints in possession of a firearm or with a gun in their carry-on luggage can be charged.
A common misconception is that you will only face civil penalties or charges under federal law for airport gun possession. In reality, the most likely outcome is that you will be charged by state law enforcement.
An individual may be charged with a second-degree misdemeanor, punishable by a fine of up to $500 and up to 60 days in jail. However, if you do not have a legally recognized concealed weapons permit for Florida, you could be charged with a third-degree felony. In addition to a lengthy prison sentence and a hefty fine, a felony conviction will mean you will lose basic civil rights, such as the right to vote and to own a firearm.
Our team of dedicated attorneys fight and win for Floridians.
Can I Go To Jail For Carrying A Gun In An Airport In Florida?
Unfortunately, carrying a gun in any airport in Florida is a criminal offense. If you are charged and subsequently convicted of a gun possession in an airport offense, spending time in jail is a possible penalty.
If you are convicted of a second-degree misdemeanor, you could spend up to 60 days in jail as a repercussion of the offense. If you are convicted of a third-degree felony, the possible time behind bars increases substantially. A felony conviction could result in up to five years in prison.
The only way you are able to legally transport a firearm through a Florida airport is in your checked luggage. In this situation, your gun must be unloaded and appropriately packed in a locked, hard-sided case and declared when you arrive at the airport before checking in your baggage. Ensure you review the gun laws at your destination, even if you are traveling domestically, to avoid possible firearms-related charges upon arrival.
On top of the risk of jail time, gun possession in an airport carries additional civil penalties enforced by the TSA. You could be fined anywhere between $1,500 and $5,370 if you are caught with an unloaded gun in Orlando Sanford International airport and up to $10,700 with a loaded gun. These fines increase for repeat offenses. Similarly, a firearm is likely to be considered loaded if the ammunition is in an easily accessible location, such as a pocket, even if it is not in the gun itself.
What Do To If You Have Been Caught With A Firearm In Orlando Sanford Airport
If caught in possession of a firearm in Orlando Sanford airport, you were probably arrested or given a written arrest by a police officer. The best thing to do after an arrest is to speak to an attorney as soon as you are able to do so. Seeking early legal advice will ensure that you do not do or say anything in the aftermath of your arrest that could make the situation worse or be used against you by the prosecution to support your charges.
Once you have secured legal representation, your attorney can start developing your defense strategy to fight your charges. A skilled lawyer will review the body of evidence and the prosecution's case against you and examine them for any errors and inconsistencies that could negatively impact the case. Any procedural errors, such as mishandling of evidence or failure to read Miranda rights at an arrest, could jeopardize the charges against you. In some situations, it may be possible to leverage such errors to have your case dismissed.
Where it is not possible to have your case dismissed or your charges dropped, a lawyer with strong negotiation skills may be able to improve the outcome of your case. For example, your attorney could secure a deferred sentence for your offense, which will usually avoid penalties such as jail time. Additionally, if successfully completed, a deferred sentence can avoid a conviction on your record and the implications this can have on your life.
We're Florida's top litigation team with over 75 years of combined experience
Speak To A Criminal Defense Attorney From The Law Place For Free
The penalties for a gun possession offense can be seriously detrimental to your life and your future. Jail time and a permanent criminal record can cause an individual to lose their job and make it difficult to find future work. Fines enforced by both the criminal justice system and the TSA can leave you with significant financial difficulty. To give yourself the best chance of avoiding such penalties, ensure you navigate your case with the help of an experienced criminal defense lawyer.
The quality of your legal representation can have a profound impact on the potential outcome of your case and the penalties you receive. Your attorney's ability to argue your case and use compelling supporting evidence may influence the charges you receive. Similarly, their ability to identify and leverage weaknesses in the opposition's case can affect the final penalties enforced on you.
If you have been arrested in possession of a gun at Orlando Sandford International airport or any other airport in Florida, The Law Place is here to assist with your case. The Law Place was founded by some of the most reputable and well-established attorneys from across the state, with aim of becoming a leading force for criminal defense representation in Florida.
Our team's comprehensive variety of experience means we have strengths in almost every aspect of your case. Our attorneys have successfully defended against many gun possession offenses. In addition, we have team members with advanced degrees to become scientist lawyers, which affords us a deeper understanding of the scientific evidence in your case and how this can be disputed or used to your benefit. Most of The Law Place's attorneys are AVVO 10.0 rated and praised by previous clients for their diligence, passion, and aggressive representation.
You will need a lawyer to fight your gun possession in Orlando Sanford International airport charges. The lawyer you choose has the potential to make or break your case. To find out if the attorneys at The Law Place are the right fit for you, book a free consultation today.
Call us at (941)-444-4444 to schedule your no-obligation consultation to discuss how our team's expertise will benefit your case.