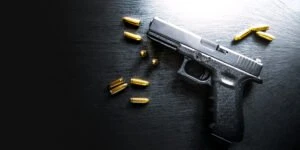 In Southwest Florida airport in Ft Myers and airports across Florida, including Jacksonville international airport, Tampa international airport, and Gainesville regional airport, individuals attempt to transport guns through security checkpoints on a daily basis. In Orlando international airport alone, 162 guns were found in 2022 as individuals attempted to pass through a federal security checkpoint with their firearms. This is the 6th highest number of guns found at an airport across the United States in the year.
If you attempt to pass through an airport TSA security checkpoint with a firearm, either in your carry-on bag or on your person, likely, you will be stopped and possibly charged with a criminal offense.
Experienced legal representation will allow you to defend yourself against gun possession charges and potentially avoid a conviction or reduce the penalties you face. The Law Place criminal defense attorneys have defended clients in many firearms-related cases that range in severity from misdemeanors to serious felonies.
If you have been arrested for gun possession at Southwest Florida airport, we can help. Contact our team today to discuss your defense for free with a reputable attorney.
Call us at (941)-444-4444 to book your confidential consultation and find out how you can benefit from our legal services.
Gun Possession in an Airport Laws in Fort Lauderdale, FL
Although Florida gun laws allow Florida citizens to carry firearms in many situations and sometimes without a gun permit, the same does not apply to gun possession inside an airport. If you carry a firearm into Southwest Florida airport in Ft Myers or any other airport in the state, you could be charged with a criminal offense.
Under Florida Statute 790.06 (12), individuals are prohibited from carrying concealed weapons and firearms inside the passenger terminal and sterile area of any airport in Florida.
As such, you cannot keep your firearm in your carry-on bags or on your person when you are in an airport and traveling by plane. You are permitted to transport unloaded guns in your checked baggage, provided they are packed in an appropriate, lockable gun case for travel. Likely, you will be required to declare the firearm in your luggage when you check and collect your ticket for your flight.
Our team of dedicated attorneys fight and win for Floridians.
Can I Receive a Criminal Charge for Firearm Possession?
The main civil penalty you will face for gun possession in an airport is extremely large fines from the transportation security administration (TSA). These fines can start at $2,050 for unloaded firearms and double to $4,100 for a loaded gun. These are the base rates for fines and in reality, an individual could be left with a substantially larger bill. Fines can range from $10,000 – $14,000 per offense for repeat offenders.
Passengers violating federal law by bringing guns to the TSA checkpoints can face severe penalties. In addition to the civil penalties enforced by the TSA's law enforcement partners, you can also face criminal charges from law enforcement if you carry a gun inside an airport.
A possession of a firearm in an airport charge can range from a second-degree misdemeanor to a third-degree felony, depending on the specific circumstances of your offense. If you are caught carrying a concealed weapon without a concealed carry permit, you could be charged with a third-degree felony.
We're here to serve you. Our phones are open 24 hours a day.
Penalties for Gun Possession at Southwest Florida International Airport
It is important to know that in addition to the more well-known civil penalties in the form of fines, airport gun possession can result in a criminal conviction and potential jail time. The penalties an individual can expect for a gun possession in an airport conviction vary from case to case, and there is no one-size-fits-all outcome from these offenses.
If convicted of a second-degree misdemeanor offense, this is punishable by up to 60 days in jail and a fine of up to $500. However, without a concealed weapon permit, the severity of charges will increase if you are caught in an airport with a hidden or out-of-sight gun. This could result in a third-degree felony charge, which carries up to five years in prison and a $5,000 fine. These fines can be enforced on top of the fines from civil sanctions from the TSA.
Both misdemeanor and felony convictions will also result in a permanent criminal record. If you receive a felony conviction on your record, you will no longer retain the legal right to carry a firearm. A criminal record may also impact your job and future employment, alongside your ability to volunteer, obtain professional licenses, and even win child custody in a divorce.
We're Florida's top litigation team with over 75 years of combined experience
Seek Help With Gun Possession at Southwest Florida Airport in Ft Myers Today!
A charge for carrying a gun in an airport can come as a nasty surprise. Whether you were not aware of the restrictions on firearms in airports, or you simply forgot that you had your gun on your person, if you were caught by law enforcement, likely, you are facing a criminal conviction.
Gun possession charges are increasing across the country, but despite the increase in frequency, this does not make these offenses and penalties any less severe. Even a first offense can put you in jail, alongside fines and a criminal record. This is further exacerbated by the potentially huge fines imposed by the TSA. Combined, these can have a serious impact on your life, all because of something as seemingly minor as gun possession in an airport.
At The Law Place, our team of knowledgeable defense lawyers are ready to help you fight your charges and avoid the considerable life implications of a conviction. Whether it is finding weaknesses in the state's case or developing a highly effective defense strategy, our representation will increase the chances of securing a successful outcome in your case.
Secure aggressive and skilled legal counsel today by booking a free consultation with The Law Place. During your consultation, you can gain a greater understanding of the charges you face and the potential outlook of your case, alongside discussing a possible defense strategy with a reputable law firm.
If you have been arrested for possession of a firearm in Southwest Florida airport in Ft Myers, fight your charges with the help of a skilled gun possession defense attorney.
Call The Law Place at (941)-444-4444 to book your appointment.