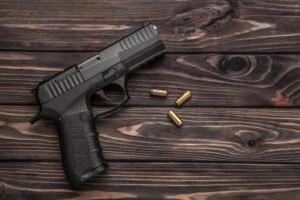 In 2022, Tampa International airport was ranked the third highest for guns discovered at security checkpoints out of the Florida airports, behind Orlando International airport and Fort Lauderdale Hollywood International airport. In one year, 131 firearms were found at security checkpoints either in carry-on baggage or carried by individuals at Tampa International airport. What many of these individuals did not realize is that in addition to a transportation security administration civil violation, they had committed a criminal offense.
Every year, many people attempt to travel through Tampa International airport while in possession of a gun, resulting in criminal charges, fines, and possible jail time.
The risk of hefty fines, jail time, a criminal record, and even a potential felony conviction in some circumstances is very real with these offenses. Something that can seem as trivial as forgetting that you had your gun with you or being unaware of the firearms restrictions can have serious repercussions.
If you have been charged with possession of a firearm at Tampa International airport, you will need legal advice from an experienced criminal defense attorney. The attorneys at The Law Place are not only experienced and knowledgeable, but they are also aggressive advocates that are not afraid to fight to defend our clients and go to bat for them in the courtroom. We endeavor to secure the best possible outcome in every case we work on, always aiming to avoid conviction, have a case dismissed, or secure reduced penalties.
Do not think the prosecution will go easy on you just because you made a mistake and had no intention of breaking the law. Take control of your situation and secure representation from The Law Place to fight your corner. Contact us today at (941)-444-4444 to book your free consultation to discuss how we can help you.
Gun Possession at Tampa International Airport Criminal Charges
Travelers are not permitted to carry a firearm in an airport, either in their carry-on bags or upon their person. The transportation security administration (TSA) discovers and seizes firearms that individuals attempt to take with them through airport checkpoints on a daily basis. Under Florida Statute 790.06(12)(a), carrying a concealed weapon into the passenger terminal or sterile area of an airport is a violation. If caught with a firearm at a TSA security checkpoint, individuals face both civil penalties from the TSA and criminal charges from state law enforcement.
Criminal Penalties
The exact charges you face for carrying a gun in an airport are variable. An individual may be charged with a second-degree misdemeanor for gun possession at Tampa international airport or even a felony. Felony charges may be applicable if you do not have a valid concealed carry permit for your concealed weapon.
If you are charged with a second-degree misdemeanor, you could face penalties of up to 60 days in jail and a fine of up to $500. If you receive a third-degree felony conviction, the penalties are far more severe, including up to five years in prison and a fine of $5,000.
Additional Consequences of Carrying a Firearm in Tampa International Airport
In addition to criminal charges and the associated penalties, individuals can face several further consequences if convicted of gun possession in a Florida airport. The fines imposed by the TSA are high and are usually added on top of the fines an individual faces from the criminal courts. An unloaded gun carries a potential TSA fine of up to $5,370, whereas the fine for a loaded gun can be up to $10,700. These can increase depending on the specific circumstances of the offense, and the total fine an individual can receive from the TSA is nearly $15,000.
If convicted, you will also receive a criminal record, which can have long-lasting impacts on your future. Even a misdemeanor conviction can limit your access to work, education, and renting property. A criminal background can also count against you in family law matters such as child custody proceedings and child adoption. If you receive a felony conviction for the offense, your right to carry a firearm will be permanently revoked.
In addition to having your firearm confiscated at the airport, likely, you will also lose your TSA Precheck benefits and any trusted traveler status you have. This loss of benefits can result in longer security processes and searches when you travel by air in the future.
Traveling With a Firearm Legally
As stated in Florida Statute 790.06(12)(a), you are permitted to take your firearm with you when traveling on a plane, but there are strict regulations to adhere to. You can travel with a gun in your checked baggage, provided that it is packed in a hard-sided container that is locked and not easily accessible. You must also declare that you are traveling with a firearm in your luggage when checking in at the flight ticket desk.
The TSA may impose a civil penalty for guns in checked baggage that are incorrectly packaged or not declared. Fines can range up to $1,300 for an improperly packed or undeclared gun in an airport.
You must also check the firearms regulations in the destination that you are traveling to. Complications when traveling internationally with a gun are common. However, even journeys within the United States with a gun can be complicated, as firearm possession laws vary across state borders. In addition, your concealed carry permit may not be recognized by other states. If you carry a concealed weapon without a valid permit, this can result in serious charges.
Defending Yourself Against Airport Gun Possession Charges
Although, in most circumstances, you will be facing a misdemeanor charge for gun possession in an airport, this does not mean that you should take your charges, or your defense for that matter, lightly. To avoid the penalties and future repercussions of a conviction, you will need skilled legal representation.
As with any criminal case, the prosecution must prove beyond a reasonable doubt that you are guilty of the charges you face. This is an incredibly high standard to achieve. As such, a reputable defense attorney with the skills to put forward a compelling defense and convincing argument in your favor can be the difference between receiving a conviction or having your charges dropped.
Additionally, to secure a conviction, the prosecution is required to prove that you knew that you were in possession of a firearm in the airport. If you were unaware that you were in actual or constructive possession of a gun, this could significantly help your defense and could increase your chances of avoiding a conviction.
At The Law Place, our initial goal when representing clients in airport gun violation cases is to have their charges dropped or their cases dismissed. Where this is not possible, we will negotiate aggressively to secure any possible reduction in charges and associated penalties for our clients.
The Law Place Defense Attorneys Can Help Beat Your Charges. Book Your Free Consultation Today!
Choosing the right attorney is essential to your defense and increasing your chances of beating your charge. Stand-out qualities to look for in a reputable attorney include experience, reputation, resources, and skills such as fierce representation and negotiation.
At The Law Place, we have represented clients who have been charged with gun possession in airports across Florida, including Tampa International airport, Miami International airport, and Jacksonville International airport. Our breadth of knowledge extends beyond gun possession in airport charges to other firearms-related offenses ranging from first-time misdemeanors to high-stakes felony charges.
Our extensive experience within firearms cases and the Florida criminal justice system allow us to provide strong and effective defenses to clients facing gun possession in Tampa airport charges. The criminal defense attorneys at The Law Place have earned their reputations as aggressive and skilled fighters, inside and outside the courtroom. Our attorneys are praised by previous clients for their passion, knowledge, dedication, and tenacity when fighting for our client's rights and freedoms.
If you have been charged at Miami International airport with gun possession, you will need a compelling defense. Acknowledging the risk that guns in airports can pose, Florida takes such offenses very seriously and prosecutes them aggressively. To fight your case and avoid a criminal conviction, fines, and jail time, begin your defense as soon as possible.
Remember, forgetting a firearm or a lack of criminal intent is not enough to beat a charge alone, and you will need a convincing supporting argument. Speak to our legal team at The Law Place today to book your free consultation. Once represented by us, we will start work on crafting your defense immediately. Call us at (941)-444-4444 to book a no-fee case evaluation.