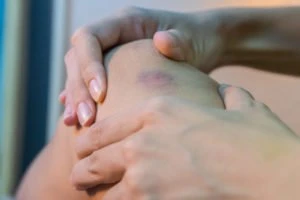 A soft tissue injury is any injury that has damaged the muscles, tendons, and ligaments. Soft tissue injuries are usually the result of a blow, sprain, or strain. A common soft tissue injury is a sprained ankle; in this case, you will suffer swelling, pain, and lose proper use of the affected ankle. If you have suffered an injury like this as the result of another person's negligence, you shouldn't be liable for any financial damages caused.
Suffering soft tissue damage can be tough. You may need to take time off work due to the pain and treatment, such as physiotherapy, suffering a loss of income as a result. Taking this into account, it's not hard to see how your income could be negatively affected.
If you or a loved one has suffered a soft tissue injury, then contacting a law firm for a free consultation is the best thing you can do to lessen the burden. So, to schedule a free consultation, call The Law Place on (941) 444-4444.
What Can Cause a Soft Tissue Injury?
Soft tissue injuries can occur almost anywhere, from trips, slips, and falls, car accidents on the road, workplace injuries such as repetitive strain injuries, and leisure activities such as sports. When you take all of this into account, it's not hard to see how easy it can be to fall victim to a soft tissue injury.
What Are the Symptoms of a Soft Tissue Injury?
Contusions (bruising) – Resulting in pain or swelling, more serious contusions may need to be examined by a medical professional.
Tendonitis – Often occurring through overuse of areas around the knee, feet, wrists, and elbows, causing the tendon to be overstretched. If the tendon is torn completely, then surgery may be necessary.
Stress fracture – Overuse of weight-bearing bones in the hips, legs, and feet, for example, can lead to small cracks in the bone that can eventually cause a complete break.
Sprains – Often occurring during a twist of the ankle, knee, or wrist, sprains can result in ligaments being completely torn, resulting in the need for surgery.
Whiplash – A very common injury in car accidents caused by the forceful and rapid movement of the neck backward and forwards.
In the most severe cases, a personal injury like those listed above can lead to very long recovery times due to the severity of the pain and restricted mobility caused by the soft tissue damage.
What Can The Law Place Do for You?
After combing through your medical bills, your current damages will be calculated. Then the potential loss of earnings due to missed work in the future due to your injury will be added to that calculation. This will give your attorney an accurate and fair settlement figure.
This figure will then be presented to the other parties' insurance company in the hopes of settling the dispute out of court. If no settlement can be reached, then a lawsuit will be opened, and the case can then be settled in court.
When Should You Make a Claim?
In accordance with Florida Statute 627.736, you will lose your right to make a personal injury claim if you do not seek medical assistance within 14 days of your accident, so it's vital that you consult medical professionals as soon as you are able. In order to have the strongest chance possible to gain the compensation you rightly deserve, it's important to contact a law firm as soon as you can after seeking medical assistance.
Injury lawyers will gather eyewitness testimonies, CCTV footage, and investigate the circumstances of the accident to build a strong case. As workplaces and public areas are often cleaned, and witnesses' memories fade over time, it's important that all of this information is gathered sooner rather than later.
Why Making a Personal Injury Claim Is Important?
With a personal injury like a soft tissue injury, it's important to recognize the burden and financial strain that can come as a result. With the loss of potential future earnings due to a long-term injury, along with costly medical bills, and physical therapy, financial pressure can build up quite quickly. Therefore a personal injury attorney who is experienced with injury cases like yours can be crucial.
Soft tissue injuries from a car accident or even a simple trip or fall can be far more severe than you might think. With adrenaline masking the pain after a car accident or sports injury, soft tissue damage can initially be easily missed. This can lead to even further damage to the soft tissue later on. Especially with injuries like stress fractures, which can lead to complete breaks in the affected bone.
Soft tissue injuries are common in the United States. In order to help reduce the risk, it's important that those responsible are held liable for any damages caused. With the help of a personal injury lawyer, you can help assure that responsible parties take greater care.
Call The Law Place Today If You Have a Suffered a Soft Tissue Injury
We here at The Law Place will ensure that you are given the best chance possible at a fair compensation figure by taking immediate action to ensure the best possible results. Suffering an injury of any kind can be both stressful and chaotic. Here at The Law Place, we know it can be very difficult to navigate through Florida law at the best of times, never mind whilst injured. So, let one of our highly skilled and experienced personal injury lawyers help you through this difficult time.
At The Law Place, every case is important to us, and having one of our skilled attorneys fighting on your side can be a massive help. They will help get you the settlement figure you deserve and ease the stressful burden of covering costly damages from an accident that was not your fault.
We are available to take your call at any time, 24 hours a day, seven days a week, for a free consultation. If you wish to seek legal advice, then call The Law Place today on (941) 444-4444.