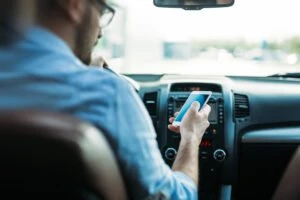 More drivers than ever before are distracted. From cell phones to busy schedules, people are rushing from here to there, sometimes without paying attention to the present moment.
Texting while driving, using in-car technology or eating are just some of the things that can cause a distraction. Unfortunately, some of these distractions can lead to serious accidents.
A loss of focus for a split second, looking away to read a text, or lack of concentration can be the catalyst for something catastrophic. Injuries or even fatalities can result.
If you have been the victim of a distracted driving incident, you may not know that there are legal options open for you. To talk through the specifics of your case, call The Law Place at (941) 444-4444 for a free consultation today.
What Is Distracted Driving?
We have briefly mentioned some of the common causes of distractions. A distraction is something that causes a loss of concentration on the road. When you think about it, there are so many things that can become a distraction both inside the car and outside in your surroundings.
It has been known for drivers to become so distracted by an incident happening on the other side of the road, they end up causing an accident themselves. Other distractions include lack of sleep, problems at home or work which can reduce concentration or simple tasks that seem harmless such as adjusting a sat nav or talking to passengers.
All these things can take your attention away from the road. It only takes a second for something bad to happen.
The dangers of distracted driving are well-documented. In 2021 alone, Florida Highway Safety and Motorway Vehicles investigated more than 56,000 distracted driver accidents.
This statistic shows that distracted driving accidents happen often. However, risks can be reduced by making sure that the drivers attention is on the road and not elsewhere. As a fellow road user, it is good practice to always remain aware of the surroundings and never be complacent about how others will act or what driving behaviors they will display. Distracted drivers can cause serious injuries if there is an accident.
When a driver is not fully focused on the road, they are more likely to crash. Commonly, this is because the driver cannot respond as fast to changing situations on the road.
The Role of Driving Accident Attorneys
For victims of a distracted driving accident, there are options. Florida law holds negligent drivers responsible for their actions. An Orlando distracted driving accident lawyer will use their knowledge to help you navigate the legal system and pursue fair compensation that you deserve.
A legal team can play a crucial role in helping you recover from your car accident. They will manage your case from start to finish, allowing you to find closure to the issue and move on with your life. Some of the things they can help with include:
An investigation which will require the lawyer to gather evidence such as police reports and property damage
Negotiating with involved parties such as an insurance company
Representation
Advice on your legal case
Recover compensation
Free consultation to determine if you can take legal action
Investigating the Accident
Every accident is different. Your attorney will thoroughly investigate the specific circumstances of your accident to determine who is at fault for negligence and what damages you may be entitled to. Establishing fault is key.
Negotiating with Insurance Companies
Dealing with insurance companies can be overwhelming, but an experienced lawyer knows how to negotiate on your behalf and fight for fair compensation.
Representing You in Court
While your legal team will always try to avoid a court appearance if at all possible, your lawyer will be there to represent you if necessary. In court, your case will be presented before a judge or jury and the lawyer will argue your case.
Providing Legal Advice
For someone going through the aftermath of an accident, revisiting what happened can be a traumatic experience. Your attorney will talk through the legal process and work with tact and diplomacy to deal with your case as sensitively as possible. You will be kept informed throughout and your lawyer is there to offer advice, guidance and answer any questions that you have.
Helping You Recover Damages
An Orlando car accident lawyer can help you recover damages for medical bills, lost wages, pain and suffering, and other related medical expenses too.
Ultimately, an experienced attorney can help ensure that your rights are protected and that you receive the compensation you deserve after a distracted driving accident.
Our team of dedicated attorneys fight and win for Floridians.
Research to Find an Orlando Distracted Driving Accident Lawyer
Finding a good lawyer shouldn't be difficult. You need a legal team who will be on your side and get the justice you need to settle the distracted driver case. To make the process as easy and stress free as possible, follow these steps to find the right lawyer for your needs:
Research Attorneys
Start by researching attorneys in the Orlando area who specialize in personal injury law and have experience with distracted driving accidents. Specialist expertise in driving law is essential because as with any area of law, there are certain nuances that are only applicable to distracted driving. A lawyer with expert knowledge in this area will understand the finer details of the law.
Schedule a Consultation
Most attorneys offer free consultations. These are beneficial because they can give you an idea of whether you like the firm and if you feel comfortable with their expertise. Schedule a meeting with one or more lawyers to discuss your case and determine if they are a good fit for you.
Ask About Experience
Be sure to ask any potential attorneys about their experience handling cases similar to yours, and request references from past clients. Sometimes you will find this information on the company website, or if not, you can find it if you contact the law office directly.
Consider Communication
Communication is key when working with an attorney, so choose someone who is responsive and easy to reach.
Discuss Fees
Finally, discuss fees upfront with any potential lawyers so that there are no surprises later on.
We're here to serve you. Our phones are open 24 hours a day.
Call The Law Place Today!
Finding the right Orlando distracted driving accident lawyer can be a daunting task, but taking the time to research and meet with potential attorneys can help ensure that you get the representation you need to recover after your accident. If the distracted drivers actions have resulted in the death of a loved one, a personal injury law firm can advise on pursuing a wrongful death claim.
Your attorney will help guide you through the legal process and work on your behalf so that you receive fair compensation for your injuries and damages caused by the serious motor vehicle accident. Don't hesitate – contact an experienced Orlando distracted driving accident lawyer today!
The first step in the process is to find out where you stand and if there is a distracted driving case to answer. A free legal consultation will give you all the answers you need. For more information and an initial consultation on distracted driver law and to find out if you have a case, call The Law Place at (941) 444-4444.
Remember, time is of the essence when it comes to filing claims after a car accident. Don't wait – contact an experienced Orlando distracted driving accident lawyer today. Your attorney is there to help you.