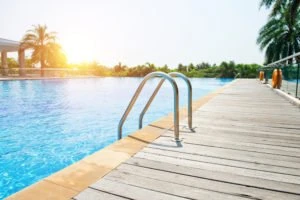 In the Sunshine State, it's always pool season. The great weather and high temperatures make public and private pools a common feature in Florida. However, with increased use comes an increased risk of an accident. Suffocation, drowning, slip and fall accidents, as well as diving incidents are unfortunately common in St. Petersburg and the state as a whole.
If you've been injured in a swimming pool accident in St. Petersburg, FL., you don't have to suffer alone. We can help you to pursue compensation and hold the person responsible for your accident legally accountable.
We have a number of practice areas in the field of personal injury, including traffic accidents, medical malpractice, boating incidents, and more, with real case experience in defending clients just like you all over the State of Florida for over 70 years.
Call to receive a free case evaluation with a swimming pool accident attorney near you on (941) 444-4444.
Common Injuries Caused at a Swimming Pool
Swimming pool injuries can be expensive and deadly. The most common injuries caused by swimming pool accidents include:
Suffocation injuries – One of the biggest dangers at a swimming pool comes from the water itself. Whilst children are at a bigger risk of suffocation and drowning by slipping under the pool's surface. This is something that can happen to even the most experienced swimmers – even in shallow water.
Brain and spine injuries – Injuries to the head and spine can be caused by diving into water that is too shallow. This can cause devastating consequences, including permanent disability and brain damage.
Slip and fall injuries – If pool maintenance and clean-up are missed, or if there are no adequate checks in place to stop patrons from running, there could be a risk of slip and fall injuries. This can cause damage to the head, tailbone, and spine, as well as trauma to the hands, wrists, and arms, which are used to break falls.
Who Can Be Liable for a Swimming Pool Accident in St. Petersburg?
Lifeguards – A lifeguard could be responsible for a swimming pool accident if they weren't paying attention whilst they were on duty or if they were behaving unsafely themselves. Liability for an accident caused by a negligent lifeguard could lie with the lifeguard themselves or with a company responsible for hiring the lifeguard.
Companies – A company could be held liable for a pool accident if they were responsible for hiring an unqualified or under-qualified lifeguard, if they required their staff to work without rest breaks, or if they failed to check and maintain pool equipment. Companies are also responsible for limiting 'attractive nuisance' for children. This means that they need to take extra care because dangers that are apparent to adults are not easily recognizable by children. Therefore, a pool is required to install items such as a pool cover, a pool barrier, locking mechanisms, and alarms.
Pool patrons – Individuals using a pool could cause an accident if they are behaving unsafely and disregarding swimming pool regulations. There is also a significant risk of accidents occurring if parents do not properly supervise their children.
Accident victims – It is possible for accident victims to share liability for their injuries if they contributed to causing an accident or making it worse. Florida's

Comparative Fault

principle makes it possible for liability and compensation to be shared between more than one individual in cases such as these.
What Can a Swimming Pool Accident Lawyer Do for Me?
Florida personal injury law is complex, and there can be a variety of different case outcomes depending on the specific circumstances of your accident. It's always advised to work with a qualified Florida law firm in order to:
Pursue Compensation
A St. Petersburg injury and accident lawyer can help you to receive compensation for your injuries, including:
Medical bills and expenses.
Rehabilitation costs.
Lost wages due to disability or injury.
Non-economic damages, including

pain and suffering

, if an injury has reduced your quality of life.

Loss of consortium

if injuries have affected your personal and social relationships.
Funeral costs and death benefits.
Prove Negligence and Liability
In order to receive compensation, you will need to prove that the 'owner' of the pool owed you, 'the invitee,' a duty of care that was breached. In the case of a public pool, this is fairly simple, as pool owners have a duty of care to their patrons, which they perform by properly maintaining equipment, hiring competent lifeguards, cleaning and maintaining the pool area, as well as carrying out risk assessments and checks. If any of these areas lapsed, causing an accident at a public pool, and this directly led to your injuries, then this can prove that negligence occurred.
However, it can be less straightforward to prove that a duty of care was breached if your accident took place at a private pool. It becomes even more complicated if you were not an invitee, if you were a licensee, or if you were trespassing on public or private pool property. In this case, you shouldn't assume that you are not entitled to compensation. You still have legal rights, and it can still be possible to win a negligence case with the help of a swimming pool accident lawyer.
Avoid Sharing Liability
It could be possible that another individual or even a pool company could claim that you were responsible for your own accident. Without the help of a personal injury and accident attorney, this will reduce the amount of compensation you could be entitled to receive and could even leave you liable to pay for the injuries of others.
A St. Petersburg injury lawyer will be able to build a defense in your favor in order to try to avoid any liability, to help you achieve a higher level of compensation, and to hold those responsible for your accident legally accountable.
Contact The Law Place to Hire a Personal Injury and Swimming Pool Accident Attorneys
Swimming pool accidents can have devastating consequences, including injury and death. They also leave those affected with expensive medical bills that they may not be able to cover on their own. If you or a loved one has been involved in an accident involving a public or private pool, get in touch with The Law Place today. We can help you to understand your rights and pursue compensation whether or not you contributed to causing the incident.
We offer all of our new clients a free consultation with one of our team to help you feel completely confident before you commit to working with us. So, to receive your free case evaluation with a qualified swimming pool accident lawyer, call today on (941) 444-4444.