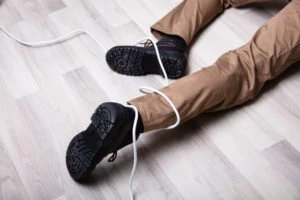 A slip and fall accident can occur in many different places, such as your home, your yard, your workplace, or in a public place. Often, a fall will not lead to serious injuries. However, in some cases, a simple fall or slip could greatly impact your life. In Florida, consumers are protected by law when in a business establishment. A business has a duty of care to maintain the safety of its customers while they are on its premises.
If you or a loved one were involved in this type of accident, it is recommended that you contact a slip and fall attorney. We can help you determine whether you might be able to claim compensation by filing a lawsuit against the establishment where the fall occurred. An experienced personal injury lawyer can also help to settle negotiations with all involved insurance companies, including your own insurance provider.
No matter the circumstances of your fall, the only way to know for sure if you could be entitled to compensation is to call a personal injury law firm such as The Law Place for advice. Our team has over 75 years of combined experience and can help you decide what the next steps you take should be. We will provide you with a free case evaluation with legal advice tailored to your case.
Our phone lines are open 24hrs a day, 7 days a week. Call us today at (941) 444-4444.
Common Causes of Slip and Fall Accidents
It's a misconception that falls happen purely because of clumsiness or distraction. Many other factors might cause you to fall.
Some of the most common causes of slip and fall accidents are:
A spill on the floor (whether in a public place or on private property).
Loose floorboards.
Torn carpets.
Improperly constructed staircases.
Items or debris left on the floor.
Icy or wet walkways.
Uneven flooring, sidewalks, or roads.
This is only a small selection of possible causes for a slip or fall. Regardless of the cause of the accident, remember that it could have been due to someone else's careless or negligent actions. You might initially assume that you were to blame for not paying more attention, but in reality, it could be that the establishment should have done more to ensure your safety. It is the responsibility of the establishment to look out for potential hazards and intervene before they cause anyone harm. Contact us today to discuss the details of your accident with one of our accident attorneys. They will help to determine whether you could have a strong case and will calculate an estimate of the compensation you may be owed.
Common Slip and Fall Injuries
Slips and falls can happen in various different situations, with the resulting injuries ranging from minor to life-changing. Many people slip or fall every day and are able to carry on with their life without it causing any major impact. However, simply landing the wrong way could lead to more severe injuries, such as broken bones or spinal damage. These injuries could mean that you have to take time off work or even undergo surgery. The impact of this fall could then last years.
Some common injuries from slip and fall accidents include:
Lesions and bruising.
Concussion, which can lead to chronic traumatic encephalopathy (CTE).
Broken bones.
Bruised vertebrae.
If you have suffered these or any other injuries because of the negligence of a property or business owner, then you shouldn't have to suffer in silence. Victims of slip and fall accidents have used our legal services to claim thousands of dollars. Allow us to help you seek justice. Call us today for no-obligation legal advice from a North Port personal injury attorney.
Determining Negligence
If you have been involved in a slip and fall accident and wish to file a case, you or your legal representation will have to prove that the slip was the result of negligence. In order to do this, four components must be met:
Duty – You will have to prove that the owner of the property or business owed you a duty of care while you were on the property.
Breach – You will have to then prove that the owner breached or broke this duty of care. This could be, for example, that the owner failed to clean up a spill or fix a broken handrail.
Causation – Next, you will have to prove that the breach in the duty of care was the cause of your fall. The owner could try to defend themselves by claiming that you were to blame for the fall or that you had a preexisting condition that caused the fall to happen.
Harm – Finally, you will need to prove that the fall caused you harm. You will only have a case if you sustained injuries from your fall. If this is the case, you may be able to claim compensation for medical expenses as well as the loss of past and future wages.
Florida's premise liability laws dictate that property owners have the duty to maintain their property in a safe condition. The extent of this duty varies depending on the reason for the person visiting this property, where the victim can be classified as either an invitee, licensee, or trespasser. Because of the complexities of liability laws and the issues with proving negligence, it is highly recommended that you seek representation from a reputable and trustworthy personal injury law firm. Our experience means that we know all the tricks and defenses that a property owner might use in order to avoid liability, for example, the claim that the invitee knew the risk involved when they entered the property.
According to Florida Statute 95.11, an individual has four years in which to file a claim for personal injury. However, it is in your best interest to start the process as soon as possible so that your memories and injuries from the event will be fresh. So don't hesitate, contact our team of specialized personal injury lawyers for a free consultation and to discuss your options.
What Should I Do if I Have Suffered a Slip and Fall Accident?
If the slip or fall happens in a public place, a common reaction is to reassure bystanders that you are ok and leave the scene quickly. However, what often happens following an accident is that the extent of the pain and injuries only becomes apparent once the adrenaline has worn off. Furthermore, if you leave the scene immediately, you could be missing the opportunity to observe the hazards that could have caused your fall. If an establishment becomes aware of what happened, they are likely to get rid of the hazard as soon as possible. By the time you return to the establishment, they may have cleaned up the spill, fixed the lightbulb, etc. This will be to reduce risk to others but also to reduce the chance that a victim of their negligence could prove the cause of their injury.
It is essential, therefore, that you survey the scene of your accident after it occurred and take photos of any hazards that could have led to your fall. It would also be useful to talk to bystanders there at the time of the fall and ask for their contact details, as they could be valuable later on.
It would be wise to gather any other useful evidence as soon as possible, such as taking pictures of any visible injuries, such as bruising or swelling. You could also take a photo of what you were wearing when the accident occurred, as the business establishment owner may try to prove that you were wearing inappropriate footwear or other clothing that could have made the fall more likely.
If your injuries require you to go to the hospital, remember to keep documentation of any diagnoses given and receipts of costs, including for medication. If the fall means that you have to miss work, keep track of the hours and resulting salary that you lost. All of this evidence will help us to build a strong case and give you the best chance of reaching a fair settlement to compensate you for the accident.
How Can a Personal Injury Lawyer Help Me?
Our slip and fall lawyers have many years of experience dealing with these kinds of personal injury cases. If you contact us, you will receive a free consultation regarding your case with one of our personal injury lawyers. We can review the details of your fall to help you determine if it is worth pursuing a lawsuit and then estimate the amount you win in a settlement.
Your attorney may be able to help you to claim for the following:
Medical expenses.
Loss of wages and potential future wages.
Pain and suffering.
Property damage. If, for example, you broke your phone during the fall.
If you decide to let us represent you, one of our personal injury attorneys will guide you through the entire process to determine which of these damages you may be able to claim. Your attorney will help to collect relevant evidence, including witness statements and CCTV footage, and will deal with all communication from any third parties or insurance companies. Insurance companies can be a headache to deal with, as they, like all big businesses, are focused on profit. Therefore, even your own insurance company will be highly experienced in reducing the amount they payout by any means, including trying to insist that you were at least partly to blame for the accident.
Under Florida Statute 627.7407, the final court settlement will be proportional to the blame assigned to different involved parties. This means that if your insurance company can claim that you fell because of your own actions, or choice of footwear, for example, then they can reduce the total amount they would have to pay out in a final settlement. These situations with insurance companies can be tricky to navigate, but luckily The Law Place has extensive experience dealing with big insurance companies and will fight hard to defend you from being taken advantage of. We will get you the compensation you deserve.
The Law Place
Our team of lawyers is committed to helping you seek justice. If you have been involved in a slip and fall accident in North Port, Florida, you shouldn't have to face the consequences alone. Call us today to talk to an accident attorney who can provide you with free legal advice specific to your case.
Our phone lines are open 24 hours a day, 7 days a week. So call us today at (941) 444-4444.