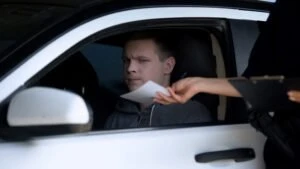 Hundreds of traffic tickets are handed out in Tampa, FL, every day. Police officers routinely stop motorists for speeding, running red lights, failing to yield for pedestrians, and many other moving and non-moving violations. Fines for these sorts of offenses make up the bulk of the revenue brought in by law enforcement officers to the state and city of Tampa.
While almost everyone has experience with getting a ticket, not everyone knows how serious the consequences can be. Points on your driving record, license suspension or revocation, or even jail time await those committing serious driving offenses.
If you've been cited with a moving or non-moving violation, don't hesitate to contact The Law Place traffic ticket attorneys today. We have over 75 years of combined experience fighting tickets just like yours. We offer a free consultation with a traffic ticket attorney who will explain your options and hopefully offer a better solution than just paying your ticket online or showing up to court unprepared for the consequences a judge may hand you.
Don't just let a speeding ticket or traffic ticket take money out of your pocket, speak to a Tampa criminal defense attorney.
Types Of Traffic Tickets
All traffic violations are categorized as civil or criminal offenses. Civil offenses are punishable by fines and possible points on your license. Criminal offenses are more serious and can result in much higher fines, probation, and even incarceration in jail or prison.
Also, traffic tickets are designated as either moving or non-moving violations. Moving violations occur when the vehicle is in motion, such as speeding. Non-moving violations happen when the vehicle is stationary, such as illegal parking.
Civil Traffic Violations
Common civil traffic violations include but are not limited to:
Speeding.
Running a red light.
Failure to yield.
Broken head/tail light.
Inadequate child safety restraints.
Driving without a seatbelt.
Driving on an expired license.
Careless driving.
Criminal Traffic Violations
Criminal traffic violations can include:
DUI (driving under the influence).
Reckless driving.
Driving on a suspended license.
Driving on a revoked license.
Driving with no registration.
Refusal to obey lawful orders from police or fire officials.
Speeding more than 30 mph over the limit.
An auto accident involving a hit and run.
How Much Are The Fines For Traffic Tickets In Tampa?
Florida Statute 318.18 outlines the minimum fines for moving and non-moving violations throughout the state. However, Florida also allows counties and cities to determine their own fine schedule. In the Tampa, FL, metropolitan area, and Hillsborough County, fines for moving violations are usually higher than the minimum set forward by Florida state law.
For example, the fines for speeding in Hillsborough County are as follows:
6-10 mph – $118.00.
10-14 mph – $193.00.
15-19 mph – $243.00.
20-29 mph – $268.00.
30 mph – Mandatory court appearance.
Fines increase dramatically for speeding in a school or construction zone.
You have 30 days from the date of your ticket to pay the county or city what you owe. Not doing so will result in a suspended license and late fees that increase over time. If enough time has passed, relevant authorities have the right to issue an arrest warrant for delinquency.
Do I Have To Go To Court In Tampa For A Traffic Ticket?
A traffic ticket can typically be paid online without the need to appear in court. However, serious violations such as speeding more than 30 mph over the limit can result in a mandatory court appearance. The exact consequences of your traffic ticket will be determined by a judge or clerk of the court.
If you don't have a mandatory court appearance but wish to fight your ticket, you can request a court date to argue your case. Be aware, though, that if you choose to argue your ticket, your fine can be increased to $500, much higher than the fine schedule for most moving and non-moving violations.
Can I Go To Jail For Traffic Violations?
Most traffic tickets only penalize motorists with a fine and points on their license. However, some carry much more serious consequences.
Some criminal traffic offenses such as drunk driving carry the real possibility of jail time. How much you may face will depend on what you are charged with. For example, Florida Statutes 316.193 states a 3rd DUI carries a mandatory 30-day jail sentence and up to one-year imprisonment if the offense occurred within 10 years of the previous DUI.
If you're concerned that your traffic ticket may lead to jail time, schedule a free consultation with a traffic ticket lawyer from The Law Place today to discuss your options. One of our traffic ticket attorneys will explain the risks associated with your citation and what strategies we will employ to help battle your case.
How Many Points Do I Get On My License For A Traffic Ticket?
Like many other states, Florida employs a point system that penalizes drivers for traffic offenses. Points accumulate over time and increase insurance rates. The state also reserves the right to suspend or revoke the driving privileges of anyone who collects too many points within a specified period. The severity of the traffic offense will determine how many points are added.
You will receive a minimum of three points for all moving violations. Some non-moving violations also carry three points but most only result in a fine.
The point schedule for traffic violations is as follows:
Three Points
Speeding 15 mph or less over the limit.
Open container in the vehicle.
Inadequate child restraints.
Parking on a highway.
Toll violations.
All other minor moving violations.
Four Points
Speeding more than 15 mph over the limit.
Reckless driving.
Running a red light.
Passing a stopped school bus.
Accident/property damage caused by a moving violation.
Driving during prohibited hours.
Six Points
Accident caused by a speeding violation.
Leaving the scene of an accident with more than $50 in property damage.
According to the State of Florida, accumulating too many points can result in a license suspension for:
30-days – 12 points within 12 months.
3-months – 18 points in 18 months.
1-year – 24 points in 36 months.
You will have your license revoked permanently if you are caught with 15 moving violations or 5 major traffic offenses on your record. Points from a ticket stay on your license for 36 months, and the date starts from when the ticket was issued.
How Can Traffic School Help Me?
Traffic school, also known as a Basic Driver Improvement Course, defensive driving course, or driving school, is a way to mitigate some of the consequences of your ticket. You may be able to avoid points by attending the course before or after paying your fine.
Individuals can attend driving school once per year for a total of five times throughout their life.
Most moving violations allow motorists to enroll in traffic school as an alternative to points. However, some serious offenses, such as reckless driving, don't provide the course as a relief. If a driving course is part of your sentencing, you won't be able to negate points by attending.
Can I Pay My Tampa Ticket Online?
The State of Florida makes it easy to pay for most traffic tickets online. You can pay the full amount of your ticket through the county website listed on the physical copy of your citation.
However, more serious violations such as speeding 30 mph over the limit or reckless driving come with a mandated court appearance. Be aware that you will not be able to pay your ticket online if you have a scheduled court date.
Tampa Traffic Ticket Lawyer, FAQ
Can a Tampa traffic ticket lawyer help with any type of traffic ticket?
Yes, a Tampa traffic ticket lawyer can assist with a variety of traffic tickets, ranging from speeding and red-light violations to more serious offenses like reckless driving. They can provide legal advice specific to your case and represent you in court if necessary.
What are the benefits of hiring a traffic ticket lawyer in Tampa?
Hiring a traffic ticket lawyer in Tampa can increase your chances of getting the ticket reduced or dismissed. They can negotiate with the court, use their knowledge of traffic law to challenge the ticket, and help you avoid points on your license, fines, and increased insurance rates.
How can a lawyer help if I receive a speeding ticket in Tampa?
If you receive a speeding ticket in Tampa, a lawyer can review the circumstances of your ticket and contest the charge in court. They may question the accuracy of the speed measurement or argue mitigating circumstances that led to the violation.
What should I do if I get a traffic citation for running a red light in Tampa?
If you're cited for running a red light in Tampa, contact a traffic ticket lawyer to discuss your legal options. They can assess the evidence, such as traffic camera footage, and develop a strategy to contest the citation.
Can traffic ticket attorneys in Tampa handle cases involving commercial drivers?
Yes, traffic ticket attorneys in Tampa can handle cases involving commercial drivers. Commercial driver's license (CDL) holders often face stricter penalties and standards, making legal representation crucial for protecting their licenses and livelihoods.
Is it worth fighting a traffic ticket in Tampa?
Fighting a traffic ticket in Tampa can be worth it, especially if there are grounds to contest the charge or if a conviction could lead to serious consequences like license suspension. A lawyer can help you assess the viability of contesting the ticket.
How do traffic ticket lawyers in Tampa dispute a ticket?
Traffic ticket lawyers in Tampa dispute tickets by examining the evidence, identifying procedural errors, questioning the accuracy of law enforcement's claims, and presenting mitigating factors that might influence the court's decision.
What happens if I ignore a traffic ticket in Tampa?
Ignoring a traffic ticket in Tampa can lead to additional fines, a warrant for your arrest, and possible suspension of your driver's license. It's important to address traffic tickets promptly, preferably with the assistance of a lawyer.
Can a Tampa traffic ticket lawyer help reduce the impact of a ticket on my driving record?
Yes, a Tampa traffic ticket lawyer can help in reducing the impact of a ticket on your driving record. Through legal defense strategies, they can work to have the charges reduced or dismissed, thereby minimizing points on your license and potential insurance rate increases.
How long do I have to contest a traffic ticket in Tampa?
The time frame to contest a traffic ticket in Tampa varies depending on the type of violation. Generally, you have a specified number of days from the date of the citation to either pay the fine or contest the ticket. A traffic ticket lawyer can provide specific guidance based on your situation.
Contact The Law Place Tampa, FL, Traffic Ticket Attorneys Today!
Have you been handed a ticket for a civil or criminal traffic violation? Are you worried about points on your license or even more serious consequences?
Contact a Tampa traffic ticket lawyer at The Law Place today! With the unrivaled experience of over 75 years in the ticket defense business, you'll feel confident that our traffic ticket lawyer has your back. Our law office will fight to have your ticket dismissed, whether you ran passed a stop sign or drove over the speed limit.
We handle personal injury, criminal defense, and traffic tickets, so we can handle whatever your case throws at us.
We offer a free strategy session where one of our traffic ticket lawyers will go over your options and explain our fee structure in full detail, so there are no surprise costs for our legal advice.
Contact The Law Place for a free consultation with a Tampa traffic ticket attorney now.