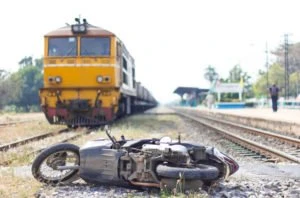 A motorcycle is one of the quickest and easiest ways to get around Port Charlotte, Florida, and there are hundreds of motorcycles out and about on the roads at any given time. However, more motorcycles and the relative lack of protection compared to cars means that motorcycle accidents are not only relatively commonplace, but the risk of personal injury is extremely high.
Insurance is a must for anyone taking to the open road in Florida as it is the best possible protection against unforeseen events. However, the fact is that not everyone in a motor vehicle necessarily has the insurance that will enable them to pay for damages following a car accident or motorcycle accident. Therefore, it is essential to seek out a personal injury attorney as quickly as possible to find out the next steps if such an event occurs.
At The Law Place, we have a team of personal injury attorneys with more than seven decades of combined experience, and they are ready to help across a range of practice areas. So, if you are an uninsured motorist that has been involved in a motorcycle accident or have been in an accident with someone else without proper insurance coverage and require assistance from a Port Charlotte personal injury lawyer, contact us today at (941) 444-4444 for a free consultation.
The Most Common Causes of Motorcycle Accidents in Port Charlotte, Fl.
A serious motorcycle accident can result in lost wages, serious injuries, pain, and suffering, and potentially even wrongful death. These accidents can be due to various reasons, some of which are the individual's fault on the bike or behind the wheel, and others that involve external conditions. Among the most common causes of motorcycle accidents in the State of Florida are:
Distracted Driving
Vehicle owners in Florida have a duty of care to other road users, including giving the road and those around them the attention they deserve. Motorcycle riders have a particularly strong incentive to always take in their surroundings, given that they can be particularly vulnerable in the event of an accident. An important part of being a good rider has a general awareness of their own actions and the potential actions of those around them to avoid car accidents.
Driving While Under the Influence
Going a step further than driving while distracted is driving under the influence. This is particularly frowned upon in Florida. It is almost an admission from those involved in an accident that they have not made their safety and others a priority. Anyone involved in an auto accident while driving under the influence should seek out an accident lawyer immediately, as they may need the assistance of a legal team on multiple counts.
Difficult Weather
Motorcycles are naturally easy to keep upright in most conditions, but the main weakness is the relatively small surface area directly connected with the road. As a result, port Charlotte and the rest of Florida are susceptible to quick changes in conditions, and it is important to take those conditions into account to avoid a potential motorcycle accident.
Mechanical Issues
Like all motor vehicles, motorcycles require regular maintenance and upkeep. Keeping a motorcycle in good condition is a legal requirement as part of the duty of care. A rider may be found to be at fault in legal terms if automobile accidents they are involved in can be traced back to a fault with the motorcycle itself.
Speeding and Reckless Driving
The sheer speed and maneuverability of a motorcycle can make dangerous driving tempting, but this goes beyond a lack of attention. Dangerous driving that results in an automobile accident will often be discovered by an accident attorney or insurance company. Thus, the chances of being found at fault in a Florida trial are exceptionally high.
Laws Around Insurance in Port Charlotte and Fort Myers
Florida is a no-fault state, as covered in Florida Statute 627.7407. This means that in the first instance following accidents, the victims should first turn to their insurance company no matter who was at fault.
The likelihood of an accident involving an uninsured driver is lower than with their insured counterparts, as holding insurance, including personal injury protection, is mandatory in Port Charlotte and the rest of the state. In addition, car owners, and indeed anyone that drives a vehicle with four or more wheels, must carry personal injury protection to a value of $10,000 each to cover damages and property damage. This mandate is enforced on a statewide level by the Florida Office of Insurance Regulation.
In some cases, even insured drivers will exceed their policy levels. This is because insurance companies are only required to provide coverage up to the legal limits stipulated in the insurance policy. However, in cases that result in serious injuries, large medical bills, and potentially huge expenses, the claim may exceed the covered amount. In these cases, the parties involved in the accident must go beyond their insurance company and claim against a party that is determined to be at fault.
This might result in going to trial, making the appointment of a law firm and personal injury lawyers a priority. It can be impossible to tell the amount of coverage held by the at-fault party, and so contacting a Florida personal injury lawyer is important as quickly after the accident as possible.
For those who did not appoint an accident attorney immediately, there is still a statute of limitations. Anyone involved in an accident where they feel they deserve compensation has up to four years from the date of the accident to lodge a claim through their accident attorney against the at-fault party.
If you want to ensure you don't suffer financially following a motorcycle accident. In that case, it is important to appoint a personal injury attorney from a reputable law firm as early as possible. Our accident attorneys are ready to help, and you can call The Law Place today for a free consultation where our Florida personal injury specialists will work to put your mind at ease.
How a Personal Injury Lawyer Can Help Following a Car Accident
If you're involved in a motorcycle accident in Port Charlotte, a dedicated motorcycle accident lawyer can help ensure you are not left out of pocket. As noted previously, a motorcycle accident can be far more serious than a regular auto accident, given the relative lack of protection for riders. In addition, lost wages and medical bills can be just the tip of the iceberg.
During the free consultation, personal injury lawyers will gather as much detail as possible about the accident and potentially call on specialists from a variety of practice areas to ensure you get the help you need to ensure you're never left out of pocket. An accident attorney will appraise the information given and works with clients to provide the legal representation they need, potentially all the way to trial.
Our reputation in Port Charlotte, Florida, is built on providing the legal advice people need to ensure that they do not lose out financially due to events beyond their control. Our accident lawyers are comfortable with injury cases spanning loss of earnings and the medical bills associated with serious injuries. If the other party's insurance cannot help or are completely uninsured, we will ensure that your personal injury lawyers gain the compensation you deserve.
Lawyer Fees
The Law Place operates on a contingency fee basis, as monitored by the State Bar Association. We understand that legal costs are the last thing anyone wants to pay at times of stress, such as following an accident. However, contingency in legal cases means that you only pay for personal injury lawyers in the cases of a successful outcome.
The accident lawyer assigned to your case will arrange this on your behalf, whereby a small percentage of the compensation awarded goes to cover your legal fees before clients receive it. This means that our law firm clients never need to worry about setting money aside to pay for a lawyer, even when the case is complete, as the compensation paid following a trial or decision has already covered all required deductions.
Beyond that, our accident attorneys work on behalf of the Port Charlotte community and seek to provide a transparent service, ensuring no hidden costs or added extras at any point. Your lawyer will advise you early in the process of how much you can expect the deduction to be, and you are welcome to ask any questions or discuss any concerns when you schedule a free consultation.
Call A Port Charlotte Motorcycle Accident Lawyer Today
We guarantee our clients our full attention, with the right lawyer assigned from practice areas across the firm. Your attorney will begin to work on your case immediately following your motorcycle accident, ensuring that all options available by law are explored.
If you have sustained injuries resulting from an accident in Port Charlotte and require an attorney to handle everything from making a case to completing the relevant paperwork, and working with you potentially all the way to trial, The Law Place can help.
Our offices are open around the clock, so if you need an attorney without delay, call today. The Law Place team will assign a lawyer to your case as quickly as possible to give you the peace of mind you require. So, call today on (941) 444-4444. Our team is ready to provide all the help you need.