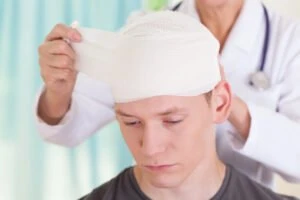 Suffering a traumatic brain injury (TBI) in Orlando can have a huge impact on your life. The brain is a complex organ that is still not fully understood by medical professionals, even though there have been amazing advances in medicine. Unfortunately, not all brain injuries can be cured. These injuries can cause a great deal of physical and emotional trauma.
Our goal at The Law Place is the help traumatic brain injury victims and their families. We understand that no sum of compensation will be able to take away the trauma suffered, but it can help with physical therapy and medical treatment. You and your family members should not have to suffer. If your injury was caused by someone else's carelessness in an accident, it may be possible to sue the negligent party.
To schedule a free consultation with an experienced Orlando brain injury lawyer, get in touch with us today. A member of our team will be able to examine your personal injury case and offer you some honest legal advice. If you think you may be entitled to compensation, call us now at (941)-444-4444.
Common Causes of Traumatic Brain Injuries
One of the most common causes of traumatic brain injuries in Orlando is motor vehicle accidents. This is because these accidents frequently result in victims suffering blunt forces to their heads. The Brain Injury Association of America has released information stating that TBIs can be caused by other reasons besides a direct impact on a victim's head. In severe cases, the skull can be pierced by windshield glass, a steering wheel, or a fragment of bone. Open-head injuries can prove to be catastrophic. Although, these injuries can also be caused by small accidents. For example, a child can suffer a TBI from simply falling over. Regardless of your brain and/ or head injury, a brain injury attorney at our law firm will fight for your right to compensation. We have handled many TBI cases and some of the most common causes we have encountered are:
Auto accidents.
Truck accidents.
Railroad accidents.
Boating accidents.
Birth injuries.
Construction accidents.
Aviation accidents.
Motorcycle accidents.
Medical malpractice.
Common TBI Symptoms
If you or a loved one ever suffer an impact on your head, it is wise to seek medical treatment. This is because not all brain injury symptoms are apparent immediately after an accident. Some symptoms will only develop in the weeks and months following a trauma. Therefore, getting checked over by a doctor is important as detecting these injuries early is crucial. The types of symptoms suffered by brain injury victims will vary depending on the extent and type of brain injury.
Some common symptoms can include:
Slurred speech.
Confusion and forgetfulness.
Swelling.
Unconsciousness.
Unresponsiveness.
Difficulty concentrating.
Language problems.
Long-Term Consequences of Traumatic Brain Injuries
Medical professionals in Orlando will do all they can to try and cure or stabilise a traumatic brain injury. Despite this, it is common for TBI victims to suffer long-term consequences. People who suffer a severe TBI may struggle to complete day-to-day tasks. A person's ability to speak, move, and more can be greatly impacted. These life-altering consequences can be compensated for. Although fair compensation will not remove the suffering, it can help fund treatment. Compensation may enable victims to seek innovative treatment to improve their quality of life.
It's not just severe TBI victims that suffer from long-term consequences. Victims who suffer a minor TBI injury, such as a whiplash injury, can experience the following long-term issues:
Memory problems.
Seizures.
Mood swings.
Personality changes.
Headaches.
Issues concentrating.
Psychological symptoms.
Types of Brain Injuries
There are two different types of brain injuries. Regardless of the type of brain injury you have suffered or how it occurred, there is a great chance you may be entitled to compensation.
Traumatic Brain Injury
These injuries are caused by a violent blow or jolt to the head. These injuries can be caused by motor vehicle accidents, falls, assaults, military combat missions, and more.
Non-Traumatic Brain Injury
The other type of brain injury is a non-traumatic brain injury. These injuries are generally caused internally. For example, oxygen deprivation can cause a non-traumatic brain injury. It is common for this type of injury to occur in cases of near-suffocation and near-drowning. Furthermore, it is possible to suffer a non-traumatic brain injury by being exposed to toxic substances, suffering an overdose, experiencing a seizure, suffering from an infectious disease, and more.
Compensation Recovered in a Traumatic Brain Injury Claim
If you or someone you love has suffered a TBI in Orlando, you may be entitled to a great sum of compensation. Many victims will be aware that they can file for compensation to cover their medical bills, but few realize that there are so many more damages that they can claim. Our traumatic brain injury lawyers examine each case carefully to determine how much a victim is entitled to. You can feel assured knowing that your lawyer at The Law Place will be helping you recover the maximum amount of compensation possible. Some damages that are commonly claimed in these cases include:
Lost wages.
Medical expenses.
Future medical treatment.
Reduced earning capacity.
Pain and suffering.
Wrongful death.
Reduced quality of life.
Cost of medical carers and assistance.
Some damages, such as pain and suffering, are difficult to claim. These non-economic damages generally need to be calculated by a reputable brain injury lawyer.
When to Contact a Traumatic Brain Injury Lawyer
You should contact a lawyer and seek legal representation as soon as you can after suffering a traumatic brain injury. This is because Florida law is strict on injury victims filing compensation claims and lawsuits. According to Florida's statute of limitations, outlined under Florida Statute 95.11, victims who suffer brain injuries only have four years to file a claim after suffering their accident. As soon as these years have passed, a TBI case will be barred and a victim will be unable to make a claim. This would be a huge loss. These injuries are generally classed as "catastrophic injuries." This is because they have a huge impact on a victim's quality of life. Therefore, victims are typically entitled to a large sum of compensation. The settlements that victims achieve can greatly help cover the costs of their medical bills, lost wages, and more. You should act fast to avoid missing out.
Not only this but families who have lost a loved one because of a traumatic brain injury, only have two years to file a claim for wrongful death. These claims can be complex to file and that is why it is important to contact an experienced brain injury attorney. Two years is barely enough time to grieve. While you care for yourself and your grieving loved ones, our legal team will get to work fighting for your justice. Compensation cannot change the tragic events that you have endured, but it can ease your financial suffering during this difficult time.
What to Do After Suffering a Head Injury
If you suffer an accident in central Florida and injure your head, there are a few things you should do to protect your health. First of all, you need to assess the scene. If you have experienced a blunt force, you must remain still. There is a risk that you may have suffered a debilitating spinal cord or neck injury. If you move, you risk making your injuries worse. Someone at the accident scene must dial 9-1-1 for emergency services. These injuries are serious and need to be dealt with immediately.
Furthermore, the accident scene must be documented. If you are unable to, a loved one or someone you know should take photos and videos of the scene. The more evidence you collect, the easier it will be to prove your TBI and recover the compensation you deserve.
How Much Is a Traumatic Brain Injury Worth in Orlando?
All brain injuries are different and the amount of compensation that victims recover will depend on the severity of their injuries. It is not uncommon for victims to recover between $100,000 and $7 million in the most severe cases. Large settlements are typically awarded to those who have suffered life-changing injuries, especially in cases caused by the negligent actions of another person.
After suffering a traumatic brain injury, you will not be guaranteed to receive a certain sum of compensation. Our Orlando brain injury attorneys will do all they can to ensure that you recover as much compensation as possible. If you are wondering how much your case could be worth, don't hesitate to contact The Law Place today for a free case evaluation. Our legal team is available 24/7 to take your call. One of our experienced and knowledgeable attorneys will give you a rough idea of how much compensation you could expect to recover based on their experience.
How Much does It Cost to Treat a TBI?
Brain injuries are complex and they will often require specialist treatment and surgery in Orlando. Treating TBIs, therefore, can be incredibly expensive and unaffordable. The lifetime costs to treat severe injuries can amount to millions of dollars. Treatment is expensive and that is why it is crucial to pursue compensation. Medical bills can quickly become crippling and you should not have to suffer in debt. Our team will do all they can to ensure that you recover the compensation you need to clear these bills.
How do You Prove a TBI Case?
To successfully recover compensation in a TBI claim or lawsuit, it will need to be proved that a victim has suffered a TBI. To do this, a brain injury lawyer will gather and present the following evidence:
A victim's medical records.
Current medical treatment documentation.
A daily journal of how the TBI has impacted the victim's life.
Expert witness testimony.
Family and friend's testimony.
How Long do TBI Survivors Live?
Most people who suffer from a TBI will eventually make a full recovery. Minor cases may take a few weeks or months to clear up. However, people who suffer from moderate and severe TBIs are not always as fortunate. Those who receive inpatient rehabilitation services after suffering a brain injury can live for years. On average, however, the average life expectancy of those receiving this kind of treatment will be reduced by nine years. Although this can seem daunting, there are exceptions. There is no doubt that traumatic brain injuries can have a huge impact on the lives of accident victims and their loved ones. The anxiety and harm caused to the loved ones of victims can be compensated for.
If you or someone you know has suffered from brain injuries, we would like to share our deepest sympathies. No one should have to suffer such trauma. At The Law Place, we are here for you entirely. We can offer you a great deal of support during this difficult time in your lives. You can feel rest assured knowing that we have helped many other people in your position. You can trust that your case will be handled in safe, trustworthy, and reputable hands.
Get in Touch With Traumatic Brain Injury Lawyers at The Law Place Today!
All brain injuries can have an impact on the lives of accident victims and their families. If you have tragically suffered a TBI in Orlando, you will likely be entitled to a great sum of compensation. At The Law Place, our attorneys will do all they can to ensure that you recover the money you are entitled to. This is undoubtedly a very difficult time in your life and you deserve to have additional legal burdens lifted from your shoulders by a reputable law firm. We can handle all of the work so you can focus on your recovery and rest.
The sooner you reach out to us, the better. To find out more about how we can help you and to schedule your free case evaluation, call us now at (941)-444-4444.