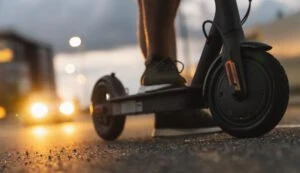 Scooters can provide an environmentally friendly and cost-effective way to travel around the city. Orlando's warm climate and favorable weather conditions can make this mode of transport particularly appealing.
However, scooters offer very little protection to the rider, and they often go unseen by other road users. An electric scooter accident could result in catastrophic injuries, such as spinal cord and brain injuries. In more fortunate circumstances, where a victim suffers less severe injuries, there are still other implications of an accident to consider. These include medical bills, lost wages, lost earning capacity, and severe emotional distress caused by an accident.
Many scooter riders injured in accidents are young and often have no health insurance, which adds to the complexity of these cases. Not only are individuals excluded from coverage under most motor vehicle insurance policies, but a lack of health insurance too can leave victims with mounting financial concerns in addition to their injuries.
Personal injury claims allow the victims of electric scooter accidents to recover compensation to cover the damages and losses they have suffered. If you have been in a scooter accident, The Law Place Orlando scooter accident attorneys are highly experienced in scooter personal injury cases and can help you to secure the compensation you deserve. We understand the stressful position that the accidents can put victims in and we are here to use our expertise to help.
Call our team of Orlando scooter accident lawyers for a free consultation today at (941)-444-4444.
What Should I Do If I Have Been in a Scooter Accident in Orlando?
If you have been involved in an electric scooter accident, you must seek medical attention as soon as possible. The nature of scooter accidents means that victims often suffer serious injuries. Some injuries will not show symptoms immediately, so medical attention is essential.
Following this, you should report the accident to the police, exchange information with any parties involved, and gather evidence. Evidence to collect can include photographs of the scene and vehicles involved, contact details of witnesses, and the accident report number from the investigating officer.
Throughout the process, you should keep all documentation, including details of medical treatment, and hire a personal injury lawyer to recover compensation for your sustained injuries.
Who Could Be Found Liable in a Scooter Accident?
Liability in a scooter accident can vary on a case-by-case basis. Motor vehicle drivers, scooter companies, and even private businesses can all be found liable for an accident. Your Orlando scooter accident lawyer will evaluate the specifics of your situation to determine probable liability and how this could impact your case and compensation.
Motor Vehicle Driver
Scooter accidents involving motor vehicles in Orlando are treated in the same way as accidents involving bicycles and motor vehicles. Typically, the individual who was not following the rules of the road and abiding by regulations is found liable. For example, if either party is under the influence of drugs or alcohol, they would be liable for the accident.
As with motor vehicle accidents, liability can be shared. The percentage of liability would impact the final amount in the compensation settlement.
The Scooter Rider
Instances where the scooter rider may be liable for an accident include when the rider violates local traffic laws or rides while impaired. Additionally, in most cases where a pedestrian has been hit and injured in a scooter accident, the scooter rider is deemed to be at fault.
Scooter riders are rarely covered by insurance, most motor vehicle insurance excludes scooters, and homeowner's insurance usually only covers non-motorized accidents, such as bicycles. As such, if you are found liable for an accident as a scooter rider, you could find yourself personally responsible for the financial costs of the incident. This would include the costs for both yourself and any other parties involved in the crash.
Following any scooter accident, you should seek representation from an experienced scooter accident attorney for the best chance of defending yourself against personal financial liability.
A Pedestrian
If a pedestrian deliberately causes an accident with a scooter rider, then the pedestrian may be held liable for any damages that the scooter rider and their property incur. However, proving that the pedestrian is liable may be challenging, particularly in situations where the scooter rider was riding on the sidewalk, for example.
The Scooter Company
If an accident is due to a malfunction in the scooter, the scooter company would be liable for compensation for any damages caused to the user, pedestrians, other road users, or property. A scooter company can also be held liable for injuries and damages from a scooter that was not in use at the time of the accident. For example, if a pedestrian trips over a scooter and suffers an injury as a result.
The City Or Responsible Agencies
The city or relevant government agencies are responsible for maintaining roadways and managing potential hazards in public roads and walkways. If a scooter accident occurs because of debris, an unmarked hazard, or an unmaintained roadway, then the city or agency responsible for maintaining that area may be liable.
Similarly, if a pedestrian is injured by tripping over a scooter that is not in use and polluting the walkway, the city could be held liable.
Precautions to Take When Riding a Scooter
Electric scooters can be considered as more dangerous modes of transport, as they offer no protection to the rider, they can be unstable and difficult to see by other drivers. Scooter-related accidents can result in severe injuries to the rider. When possible, riders should take reasonable precautions. If you choose to ride a scooter, there are a range of precautions that you can implement to protect yourself and others from injury. These include:
Always wear a helmet.
Maintain vigilance of your surroundings and exercise caution.
Never ride a scooter under the influence of alcohol or drugs.
Never ride without a valid driving license.
Follow the rules of the road and respect other vehicles.
Never ride a scooter on the sidewalk.
Check over your scooter before riding for maintenance problems or vandalism.
Always park your scooter away from pedestrian pathways.
Personal Injury Protection (PIP) in Orlando
Florida law does not consider mopeds and motorized scooters as motor vehicles. As a result, moped and scooter riders are excluded from claiming personal injury protection (PIP) benefits from their motor vehicle insurance in Orlando. Similarly, homeowner's insurance rarely covers scooter accidents.
However, if you have been in an accident with a motor vehicle, you could be able to claim compensation from the driver's insurance company. Similarly, if your accident is a result of a scooter malfunction, then you may be able to pursue a claim under the scooter company's insurance policy.
Scooter Accident Personal Injury Claim
There is no straightforward answer when determining who is liable for a scooter accident claim and where to start with seeking compensation. However, if you have been injured in a scooter accident, a personal injury claim can help you recover compensation for the injuries and losses you have sustained.
The nature of your accident will determine who may be liable for covering the costs of your damages. This could be a motor vehicle driver, the scooter manufacturer, or the agency responsible for maintaining the roadways.
A skilled scooter accident lawyer can help you navigate the complexities of these cases and ensure that you receive the settlement you deserve from the liable parties involved.
Damages
Scooter accident victims are entitled to seek compensation for the damages that they have suffered because of the accident. Damages that you can seek compensation for can be economic and non-economic.
Economic damages include medical expenses, lost wages, the cost of damaged property, and funeral costs. Non-economic damages compensate for any pain and suffering the victim has experienced, including physical pain and emotional trauma. To claim compensation, your attorney will need to work with you prove that your injuries are a result of the other party's negligent behavior.
If you are a scooter rider who is at fault for an accident, then you could be liable for compensation for damages to all parties involved. If you are not covered by insurance for this liability, which is often the case for scooter riders, you could find yourself personally responsible for the compensation. This could have serious financial implications on your life. If you find yourself in this situation, reputable legal representation is essential to give you the best chance of protecting yourself against substantial costs.
The Law Place Scooter Accident Lawyers, Orlando
If you have been a scooter accident victim, alongside the potentially severe injuries that you have sustained, you may have the added concern of no insurance to cover the costs that you have incurred. Medical expenses, lost property, and lost earning potential are likely to be causing you extreme stress. Scooter accidents can also have serious impacts on your quality of life and cause prolonged pain and suffering.
At The Law Place, our personal injury attorneys operate on a contingency fee basis. We understand that financial issues may already be a concern for you if you have had a scooter accident and we do not want our legal fees to add to these concerns. Our contingency fee basis means that our attorneys do not receive payment unless your case is successful. We will take a percentage of your settlement if your case is successful which will be agreed upon with you upfront. We will be completely transparent with you and you will not face any hidden fees throughout the process.
The Law Place attorneys understand the position that scooter accident victims are in. We will fight aggressively to ensure that you receive fair compensation for your suffered injuries to support your recovery from the accident.
We offer a free consultation and case evaluation for all scooter accident victims looking for legal help. Call our team at (941)-444-4444 to discuss your scooter accident case and the compensation you may be entitled to.