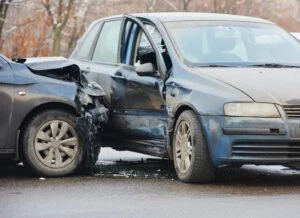 A T-bone car accident is the front of one vehicle going into the side of another. T-bone accidents are recognized as the most dangerous type of road accident, according to data released by the National Highway Traffic Safety Administration (NHTSA), and sadly, T-bone accident fatalities have risen by roughly 20% (from 31 to 51%) in the past twenty years.
If you have suffered injuries in a car accident that was not your fault, then you could be owed damages for your suffering. Compensation may not reverse what you have had to endure, but it can help take away any consequential overwhelming financial stresses at least.
Here at The Law Place, our car accident lawyers possess over 75 years of combined experience in dealing with cases similar to your own. Our team will be more than ready to use their breadth of knowledge and experience to ensure you get the justice you deserve. If you wish to seek compensation for your injuries following an accident, contact us today to learn more about what we can specifically do for you.
Our law firm can offer you a free consultation. Simply call our office at (941) 444-4444. Our phone lines are open 24/7 for your own convenience.
What Is a T-bone Accident?
T bone accidents, also known as side-impact collisions or right-angle collisions, occur when the front of a vehicle crashes into the side of another, this forms a T shape upon impact. T bone accidents typically occur at intersections and frequently cause serious injuries due to their being less protection to drivers in comparison to other types of car accidents such as rear-end or head-on collisions.
T-bone collisions also have the potential to lead to a secondary crash. The force of the crash can cause the broadsided car to be pushed sideways and into a secondary collision with oncoming traffic, telephone poles, fire hydrants, or guardrails. Depending on the force exerted in your T-bone crash, the vehicle can roll over completely. Major vehicle damage and injuries commonly occur following this type of motor vehicle accident.
Why Do T-bone Accidents Occur?
Arguably, the majority of T-bone accidents are most likely to have been caused by one car failing to obey the right-of-way rules of the road.
Most T-bone crashes are caused because of one or more of the following reasons:
Misjudgement of the gap in traveling traffic.

Misjudgement of oncoming traffic speed.

An obstructed view.

Insufficient checking of road conditions, e.g., not checking blind spots.

Distracted driving, such as cell phones or talking to passengers.

Incorrect assumptions about other drivers' actions.

Ignoring traffic lights, i.e., going on a red light.

Aggressive or reckless driving.
If your T-bone accident occurred because of any of the aforementioned reasons, then do not hesitate to contact The Law Place today. A personal injury lawyer will be able to use your testimony and the official police report and hopefully get you the compensation you deserve. Call us today to organize a free case evaluation.
Commonly Reported Injuries Following a T-bone Accidents
Most modern vehicles will come fitted with airbags and steel side-impact bars to help protect passengers in the event of a T-bone accident. However, despite these safety features, it is still possible to suffer severe injuries in a side-impact collision. Common injuries sustained in these types of car accidents include:
Traumatic brain injuries

Spinal injuries

Back/neck injuries, including whiplash

Fractured, crushed, and broken bones

Chest trauma

Head injuries

Cuts, scrapes, and bruises

Paralysis

Wrongful death
If you have suffered injuries in a T-bone collision, then you should contact an experienced car accident attorney as soon as possible. Serious injuries commonly lead to a strong personal injury claim.
Which Damages Could I Claim Following a T-bone Car Accident?
T-bone accident victims will be able to apply for a number of financial damages following their collision. What damages and how much you receive will depend on the specific details of your case. Examples of common damages include:
Medical expenses

– It is likely that following your T-bone car accident, you will have received some degree of medical treatment if you sustained a serious injury. This can lead to expensive medical bills. For any resulting medical costs, these bills can be included within your final settlement. You should keep evidence of all of these medical expenses, or else you may lose out on being compensated for them.

Lost wages

– If your mental or physical injuries meant you had to have time off from work, then you could be owed damages that cover all of your lost income from this period.

Property damage

– T-bone accidents are likely to have caused damage to your vehicle and/or what was inside. Any repair or replacement costs can be factored into your final settlement, as long as you have evidence of these costs (e.g., receipts from the mechanic).

Pain and suffering

–

Pain and suffering

aims to compensate you for any mental or physical suffering and loss of enjoyment in life that occurred as a result of your accident. T-bone accident victims that apply for this will, however, most likely, require an experienced lawyer as it is hard to know what counts as evidence and how much you should ask for.

Wrongful death

– Side-impact collisions also, sadly, have the potential to kill those involved. If you have lost a loved one in a collision, then you may be able to file a

wrongful death

lawsuit as per

Florida Statute 768.21

. A settlement from this type of lawsuit should cover any necessary funeral expenses, remaining medical costs, and

loss of consortium

.
To learn more about what you could be owed, organize a free consultation with The Law Place today!
What About No-Fault Insurance?
Florida's no-fault laws are explained in Florida Statute 627.7407. This law means that regardless of who the negligent party is, all parties must refer to their own insurance companies to make a claim. So that these costs can be covered, all Florida drivers must have Personal Injury Protection (PIP) Insurance as part of their own car insurance policy.
PIP insurance will cover your hospital bills and any lost wages, as well as any other possible costs that occurred because of your accident. It does, however, have a threshold, and if your costs go over the stipulated limit, you may have to consider filing a lawsuit against the other driver of the colliding vehicle.
Is There a Time Limit on Personal Injury Claims?
Florida Statute 95.11 explains Florida's strict statute of limitations. From the date of your accident, you will have four years to file the relevant lawsuits against the driver of the striking vehicle and/or insurance claims. If you fail to do so in this stipulated time frame, your case will be barred, and you will be unable to ever receive compensation for the damages you endured.
In the case that you have sadly lost a loved one and thus wish to file a wrongful death lawsuit, then this time limit is reduced down to two years from the date of their passing. A lawyer from our law firm will help ensure you meet all necessary deadlines and receive fair compensation.
In addition to this, Florida Statute 627.736 also explains that you are required to seek medical attention within two weeks of your collision. Even if you seem physically fine, then there could be some internal issues that would only be detected by a medical professional (e.g., a traumatic brain injury or internal bleeding). This statute is not only in place for your own health and safety but is also for insurance purposes.
If you fail to seek medical treatment within two weeks of your accident, then your insurance company is within its rights to use this fact against you to devalue or even deny your claim for damages. They can argue your injuries were not serious enough to deserve compensation.
Because of these time limits, it is best to act quickly following T-bone accidents, especially if you believe you may wish to later claim for damages.
Contact a Personal Injury Lawyer at The Law Place Today!
If you or somebody you know has recently been involved in a side-impact collision that was not their fault, then they could be owed compensation and should contact The Law Place today! Here at The Law Place, our team realizes how traumatic T-bone accidents can be for those involved and for their loved ones. We believe accidents of this caliber have the potential to completely flip your life upside down, and therefore it is best to focus all of your energy solely on your recovery and let our lawyers take on this stress of a legal battle. You deserve compensation, and we are here to help. With our years of experience and breadth of knowledge, we are more than ready to get your claim started.
To learn more about what we can do for you, simply schedule a free consultation with our team as soon as possible. Call us at (941) 444-4444. Our phone lines are open 24/7 for your convenience.