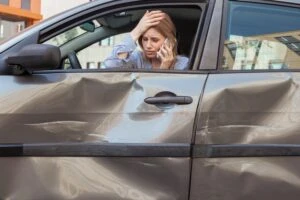 The United States can, unfortunately, be a dangerous place to drive. The National Highway Traffic Safety Administration (NHSA) reported over 36,000 traffic fatalities in 2019, and this figure seems to be rising each year. One type of accident that is particularly dangerous is the side-impact collision.
A side-impact collision, also known as a T-bone collision, occurs when one vehicle crashes into the side of another vehicle at approximately a 90-degree angle, thus forming a 'T' shape.
Side-impact collisions have particularly high fatality rates due to the lack of protection that cars have on their sides. Unfortunately, many of the safety features installed in modern vehicles, such as seatbelts, airbags, and crumple zones, are designed to protect passengers from head on-collisions and rear-end collisions, rather than side-impact crashes. One report found that 23% of all road deaths in 2019 were accounted for by side-impact crashes.
Although there are some situations where an unforeseen hazard makes an accident unavoidable, there are some actions you can take to reduce the risk of side-impact accidents. To understand how you can prevent this type of collision, it is key to look at the common causes of T-bone accidents.
If you have been in a T-bone collision, you should seek legal advice from a reputable law firm. Contact The Law Place today to arrange a free consultation with one of our personal injury lawyers.
Our phone lines are always open. Call today at (941) 444-4444.
Common Causes of Side-Impact Collisions
Side-impact collisions can happen for a variety of reasons. Side-impact collisions occur most frequently at intersections, where one driver fails to adhere to traffic signals or correct right-of-way procedure.
Some of the most common causes of side-impact crashes are:
Poor weather conditions.

Failure to adhere to traffic signals and stop signs.

A driver running a red light.

Distracted driving, such as the use of cell phones.

Driving over the speed limit.

Aggressive driving.
Although many drivers follow traffic rules and do everything they can to practice safe driving, there are many others who act recklessly or negligently on the road, endangering the lives of others. All motorists in Florida have a duty of care to keep other passengers, drivers, pedestrians, and cyclists safe. If a driver fails to do so, for example, by failing to yield right of way or showing road rage, then they could be found liable if this negligent behavior results in injuries. If you have suffered injuries following a side-impact collision caused by another driver, then you shouldn't suffer in silence. Contact us today for free advice regarding your case and to see if you could be owed compensation for your damages.
How Can I Prevent or Lessen the Impact of a T-Bone Collision?
Side-impact collisions can be extremely dangerous, where even at slow speeds, this type of impact can result in serious injuries, such as broken bones and neck injuries. Luckily, there are several things you can do to reduce the risk of a side-impact car crash.
Intersections
As the majority of T-bone collisions occur at intersections, it is important to drive especially cautiously when approaching or crossing an intersection. Make sure that you slow down on the approach to an intersection and come to a complete stop if there is a stop sign.
Before crossing an intersection, be sure to check both directions twice and be especially vigilant of trucks and motorbikes. Heavy trucks and tractor-trailers pose a significant threat of a side-impact crash due to the increased braking distances that mean that they take longer to come to a stop.
Always adhere to traffic rules and signals such as red lights and stop signs. Even if you have the right of way, be mindful that other drivers may have failed to notice you or have failed to yield right of way. Therefore, if you see that another driver is determined to go first, it is better to concede than to force your way onto the intersection and potentially cause a side collision.
It is important to follow your duty of care on the road, which is your responsibility to act in a way that ensures the safety of others to the best of your ability. This means paying attention to the road and signals such as traffic lights at all times and refraining from reckless behavior such as aggressive driving, speeding, and unexpected maneuvers.
If you have been injured because of the negligent driving behavior of another driver, then you could be entitled to compensation. Side-impact crashes are extremely dangerous and can result in serious injuries and enormous medical bills. Contact us today for free legal advice from an experienced personal injury lawyer.
Car Safety Features
Certain types of vehicles are more likely to protect you in case of a side-impact collision, although they cannot prevent such a collision from happening. This includes heavier vehicles that are better able to withstand a strong force of impact and features such as torso airbags and side curtains. If you are looking to purchase a car, look for one with a good side-impact rating.
Common Injuries Caused By T-Bone Accidents
Modern cars usually have features that increase their crumple zone and so protect passengers from head-on collisions. However, most cars have little protection on their sides, leaving drivers and passengers particularly vulnerable to injuries in the case of a side collision.
Some of the most common injuries from side-impact crashes include:
Broken bones.

Crushing injuries to the chest, abdomen, or pelvis, which can lead to internal bleeding.

Head injuries such as a concussion or traumatic brain injury.

Neck or back injuries such as whiplash, spinal cord damage, and paralysis.

Soft tissue injuries such as muscle, tendon, or ligament tears.

Wrongful death.
Who Can Be Found Liable for Damages Following a Side-Impact Crash?
If you have been involved in a crash in Florida that you believe was caused by the negligence of another driver, then you may be wondering if they could be liable for your injuries. If you are considering filing a personal injury claim, then you should be aware of how Florida's laws work.
Under Florida Statute 627.7407, Florida is a no-fault state. This means that, regardless of who was to blame in an auto accident, the involved parties are required to first claim against their own car insurance before looking for compensation elsewhere. All drivers in Florida are required to hold a minimum coverage of $10,000 in Personal Injury Protection (PIP), but you may find that this does not cover all of your damages following a serious crash.
If you file a personal injury claim against the other driver's insurance, then be aware that Florida operates under a system of comparative negligence, as per Florida Statute 768.81. This means that the amount of compensation you can claim will be reduced by the percentage of blame that you had in the accident. If, for example, you are traveling through a green light but fail to look and see the other driver who has run a red light, then you share some of the blame for failing to pay attention. In this case, both drivers could be found to be partly liable for the accident.
Figuring out who was to blame in a side-impact crash can be tricky, and insurance companies will always do their best to reduce their payout in order to increase profits. This could mean claiming that your injuries were not actually caused by the crash or shifting the blame onto you for the accident. We highly recommend that you seek legal representation from a personal injury lawyer to help you navigate this process and ensure that your rights are protected at all times.
Contact The Law Place Today
An experienced personal injury attorney will be able to help you calculate the extent of damages caused by the car accident and help you to prove that you were not to blame for the crash. Contact The Law Place today to arrange a free consultation with one of our car accident lawyers. You will receive free legal advice relevant to your case and have the chance to ask any questions you might have.
If you decide to keep working with us following this initial consultation, then your assigned car accident lawyer will stick by your side for the duration of your case and guide you through the entire process. They will gather evidence such as police reports, witness statements, and traffic footage to help strengthen your case and fight for your right to compensation. We work on a no-win-no-fee pay structure, meaning that you will only be charged a fee if your case is successful, meaning that if you don't win compensation, you won't have to pay a dime.
Call us to see how we can help. For a free consultation, call us at (941) 444-4444 today.