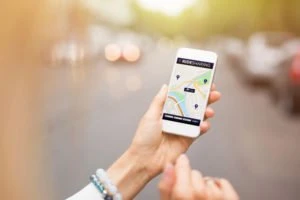 Whether you find them a nuisance or a helpful convenience, one thing is for sure, modern taxi and rideshare companies like Uber are here to stay for the foreseeable future. This, of course, opens up a whole new type of personal injury claim. If you were involved in an Uber accident, whether you were the passenger while another motor vehicle crashed into your Uber or your Uber driver was driving recklessly, we can help you to recover the maximum compensation for your injuries. This article will detail the average settlement payout for rideshare accidents, as well as other important details and legal advice that you need to know.
Here at The Law Place, we are adept at maximizing Uber accident settlement payouts. Our team of personal injury lawyers boasts 75 years of combined experience pursuing financial justice for clients just like you. All you need to do to get your accident case started is call us for a free consultation, where you will explain the events and the extent of your injuries and receive a free legal roadmap and estimated compensation amount, all at no obligation. Our phone lines are open around the clock, and all our calls are completely covered by the attorney-client relationship of confidentiality.
To find out more about how our Uber accident lawyers can help you achieve a higher settlement, contact us today at (941) 444-4444!
A Brief Background on Uber
Uber, as a company, has been thriving since its establishment in 2009. We're sure we don't have to tell you about its popularity, as it has millions of loyal users across many countries and even continents.
Uber and Lyft, as well as many other smaller app-based rideshare services, offer undeniable convenience. Their apps roll GPS-based maps, quick pick-up, hassle-free payment, and tipping all into one easy package.
The term rideshare comes from these companies' model of allowing drivers to use their own personal vehicles to transport the third party to their desired destination. Because of this, companies like Uber have a responsibility to ensure a safe and hazard-free environment and manner of driving for their customers.
As with any successful company, Uber boast a huge turnover and therefore have substantial resources available to them to fight potential legal disputes. This is why it is so important that you choose a law firm with a personal injury lawyer team that has the correct level of experience and knowledge to maximize your Uber accident settlement.
Specific Rideshare Laws in Florida
All rideshare companies, including Uber themselves, are beholden to House Bill 221 – which is also handily known as the 'Uber/Lyft' bill.
The most important part of this bill is the part that details the insurance requirements of Uber drivers who are actively transporting a passenger or passengers. This is key for determining whether an Uber driver was using their motor vehicle for the purposes of business or personal use.
Uber and Lyft both carry company-wide insurance plans. However, it is also a requirement that all of their drivers carry personal car insurance policies. An underinsured motorist operating their Uber with only the rideshare company's company-wide insurance is still breaking the law.
It may also be important to note that if an Uber driver is not transporting a passenger using the Uber app, they are not at that moment covered by Uber's company-wide insurance policy.
How an Uber Accident Is Managed
Uber drivers are treated differently from other public transportation services in the eyes of Florida law. Uber drivers must abide by regulatory laws which are specific to rideshare companies in order to correctly determine where liability lies for an accident.
There are three many factors that come into play when determining liability. These are as follows:
Whether or not the Uber driver was logged into the Uber mobile app at the time of the crash.
Whether or not the Uber driver had a passenger or passengers in the motor vehicle when the accident occurred.

Whether or not the Uber driver is at fault for the accident.
Uber carries a set amount of $1 million liability insurance for accident cases, provided they occur when the Uber driver is logged into the app, collecting a passenger, or collecting a passenger.
However, the exact amount of this insurance that will be applicable to the accident case will depend on which of the above three situations is the case in the rideshare accident.
This is why it is so essential that you have the support of an experienced attorney when you file a lawsuit against Uber's insurance. Luckily, our law firm has all of the knowledge and hands-on experience needed to file a claim to achieve the maximum settlement amount.
The Variations in Uber's Insurance Policies
While Uber does require their drivers to be in possession of personal liability insurance for when they are not logged into the app, they also usually provide several different types of insurance coverage themselves.
These insurance policy types usually include the following:
Contingent liability – which is none deductible insurance for when a driver is working using the app but has not yet accepted a passenger.
Primary automobile liability – which is available the second a driver accepts a passenger request and ends when the ride does.

Contingent collision – which is available in the event a vehicle needs repairing or replacing in the event of an accident. This usually carries a $2,500 deductible, no matter who was at fault for the accident.
Contingent comprehensive – this insurance policy covers fire, vehicle theft, and various types of environmental damage. Once again, the repair or replacement of the vehicle is available with a $2,500 deductible, no matter who was at fault.
Uninsured or underinsured motorist coverage – this is coverage for when the accident involves another driver who is either uninsured or underinsured and is found to be at fault for the accident.
With so many different types of company and personal auto insurance policy types in play, we are sure you can see how things can quickly become confusing and complex.
Luckily, all of the personal injury attorneys employed by our law firm are well acquainted with the various types of Uber's insurance policies. We will use our skills, knowledge, and experience to ensure that your accident claim receives the maximum compensation that is fair for your situation.
Does Uber Compensate for Accidents?
Whether or not Uber compensates directly in Uber accident settlements will depend on a number of factors, especially depending on whether the claimant is the passenger or the driver.
How Do Uber Compensate Drivers?
If you are the Uber driver, the insurance company used by Uber will only cover the damage to the car if the driver's personal insurance policy includes collision coverage.
Additionally, Uber only covers the driver's personal injury claim in the event that the other car was at fault for the accident and was either uninsured or underinsured.
However, if the Uber driver was using the app and awaiting a passenger, Uber's Personal Injury Protection insurance will compensate for up to $10,000 no matter whose fault the accident was, in line with Florida's no-fault laws as detailed in Florida Statute 627.736.
How Do Uber Compensate Injured Passengers?
Uber will cover the passenger's claim in the event that there is not another at-fault driver who is liable to pay first.
This means that before making a claim against Uber, a claim must first be raised with the driver of the car who was at fault.
If the other driver is found to be completely at fault, accident claims are limited to $250,000. However, if the Uber driver was at fault for the accident, then the passenger could have access to Uber's $1 million insurance limit in some situations.
What Is the Average Settlement for Uber Passengers Who Have Been Involved in an Accident?
This is a difficult question, as accident claims will always vary greatly depending on the circumstances of the accident and the severity of your injuries, as well as whether they caused you any permanent life-altering impacts, such as trauma, disabilities, or disfigurement.
If your Uber accident personal injury claim is only for a minor injury, you can expect your settlement value to be under approximately $15,000. However, these numbers quickly rise if an accident claim is for more serious or severe injuries.
For those who have been seriously injured in Uber accidents, there are a few variables in play. Those who were badly injured while an Uber driver is awaiting a ride request can easily exceed Uber's insurance limit of $50,000 for this situation. Especially if the Uber driver can be proven to be at fault for the accident, you are almost certainly looking at a claim worth more than $50,000 for your serious injuries.
It may be harder to reach the insurance limit of $1 million, which will be the case if the Uber driver is either en route to collect a passenger or transporting a passenger. However, this is still possible if you receive a really serious injury, such as a brain injury or an injury requiring several surgeries. Furthermore, fatalities will almost always exceed the $1 million limit put in place by Uber's insurance.
As we said, there are a lot of different variables in play. The best way to know how much your settlement and compensation could be worth is to get in touch with our law firm for no-obligation legal advice and a free consultation. Once we have the details of your injury, we will be able to let you know how much your claim could be worth in a free case evaluation.
What Are the Different Damage Types Available to Victims of an Uber Accident?
When you file a claim for an Uber accident, your compensation will be split between several different categories. Which of these categories apply to your case will depend on the events that transpired and the extent of your injuries.
The most common damages that makeup Uber accident settlements are as follows:
Property damage – these damages deal with compensation for any of your personal property and valuables that were damaged at the time of the accident. Property damage claims are less common than with a regular car accident, as the passenger will lack vehicular damage – but they are still possible.
Medical bills – these damages cover the often outrageous cost of any medical care you had to receive as a result of your injuries. For the best chances of maximizing your settlement amount, your lawyer will need a copy of your medical bills or a full receipt.
Loss of income – as well as medical expenses, accident victims will typically have to spend time off from work recovering from their injuries. These damages will cover these lost wages, and use your correspondence with your employer as proof.
Pain and suffering – these damages are awarded based on the duration and pain level of an accident victim's recovery process. They also include consideration of life-altering accident impacts. We will go into more detail on how these are calculated in the following section.
Wrongful death – if you were unfortunate enough to lose your loved one or family member to an Uber accident, you can file a

wrongful death claim

under

Florida Statute 768.21

. This will entitle the loved one's personal representative to compensation for lost income, loss of consortium, and also compensate for burial and funeral expenses.
The best way to find out which of these damages are likely to be included in your final settlement is to talk to one of the car accident lawyer at our law firm today with a free consultation. We can provide everything you need to know about the possibilities of your claims process.
How Are Pain and Suffering Damages Calculated for Uber Accidents?
There are a number of different ways that pain and suffering damages can be calculated, and this usually depends on the insurance company in question.
However, there are two main ways of calculating pain and suffering, which will be covered in the following two sections.
It is important to bear in mind that your insurance company may insist on a different method. No legal obligations exist as to which method your personal insurance company has to use. Computer programs are a common calculation tool, as are previous precedents for similar injuries.
The Per Diem Method
This method, translated from Latin, literally means 'per day' and involves putting an economic figure to each day that your recovery process went on for.
Daily income is usually the basis for these calculations, as it grounds the chosen settlement figure and demonstrates why it is fair and appropriate.
This method is not ideal for Uber accident victims who are suffering from an ongoing long-term issue, as it is hard to put a fair figure on future income.
The Multiplier Method
Like the Per Diem method, the Multiplier Method also works by putting economic figures to your injuries and their consequences.
These economic figures usually include the cost of your medical bills, lost wages, and any personal property damage.
The resulting figure is then multiplied by a number between one and five, said to appropriately represent the level of pain and suffering you have received. It is possible to go above five in situations where serious damage or lifelong consequences have been incurred.
Situations that often receive a multiplier higher than five include paralysis and brain injuries.
How Long Do Uber Accident Settlements Usually Take to Resolve?
Like many insurance companies, Uber is also notorious for dragging the settlement process on for an excruciating and often unfair amount of time.
Insurance companies are always looking to pay out the least amount for personal injury claims, as this means more money for them. Uber's insurance company is no different.
This is why having a car accident lawyer with explicit knowledge and experience dealing with Uber drivers is so important. We know the tricks and strategies employed by Uber's insurance company and will work to litigate as quickly and aggressively as possible.
Historically, it can usually take as long as 3 to 6 weeks to even receive a reply to a settlement offer. You will also need to factor in time spent negotiating, as your attorney will need likely need to fight for a fair level of compensation for your injuries.
It is important never to accept the first settlement you offered by Uber or any other rideshare company. Allow your attorney to help you achieve a fair claim amount.
How Much Will Seeking Compensation for an Uber Accident With The Law Place Cost?
All of the accident injury law work undertaken by The Law Place is done on a contingency basis.
This is great news for you, as it means that there will be no risk involved in claiming compensation as your case will be entirely no-win-no-fee.
If your Uber accident claim is successful, you will only be charged once you have received your compensation. The legal fees, which will previously have been fully disclosed, will only be taken from your final settlement amount.
If your Uber accident claim should be unsuccessful for any reason, then you don't need to worry. The whole process will have cost you nothing at all. Here at The Law Place, we believe there should be no risk involved in claiming for injuries that were not your fault.
All of our contingency work is monitored by The Florida State Bar Association, so you can be assured that all figures you are given will be the final amount. You don't need to worry about hidden fees or extra costs along the way.
Contact The Law Place Today
If you have been involved in a car accident that involved Uber, Lyft, or any other rideshare company in the past four years, you will need the help of an experienced attorney to help you unlock the full extent of your potential compensation.
Get the process started today by calling one of our attorney teams for a free consultation, all at no obligation. We will be able to tell you how much your claim may be worth, as well as estimate the timeframe and difficulty of achieving it. We operate our phone lines around the clock for your convenience.
For more information on how we help drivers and passengers injured in Uber accidents, simply call (941) 444-4444 today!