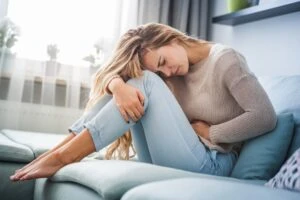 No matter the severity of a Florida car accident, a motor vehicle crash will take a toll on the human body. It is completely normal for car accident victims to suffer stomach pain. The emotional trauma suffered by victims alone is enough to bring on stomach pain. However, if you are suffering stomach pain after your car accident in Florida, you should see a doctor immediately because abdominal pain may be one of the delayed symptoms you are experiencing for much more serious internal injuries. Don't suffer in pain alone. Seek medical attention as soon as possible.
If you or a loved one has been involved in a Florida auto accident, we strongly urge that you seek medical attention, no matter if you have sustained minor or serious injuries. A personal injury lawyer at our law firm will be able to help you recover the costs of medical care later on. Your health is paramount, so you should never hesitate about seeking medical treatment.
At The Law Place, we have a team of reputable lawyers who have over 75 years of combined experience working within personal injury law. We have offered legal advice to countless clients and helped many victims win the compensation they deserve after suffering their car accidents. To schedule a free consultation with an attorney, call us today. We are available 24 hours a day, 7 days a week, to take your call. Phone now at (941) 444-4444.
Is It Normal for Your Stomach to Hurt After a Car Accident?
It is completely normal for your stomach to hurt after experiencing a car accident. The emotional stress of being involved in a car accident and dealing with the aftermath is enough to cause a person pain. It is important, however, that you do not ignore this pain. Your symptoms may be a sign of a far more serious, perhaps even life-threatening, injury. You should see a doctor for medical treatment right away.
Your stomach pain may mean that you have suffered an internal organ damage injury or internal bleeding. Injuries to your abdominal muscles or internal organs are typically the main causes of stomach pain after a car accident. The pain can last hours or days.
Although a lot of people suffer stomach pain after a car accident, you shouldn't simply dismiss your pain as being caused by stress. You may be feeling symptoms of a far more serious, life-threatening injury. No abdominal trauma is normal. You should always seek the professional opinion of a doctor.
Can a Car Accident Cause Bowel Problems?
An auto accident can cause bowel problems, one of the most common problems being small bowel obstruction. Small bowel obstruction occurs because of a blockage in the small intestine. This is a fairly common internal injury to suffer after a car accident because the seat belt impacts the abdominal region with great force.
Some of the most typical symptoms of bowel obstruction include abdominal pain, swelling, constipation, dehydration, and vomiting.
What Is Seat Belt Syndrome?
While seat belts are designed to keep us safe by reducing the severity of chest and head injuries in car accidents, they are frequently a common cause of abdominal pain. In a car crash, a seat belt can press forcefully against a stomach to cause abdominal pain, bruising, and internal injuries. Seat belts are more likely to cause serious injuries to children due to their much smaller size than adults.
Seat belt syndrome refers to a group of injuries related to the use of seatbelts. Seat belt syndrome can range from bruising to abdominal pain caused by internal bleeding and organ damage.
If you are experiencing abdominal pain after an auto crash, you should see a doctor right away! You could be experiencing symptoms of a very serious injury. Don't suffer in pain for days or weeks. Get the medical care you require immediately.
Why Is My Stomach Bloated After a Car Accident?
If your stomach is bloated after an auto crash in Florida, it could be a sign of abdominal trauma and may mean that you have sustained injuries to the important organs and blood vessels found in the abdominal cavity.
In the brute force of your auto crash, you may have ruptured or punctured an organ. This can result in blood flowing into your abdominal cavity. This internal bleeding may contribute to your pain and bloated stomach.
If you are suffering from a bloated stomach and stomach pain after an auto accident in Florida, we strongly urge that you seek attention from a doctor. The chances are that your stomach pain is a result of stress after your body has suffered such trauma in your motor vehicle accident, but it could be a symptom of something far more serious.
How Long Should You Be Sore After a Car Accident?
After a car accident, if you have suffered muscle soreness in your arms, legs, back, or abdomen, your soreness should resolve itself with six weeks. A few days after your crash, you should be able to notice a great decline in your pain and suffering.
If your body is still sore days or weeks after your accident, you may need to receive medical treatment. Your pain should not be getting worse. If your muscle pain is increasing and you are struggling to move due to stabbing pain, you should contact a doctor. You may be experiencing delayed symptoms for a far more serious injury.
You must receive medical care. You do not have to fear medical bills. A personal injury lawyer at our law firm will be able to help you receive compensation from your insurance company to cover all of your medical expenses. To find out more about what we can do for you, contact us today for a free consultation.