If you have suffered a knee injury after a car accident, you may be eligible for compensation. Injuries as a result of reckless driving often leave a victim requiring immediate medical attention as well as medical intervention in the future. This can lead to a victim dealing with the stress of the car accident, a long recovery, and outstanding medical bills that weren't their fault. In severe cases, deaths can be caused by car accidents. This is called a wrongful death.
If you have sustained a knee injury in Florida, contact The Law Place today. Our lawyers at The Law Place are highly experienced in dealing with personal injury and car accident claims, so we can focus on your case whilst you focus on your recovery. You can feel confident that your case is in safe hands as our lawyers have over 75 years of combined experience. For a free legal consultation, contact The Law Place on (941) 444-4444. Our phone lines are open 24 hours, 7 days a week, so you can contact us the moment you need us. 
Anatomy of the Knee
Understanding the anatomy of the knee helps to understand any knee injuries or pain that occur after a car accident and how this can be treated. The knee is a hinge joint between the thigh and lower leg, which will bend forwards and backward in one direction.
There are three major bones that come together to form this joint – the shin bone, the thigh bone, and the kneecap. Damage to the patella (kneecap) can range from small fractures that require rest to heal or major fractures that lead to the inability to straighten or bend the leg. A broken kneecap is a serious injury with a long recovery time that can lead to lifelong difficulties.
Covering these three bones where they meet is cartilage that can be damaged if a knee injury occurs. Unfortunately, it can be difficult to restore this to its previous health and lead to long-term issues. Within the hinge joint is also a type of cartilage that acts as a shock absorber for the bones.
Within the knee are four major ligaments that connect bone together, two of which are in the center of the joint and cross over one another, consisting of the anterior cruciate ligament (ACL) and the posterior cruciate ligament (PCL). The cruciate ligament (ACL) injury is a common injury for sportsmen that can see soccer players miss a season for recovery.
In addition, there are two ligaments on either side of the knee joint – the medial collateral ligament (MCL) and the lateral collateral ligament (LCL) on the outer side. Any damage to these ligaments results in complaints of knee instability.
The healthy function of the knee is an important part of performing simple daily tasks such as support when standing, strength for sitting down and getting up, and movement when walking. Therefore, any injury to any of the elements that make up the knee can disrupt day-to-day tasks.
Our team of dedicated attorneys fight and win for Floridians.
Signs of a Knee Injury
If you have been involved in a car accident that you believe has caused a knee injury, read the list below covering the signs and symptoms of a knee injury.
Mild to severe knee pain.

Deformity.

Immobility.

Limited range of motion.

Unable to carry weight.

Bruising.

Redness.

Warm skin.

Damage to the skin.
We're here to serve you. Our phones are open 24 hours a day.
Common Knee Injuries After a Car Accident
If you are experiencing any of the above symptoms after a car accident, you could have a knee injury. It is important to seek medical attention immediately after a car accident or as soon as knee pain develops after a car accident. This will prevent any long-term damage.
Knee injuries caused by a car accident are usually a result of impact to the bent knee whilst sat in the car. This can happen to either the driver or passenger when their knee hits the interior of the car, such as the dashboard.
If your knee pain has been caused by a motor vehicle accident, it is important to be thoroughly examined by medical experts as soon as possible and then seek the correct legal advice. By informing a personal injuries lawyer of the extent of the injury and how it impacts your life will assist your lawyer in making a potential claim. It is important to find the route of the knee pain and not rely on pain medication to mask the discomfort because knee pain after a car accident could be a lifelong injury and require extensive medical attention.
Anterior Cruciate Ligament (ACL)
Damage to the cruciate ligament is a common knee injury in car accidents as a result of sudden or extreme hypertension of the knee. It is an extremely painful injury with a long recovery time. All ligament injuries will require medical attention.
For a minor tear, a doctor will recommend anti-inflammatory medication, physiotherapy, and a knee brace. For a severe tear, surgery will be needed to restore the knee, and recovery could take 4-6 months.
Medial Collateral Ligament (MCL)
A medial collateral ligament injury usually occurs when the knee hits the dashboard. Compared to an ACL knee injury, the MCL injury does not usually require surgery. Rest and elevation are recommended to repair this injury.
Knee Dislocation
The dislocation of any joint or bone is extremely serious and must be treated immediately by a medical professional to prevent damage to muscles, nerves, or blood vessels near the dislocation that, in extreme cases, could lead to that part of the body dying. A dislocation is extremely painful and must be set back into place by a doctor as soon as possible. If damage to the surrounding muscle or blood vessels has occurred, then surgery will be required.
During the healing period, the knee will be braced in a position to prevent it from bending. In many cases of knee dislocation, the knee will rarely return to full health and could develop arthritis in the future.
Knee Fracture
This is a break in the knee cap bone, which will cause issues with mobility and prevent extension of the leg. If the knee cap has remained in place, then recovery will include pain medication, a brace, and rest. However, if the knee cap has moved, then surgery will be required to repair it, and recovery could include rehabilitation, pain medication, and bed rest.
We're Florida's top litigation team with over 75 years of combined experience
What Can I Claim Damages For?
A car accident can happen at any time, usually when you're least expecting it. In most cases, car accidents happen due to one person's negligence, and if proven, the victim can claim a variety of damages.
It is important to keep all documentation following a car accident, such as the police accident report and all medical documents, to give to your lawyer. This way, your lawyer can build your case and show a clear link between the car accident and the injuries caused.
Damage to property such as your vehicle and possessions within the car can be claimed. In addition, any immediate medical bills, such as an ambulance called to the scene, being assessed in the emergency room, and pain medication can be claimed as compensation. A damages claim can also be made for future surgery that may be needed, physiotherapy, and additional doctor's appointments.
If the knee injury is so severe that it impacts your ability to perform day-to-day tasks such as mowing the lawn, cleaning your home, or even personal care, then additional claims can be made for the payments you make to gardeners and cleaners to perform tasks you previously could do. Some knee injuries cause lifelong immobility. If this is the case and you require home improvements to be made, such as a stairlift, accessible bathroom, and a bedroom moved to the ground floor, these improvements can also be claimed in your damages. This type of claim is covered under the non-economic pain and suffering damages.
Further economic damages can also be claimed for a loss of earnings. This can cover the immediate time you have to take off work for recovery, but also, if you've had to reduce hours or take on a lower-paid role to be able to manage at work, a lawyer can calculate the earnings you have lost as a result.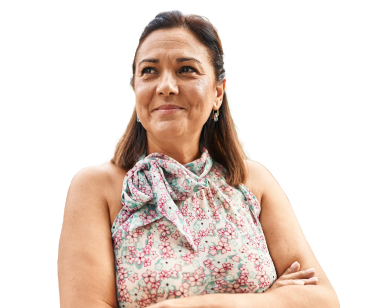 From the initial call to updates on your case status, we are here to get you answers.
Contact The Law Place Today
If you are suffering from knee pain or injury after a car accident, then you should seek legal representation from an experienced car accident or personal injuries lawyer. The recovery, both physically and mentally after a car accident, can be difficult, especially if your knee pain has led to a reduction in your ability to complete day-to-day tasks.
Our lawyers at The Law Place have over 75 years of combined experience in dealing with personal injury and car accident claims across Florida. Investigating car accidents can be stressful and complex, so our team will focus on your case, giving you time to focus on your recovery.
For a free consultation in regards to injury after a car accident, please contact The Law Place on (941) 444-4444 to organize a free consultation.