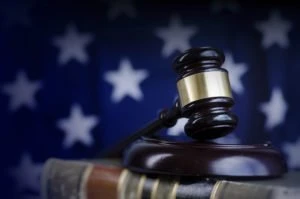 Federal offenses have various levels of severity, from misdemeanors to felonies. However, for the government to become involved in a crime, it is usually serious.
If you are up against federal charges, you could face the full force of federal authorities. You, therefore, need the help and guidance of a federal crime attorney from The Law Place.
Despite residing in Port Charlotte or elsewhere in Florida, you could be charged in a federal court if the crime you committed occurred in more than one state or if you broke federal laws, such as money laundering or cybercrime.
We have over 75 years of collective experience, and we will assess your federal case as a team to prepare an aggressive defense strategy.
Contact us today for a free consultation with a criminal defense attorney at (941) 444-4444.
Defining a Federal Crime
There is not much difference between federal and state crimes except the legislation that created the laws. Federal crimes violate federal law, as opposed to state law, which means they are presented in federal caught. They are often more serious than state crimes and usually pose a threat to national or public safety.
Examples include:
Terrorism
Cybercrime
Counterintelligence crimes
Money laundering
Child pornography
Violation of civil rights
Fraud
Tax evasion
Threats against members of the government
Immigration crimes
Violent crimes
Organized crime
Theft of art, jewelry, or other items of value
Organized criminal activity
Drug offenses
Counterfeiting and forgery
For a full list of federal crimes, visit the official website for the Code of the United States House of Representatives.
Federal Criminal Sentencing in Port Charlotte, FL.
The Federal Criminal Sentencing Guidelines can be complex. Luckily, at The Law Place, our criminal defense lawyers are well versed in state and federal law and can help you determine what level of punishment you might be facing. They can also help you to assess whether you might be able to ask for a plea bargain or other ways to minimize the consequences for your case.
Federal criminal sentencing is uniform across the United States, so whether you are in Port Charlotte, elsewhere in Florida, or another state, the following will still apply to you.
The Federal Sentencing Guidelines
If you are convicted of a federal crime, then the court will use Federal Sentencing Guidelines to determine what penalties are appropriate in your case.
Every federal crime is divided into levels. The more severe the crime, the higher the offense level. However, the level can change depending on a range of factors. For example, a crime that involves a gun is a level 5 offense, but if the gun were used, the level would be increased. The level could also be increased if there were victims or the perpetrator has a criminal record already.
State vs. Federal Crimes in Florida
States such as Florida have certain laws that define and penalize crimes. In general, if a crime occurs within state boundaries, then it is a state crime. However, if the crime occurred across state lines or in several states, it is typically tried in federal court. Cases are also tried in federal courts if the crime violates federal law.
Common examples of state crimes include theft, drug possession, burglary, battery, assault, and murder.
State crimes in Florida are listed in Florida Statute Title XLVI.
Federal Crimes Frequently Asked Questions
The Federal Government Sent Me a Letter Saying They Are Investigating Me. What Do I Do Now?
If the government sent you a letter informing you of an investigation, then the worst thing you can do is ignore it. The sooner you contact an attorney, the quicker they can get to work collecting evidence and investigating your case, and the better they can support you. Sometimes, the problem can be resolved easily. Your attorney may be able to provide the government with sufficient evidence of your innocence. It would be best if you didn't attempt this alone, as you may mistakenly say something that the government could use as evidence against you., For your best chance of success, seek legal advice from a law firm in Port Charlotte, FL., today.
How Often Does the Government Succeed in Securing a Conviction?
Federal prosecutors have an extremely high rate of success. Nearly all cases result in convictions for at least one of the charges.
Should I Take a Plea Bargain?
Most federal cases result in a plea deal. Defendants have a choice of whether to accept a plea deal, and it isn't always the best option. Once accepted, it is often impossible to appeal. A criminal defense attorney at The Law Place will take the time to listen to your story and get an understanding of your case to help guide you through the process. This will help you understand what a plea deal will mean to you and the advantages and disadvantages of accepting it. This will help you to make an informed decision.
Are Federal Charges and State Charges Different?
Often, a federal offense violates state laws as well. However, the process is different. Federal prosecutors often have more resources and more experience to provide sufficient evidence to convict you.
If you are based in Port Charlotte, but the crime you committed crossed state boundaries, for example, if the crime was committed online, you could be facing criminal charges on the federal level.
What Is a PSR, and How Will It Impact My Case?
A PSR is a presentence investigation report that the United States Probation Office creates. This is a long document that gives an overview of your case and provides a recommendation for sentencing.
If the defendant believes that some of the information is inaccurate, they can object before the hearing. However, when this happens, it can create uncertainty concerning sentencing.
What Is Relevant Conduct?
The sentencing guidelines allow the judge to look at something called relative conduct. Relative conduct refers to how the individual behaves and the behavior of the other people associated with the crime. The judge can even consider the conduct of someone who was acquitted for the alleged crime. Understanding this can be important for a defendant to ensure that they do what they can to minimize their case's potentially damaging effects.
What Rules Does the Government Have to Follow When Issuing a Sentence?
The government must adhere to the United States Sentencing Guidelines. Guidelines are complicated, and there are many considerations. However, the key considerations are.
The severity of the crime.
Past criminal convictions.
The defendant's role in the alleged crime.
Relevant conduct.
Possible role in aiding the government investigation.
Background information on health and family history.
What Does It Mean to 'Commit a Conspiracy?'
Conspiracy charges are if multiple people were involved in the same criminal act. It means that two or more people agreed to violate the law. To prove conspiracy, often circumstantial evidence is use, and the crime itself did not need to have been carried out, the government only needs to prove that the parties planned to do it.
If the government finds that a conspiracy occurred, they can attempt to charge each individual for everyone's crimes in the group, even if the defendant did not know what their co-conspirators were up to. This can lead to harsh and unjust sentences. Criminal defense lawyers at The Law Place will do everything possible to prevent unfair and unjust punishments. They are well versed in criminal law on both the federal and Florida state level and are armed with the experience and knowledge necessary to help you. Seek a free consultation today.
Understanding Attorney-Client Privileges
When you work with an attorney, the law affords defendants with attorney-client privilege, protecting the client and allowing them to speak openly with their attorney and anyone else in the law firm representing them. In general, the attorney and the law firm must keep information related to their clients confidential. The client can choose to allow their attorney to disclose information, but they must have their client's consent. This allows defendants to be open with their attorneys without fear of repercussions.
Speaking with Friends and Family in Port Charlotte, FL.
Information that a defendant shares with family or friends are not confidential. Therefore, it is important to speak only with your attorney about your case. If you contact friends and family from jail via the phone, then those calls could be recorded. If your friends or family have information they would like to share, they can also speak to your attorney. The more information your criminal defense lawyers have, the better they will be able to build up a strong defense.
Contact The Law Place for a Free Consultation in Port Charlotte, FL.
If you are facing criminal charges on the federal level, then you need a law firm with a team of criminal defense lawyers who have the experience and knowledge necessary to help you to obtain the best outcome.
We offer a free consultation in Port Charlotte so that you can seek some legal advice before you commit to representation. Our phone lines are always open, so we can be there for you when you need it.
Contact us now and arrange a free consultation with one of our Florida criminal defense lawyers at (941) 444-4444.