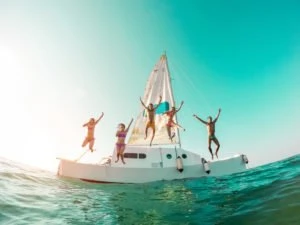 Boating is a very common activity in Florida, and particularly in Port Charlotte, which features more than 165 miles of waterways. Whether for commercial reasons such as the use of Charlotte Harbor or for recreational purposes such as boat clubs, Port Charlotte is known for its boating scene. With a large number of boats in the bay, as well as the diversity of water vessels and boating purposes, it's no wonder that boating accidents frequently occur in Port Charlotte. Boating accidents are even more likely to occur if a person is boating under the influence (BUI), i.e., under the influence of alcohol or drugs. Many people may presume that boating while under the influence is a minor offense. However, this can easily result in a felony charge if committed multiple times or if serious bodily harm was caused.
If you are facing charges for a BUI, we understand that you might feel overwhelmed and powerless. Particularly in Florida, the law relating to this type of offense can be complex, which is why it is recommended to seek advice from a reputable law firm. Here at The Law Place, we have extensive experience with BUI cases, and a high success rate with our clients of reducing the charges against them or even getting the charges dropped completely.
A BUI conviction could have long-lasting consequences on you and your family, so that attempting to face the charges alone could be a large risk to take. At The Law Place, we offer an initial free consultation with one of our criminal defense attorneys. They will go through the details of your case with you and give you legal advice on the best next steps to take. After this commitment-free call, you can decide whether or not to accept legal representation from us.
You have nothing to lose, so why not call today for a free consultation. Our phone lines are monitored 24hrs a day, 7 days a week for the convenience of our clients, so call today at (941) 444-4444.
What Does Boating Under the Influence Mean?
As stated in Florida Statute 327.35, it is illegal to drive a vessel on any waters in the State of Florida under the influence of drugs or alcohol. A vessel can be defined here as a form of transportation that can be operated on water, but this does not include seaplanes. In this definition, 'operating' is defined as being in charge of or in control of a vessel on any waters.
You need to meet the following criteria in order to be convicted of a BUI:
Your blood alcohol level or breath alcohol concentration (BAC) must be 0.08% or higher.
Your normal cognitive functions must be negatively affected because of being under the influence of drugs or alcohol. This is usually determined by field sobriety tests.
If a law enforcement officer suspects that you may be boating under the influence because of unusual boating behavior, they are legally entitled to tow you to shore and make you carry out a field sobriety test. This test is designed to assess whether your faculties are working at a 'normal level.' In other words, it tests whether you can perform everyday tasks normally, such as the ability to walk in a straight line.
A sobriety test can help law enforcement officers to test if your faculties are impaired but are not completely accurate and cannot assess your blood alcohol level. To check whether the amount of alcohol in your system is over the legal limit and to charge you with a BUI, a breath, blood, or urine test must be taken.
If you believe you have been wrongly or inaccurately accused of boating under the influence, we highly recommend that you seek representation from a criminal defense lawyer as soon as possible.
Possible Charges for a BUI in Port Charlotte, Florida
The charges you could be facing will depend on whether it is your first BUI offense or not. The resulting penalties could range from a misdemeanor charge to a third-degree felony charge. The charges and associated penalties will also depend on the specific circumstances of your case, which is why a criminal defense attorney is advised to navigate your case with you. For example, if your time-time BUI resulted in serious bodily injury or manslaughter, then the charges against you could increase to a second- or first-degree felony. In most cases, however, it is rare to be charged with a felony for a first-time BUI offense.
The outcomes and charges on the driver of the boat will depend on the following factors, which will likely increase the severity of punishment:
Whether the vessel driver had an existing case record for BUI or DUI (driving under the influence)
If the driver's BAC content or blood alcohol percentage was found to be extremely high
Whether the BUI caused property damage, injury, or death
Whether there were any passengers under the age of 18 on board at the time of the BUI apprehension
Penalties for First-Offense BUI in Port Charlotte
If this is your first incident with charges for boating under the influence, then you will most likely be facing a second-degree misdemeanor charge. This usually carries a fine of between $500-$1,000 and up to 6 months of jail time. Other factors could alter this, however, as in certain cases, a clear criminal record could allow you to avoid a prison sentence.
A judge can also, in some cases, put you on a probation period. This cannot exceed 1 year in duration, including the prison sentence. In the case that you face probation, you will also have to carry out 50 hours of community service or alternatively pay $10 per hour of community service you would have done.
The severity of your sentence will depend on the circumstances of your first-time BUI case:
If your BAC reading or blood alcohol concentration is 0.15% or higher, then you could be sentenced to 9 months in jail and fined between $1,000-$2,000. The same sentence will be given if there was a person under the age of 18 on board at the time of the arrest.
If your BUI resulted in minor injuries or property damage, then you could face five years in prison and a $1,000 fine.
If the BUI caused serious bodily injury, then you could serve up to 5 years of jail time or face a $5,000 fine.
If your BUI contributed to the death of another person, this is considered a second-degree felony, and you could face 15 years in jail.
Penalties for a Second BUI in Port Charlotte
If you are facing a second BUI charge in Port Charlotte, then you will be given a second-degree misdemeanor. This means a fine of between $1,000-$2,000 and a 90-day prison sentence. However, if you committed this second BUI within five years of your first BUI or DUI conviction, then you will have to serve a compulsory prison sentence of 10 days, and your vessel could be impounded for 30 days.
As with a first-offense BUI, the associated penalties for a second-offense BUI will be more severe if your BAC level is 0.15% or higher or if there was a minor present on the vessel at the time of the arrest. If either of these is true in your case, then you could face a fine between $2,000 and $4,000 and up to twelve months in jail.
Penalties for Third-Offense BUI in Port Charlotte
The severity of the penalty you will face for a third BUI will depend on whether you were convicted within 10 years of the previous BUI or DUI conviction. In any case, a third-time BUI offense will result in your vessel being impounded for 90 days.
If your third BUI offense occurred within ten years of the prior BUI or DUI conviction, then you will likely be charged with a third-degree felony. This will mean a 5-year prison sentence and a fine of up to $5,000.
If, on the other hand, your third DUI or BUI occurred more than 10 years after the previous conviction, then your latest offense will be treated as a misdemeanor. In this case, your fine will be $2,000-$5,000, and you could serve up to twelve months in jail.
Penalties for Fourth and Subsequent Convictions
Fourth and consequent convictions for boating under the influence are automatically classified as a third-degree felony. This would result in a fine between $2,000-$5,000 and a prison sentence of up to 5 years.
Whether it be your first, third or fifth conviction, if you are facing charges in Port Charlotte for operating a boat under the influence of alcohol or drugs, then don't do it alone. Call us today to schedule a free case evaluation with a personal injury attorney. Our criminal defense lawyers have extensive knowledge of laws related to boating under the influence in the State of Florida and could help you fight your BUI conviction. We put strong importance on the attorney-client relationship and will be by your side throughout your case to help give you the best possible outcome.
What Are the Penalties for BUI Manslaughter in Florida?
If your actions while boating under the influence contributed to a person's death, you would likely face significant charges regardless of whether this was your first BUI conviction or not. The penalties for this are outlined in Florida Statute 327.35.
If your boating under the influence resulted in a death, you would most likely be charged with a second-degree felony. This would mean a fine of up to $10,000 and up to 15 years in prison.
This charge could be even greater if you were aware that the accident occurred and you knowing failed to help, stop the vessel, or report the accident. In this case, you could be charged with manslaughter and punished with a first-degree felony. If you are found guilty, this could mean up to 30 years in prison, and you could be expected to pay a fine of $10,000.
Does a BUI Affect Your Driver's License in Port Charlotte, FL?
If you are convicted for BUI in Port Charlotte, Florida, you don't need to worry about your driver's license. Offenses involving BUI do not affect your driver's license and, therefore, your ability to drive a land vehicle.
You may also be asking yourself whether a BUI conviction will prevent you from being able to drive a boat in the future. Here, there is also good news: yes, you will be entitled to drive a boat again.
However, you should be extremely careful and not risk boating under the influence of alcohol or drugs again. Driving any sort of vehicle while intoxicated is extremely dangerous to you, your passengers, and other people in surrounding vessels. When you are under the influence, your normal faculties are impaired, and you may make reckless decisions or fail to notice or react in time to a hazard. Law enforcement officers are always on the lookout for unusual driving behavior, and they will quickly notice any suspicious signs of drug- or alcohol-influenced driving. Remember that each consequent BUI charge will result in harsher charges and associated penalties, so it is important to avoid this at all costs.
If you have questions about criminal charges in Port Charlotte relating to BUI, you should contact our Florida criminal defense lawyers today. In your free case evaluation session, one of our defense lawyers will give you legal advice specific to your case, the criminal charges you could be facing, and help explain the next steps you can take. This advice comes with no obligation, so why hesitate? Call today to see how we could help you.
How Can a Criminal Defense Attorney Help Me?
A BUI conviction could have serious impacts on you and your family, particularly if you could be facing felony charges. A criminal defense lawyer can help you to navigate the intimidating process of a criminal conviction so that you don't have to face the justice system alone. The advice and guidance from a criminal defense attorney could make all the difference in helping to reduce the charges against you. They know the ins and outs of the Florida legal system and will be able to build the most effective defense strategy to support you in court.
A defense attorney will, for example, be able to challenge the law enforcement officers' initial judgment that your faculties were impaired at the time. They will conduct an investigation, review the available evidence and fight your case in court with the aim of reducing or eliminating the charges against you.
Contact The Law Place Today
If you are facing BUI charges in Port Charlotte, Florida, the best thing you can do is to call a criminal defense attorney as soon as possible. Here at The Law Place, our team has over 75 years of combined experience in criminal defense and related practice areas. Our attorneys have helped countless clients in situations similar to yours and have been successful in defending them against BUI convictions.
A large number of our lawyers have an AVVO rating of 10.0, which is the highest rating possible, and our firm has received numerous positive reviews from previous clients. This is a reflection of the dedication we show our clients, whose interests are always at the forefront when building a defense case. The attorney-client relationship is based on mutual trust, and we firmly believe in pouring our efforts into helping our clients to achieve the best possible outcome for them.
If you contact The Law Place today, we will arrange a consultation with you and a criminal defense attorney who will offer you free legal advice. Following this meeting, you can decide whether or not to proceed with us. If you do, you will have a personally allocated criminal attorney at your disposal.
They will consult with the wider team of defense attorneys to help build you a solid and effective personalized defense strategy. This team strategy is highly advantageous, as it means that you will have the combined experience of the entire team as well as the focused attention of a single dedicated lawyer to provide support and guidance throughout.
We are extremely transparent with our legal costs. If you decide to solicit our help with your case, we will go through all of the final costs with you before we start building your case so that you will have no nasty surprises down the road. We also offer payment plans to ensure that our quality defense services are available to everyone.
So what are you waiting for? Our phone lines are monitored 24hrs a day, 7 days a week for the convenience of our clients. So contact us today to take the first step toward taking back control of your life. Our free, obligation-free legal advice could make all the difference to your future.
Call now on (941) 444-4444 to see how we can help you.