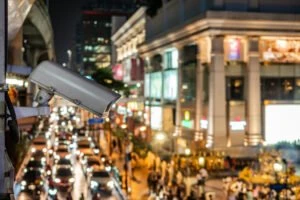 Video footage is among the strongest type of evidence used in car accident lawsuits to prove fault. Whether it is body camera video, dashboard camera footage, video from the Florida Highway Patrol, or traffic camera footage, this type of evidence can be crucial to your case.
Getting traffic camera footage from busy highways and intersections has become much easier in recent years. Because the government does not store data recorded by these cameras, private companies have started recording this data and storing it for their own use. Citizens in Manatee County, with the help of an experienced attorney, can request footage of their car accident from these companies if it is available.
Car Accident Attorneys at The Law Place
At The Law Place, we have been helping clients win car accident lawsuits for over 75 years. Our Manatee personal injury lawyers have experience obtaining video evidence from these companies to help with our client's personal injury suits, and we can help you too.
Our law firm takes the time to learn about your case, investigate the facts, and build a strong claim to help you get the maximum compensation you deserve.
Many of our car accident lawyers have AVVO ratings of 10.0, which is the highest rating attainable. We care about protecting your legal rights and getting the best outcome possible in your case.
Call our law firm today to schedule a free consultation at (941)-444-4444.
Dangerous Intersections and Highways in Manatee County
There are many dangerous highways, intersections, and roads dotted around Manatee County. These roads are prone to accidents happening and are some of the most dangerous in the state of Florida. Drivers must take extra care to avoid accidents while driving on these roads and on all roads within the state. Some of these dangerous roads include:
State Road 70 Lorraine Road to County Road 675.
S.R. 64 East and 48th Street Court East.
U.S. 41 and Cortez Road.
University Parkway and I-75.
As these roads and intersections are quite busy, there may be traffic cameras and recorded footage available to use in your car accident claim. To figure out if there is, contact The Law Place right away.
Car Accident Claims in Manatee County
If you were injured in a car accident in Manatee County, you may need to file a personal injury claim to recover damages. Because Florida is a no-fault state, drivers can first apply to their own insurance policies for up to $10,000 worth of personal injury damages.
However, if their medical bills exceed this amount or if they suffered non-economic damages, such as pain and suffering, they may have to file a personal injury claim to claim from the driver that caused the accident.
Car accident claims in Florida are based on the principle of negligence and duty of care. To successfully recover damages, the plaintiff must prove to a court that the other party breached their duty of care, by driving recklessly or negligently, and this directly caused them to suffer injuries.
If the other party broke a red light, was driving under the influence, or was texting while driving, a plaintiff can use this as evidence to prove they were at fault for the accident. Because the state follows a "pure comparative negligence" system, the amount of damages you can recover depends on your level of fault.
So, if you were 20% at fault for the accident, you could recover 80% of the damages available. If the other driver was 100% at fault, you could recover all damages, including medical costs, lost wages, and pain and suffering.
Gathering Evidence Where the Crash Happened
Gathering evidence is the most crucial part of a personal injury claim in Florida. The stakes are high in these cases, so it is necessary to prove beyond any doubt that the other party was at fault for the accident. If you have been involved in a car crash, the first thing you should do is begin gathering evidence where the crash happened.
The type of evidence available at the crash scene can include:
Eyewitnesses.
Photographs of the vehicle and any markings on the road.
Debris from vehicles or damaged property.
Police report.
Expert testimony.
Medical reports.
Video footage, which could be from a body camera video, dashboard cameras, traffic lights, red-light cameras, or CCTV footage from private businesses.
To get video footage from a car accident scene, you will need the help of an experienced attorney. Depending on where the footage is from, you may need to submit a video request form to the company that recorded the footage or to the Traffic Department in Manatee County. If the video is owned by the state or police officers, you must submit a subpoena to the state attorney's office or the local sheriff's office.
What Happens With Traffic Camera Footage in Manatee County?
There are thousands of traffic cameras throughout Manatee County monitoring the traffic behaviors of drivers. The purpose of these cameras is to control the traffic lights and monitor how roads and intersections operate. These cameras are not intended to catch people out for driving recklessly or to be used in personal injury lawsuits.
However, the government in Florida does not want to put money into storing and retaining the data from these cameras. As a result, independent companies have started to record the data and make it accessible to members of the public. Citizens in Manatee County can now watch live traffic footage on sites like WeatherBug.com or SmartTraffic.org.
Because camera footage is stored by private companies that record traffic cameras, victims of car accidents can apply to use this footage more easily. If the state stored the data, victims of car accidents would almost always need a court order to recover the footage. However, your lawyer could get the footage more easily from a private company by submitting a video request form and paying a fee.
If you think there may be video footage of your car accident recorded on a traffic camera in Manatee County, contact an attorney immediately. You must act fast in these cases, as the data is not stored for long.
How to Find Video of Your Car Accident in Manatee County?
To find the video of your car accident, we recommend seeking help from an attorney. If your car accident happened on a busy road or intersection, the chances of video footage existing are higher. You can first let your attorney know where the accident happened and they will begin searching for traffic cameras in the area.
An attorney can figure out whether the traffic footage is being recorded by a private company. If so, they can submit a video request form to the company to recover footage of the accident. If the footage is being recorded by Manatee County, your attorney can submit a video or open records request with the relevant body.
For CCTV footage on a private business, your attorney must contact the business owner and request the footage. They are not required to give you the footage, however, you can apply to the courts for an order requiring the data if necessary to your case. If there was a police officer on the scene, you may also request their body camera video with the help of an attorney.
How Long Is Traffic Camera Footage Stored in Manatee?
Because traffic camera footage is usually stored by projects owned by companies, there are no laws regarding time lengths for data retention. This means that there are no minimum or maximum times under the law for storing video data. As a result, some companies may overwrite the data after 24 hours of storing it, whereas others might keep the data for several months.
With red-light cameras, the data is usually stored for up to thirty days. However, you will need to consult with the owner of the data to get exact time frames for video storage. We recommend acting as fast as possible with camera footage. If the company has no reason to store the data, it could delete it quite promptly. The sooner they know about your car accident, the more time they can store it for you.
Which Companies Own Traffic Camera Footage?
A lot of traffic camera footage in Manatee County is recorded by SmartTraffic.org. The Sarasota-Manatee Regional Traffic Management Center started a joint venture with the Florida Department of Transportation to begin recording traffic information and making it available to drivers online.
Because this data is now being recorded by a private company and funded by the state, drivers can apply to both the Department of Transportation and the company project to retrieve the data.
Other private entities may still record traffic cameras that are not covered in this project. Your attorney can investigate this on your behalf and apply for the video footage if available in your case.
Do I Need a Lawyer for My Car Accident Claim?
Car accident claims in Manatee County, like all personal injury claims, can be extremely complicated. These cases involve a lot of paperwork, documentation, knowledge of the law, and supporting evidence. Although it may be possible to do it alone, it will be extremely difficult and you are much less likely to recover compensation without a lawyer.
An experienced car accident attorney can help your case significantly by using their in-depth knowledge of local injury and negligence laws. Your lawyer can conduct a thorough investigation of your case, assess whether you are entitled to damages, file a claim on your behalf, and gather significant evidence to help win your case.
With video recordings from traffic cameras, you will need an experienced attorney to submit request forms to private companies and state entities. They can push these organizations to supply any video evidence available in your case and they can then use this to further your claim.
Video evidence is the strongest type of evidence you can use in a personal injury claim. Although eyewitness accounts and police reports are extremely helpful, video evidence is completely objective, and shows a clear picture of what happened. If a Judge can clearly see how the accident happened and that it was caused by another party, they are more likely to award compensation.
Contact The Law Place Today!
Proving negligence in at-fault car accident claims requires substantial evidence. If you were in any way at fault for the accident, you could receive less compensation for your injuries. The best way to prove that the other person was at fault for the car accident and to recover the maximum compensation possible in your case is to have strong evidence. Video evidence is the most powerful evidence you can submit in a personal injury case.
The personal injury attorneys at The Law Place can help you recover video evidence from traffic cameras in Manatee County if it is available in your case. Our lawyers can use this evidence to build a strong personal injury claim on your behalf and help you recover the compensation you are owed.
Our law firm prioritizes the attorney-client relationship that we have and we will do everything in our power to get the best possible result in your case. We care about helping you move on from your car accident and getting you the damages you are owed to pay for your recovery.
When filing a car accident lawsuit, you need strong legal representation by your side. The Law Place has what it takes to provide top-quality legal representation in your case and get you a favorable outcome.
Call our law firm today to schedule a free consultation at (941)-444-4444.