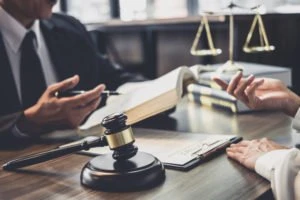 When a person has been involved in a car accident, they normally have to deal with financial losses. Car accidents can have negative consequences for all parties involved. Having to deal with the financial damages that usually follow an auto accident can be as worrying and devastating as recovering from the physical injuries and emotional trauma sustained from the accident. With the help of a car accident lawyer, most accident victims can overcome these financial losses by seeking compensation.
At The Law Place, we offer invaluable legal advice, guidance, and support for car accident victims who have suffered from financial losses after their collision. Our auto accident lawyers have 75 years of combined experience dealing with car accident claims and have helped thousands overcome their losses after being involved in an accident. After reviewing your car accident case, a personal injury lawyer will be able to determine how much you may be able to claim in compensation. We know what kind of damages you could claim and the most effective ways to win you compensation for your claim.
Our car accident lawyers work tirelessly to ensure that our clients get the best possible outcome for their claim and that they have time to recover from their accident without having to worry about dealing with the legal process. In other words, after we've reviewed your case, we'll take care of all the legal proceedings, including talking to your insurance company and filing your lawsuit so that you don't have to.
If you're looking to receive compensation after your accident and overcome the losses that you have experienced, contact The Law Place today. We always keep our phone lines open, so someone will always be ready to take your call no matter the time of day. Call us today at (941) 444-4444 to schedule your free consultation with a car accident attorney.
Damages That a Car Accident Lawyer Can Help You Claim
A car accident victim may be able to claim multiple damages after their car crash. During your free consultation, your personal injury attorney may be able to give you an idea about what damages you may be entitled to claim, depending on the circumstances surrounding your accident. The damages that an individual involved in a car accident could claim include:
Medical bills – If you've been involved in a car accident, it's likely that you have received medical treatment for the injuries you may have sustained. Whether the car accident injuries that you have sustained are minor or serious, you may be entitled to receive compensation for the medical expenses that you incurred as a result of treating your injuries. An attorney will review your medical records to determine how much you have spent on medical expenses and use them as proof in order to recover these costs.
Damaged property – Auto accidents often lead to a driver's property, most commonly their motor vehicle, being damaged. Repairs on a vehicle can set the owners back a lot of money, and replacing the vehicle is often not a financially viable option for many car accident victims. Although vehicle damage is common after a motor vehicle accident, damages to other property also occur. Any belongings that were in the vehicle at the time of the car accident that may have been damaged, including cell phones, can also be added to your personal injury claim.
Lost wages – When a person sustains serious injuries after their car accident, it is likely that they are unable to return to work. Being left unable to work can cause huge financial concerns as the person may lose a substantial amount of income as a result. Our team of car accident attorneys can help you recover past, present, and future lost wages. In order to determine how much you may be owed in lost income, a car accident attorney will review your employment situation by analyzing payslips, the hours you normally work, income tax returns, and other important documentation that proves your work status.
Pain and suffering – You may be entitled to claim pain and suffering damages if you have been involved in a car accident. This is a legal term that not only refers to the physical pain you may have endured as a result of your accident but also the emotional and psychological trauma you have experienced. Mental issues including anxiety, depression, and PTSD can be covered under these damages. So, if you have noticed a decrease in your quality of life since the accident, you could claim compensation for this. For example, if you have experienced great difficulty in sleeping caused by insomnia after your accident, this could be evidence of pain and suffering.
Wrongful death – In the case that you have lost a loved one as a result of a car accident, you may be able to claim compensation. A claim for wrongful death is usually made by a family member seeking compensation for expenses, including funeral costs. Under Florida Statute 768.21, a person can make a claim for wrongful death to cover the loss of emotional support, love, and income the decedent provided before their death. At The Law Place, we understand that seeking compensation for the loss of a loved one cannot undo the pain or trauma that you are suffering. However, obtaining compensation can help alleviate the financial pressures that you may be under as a result of the bills and debts that you have incurred.
Common Injuries Sustained After an Auto Accident
Victims of car accidents usually sustain injuries due to the collision, and these injuries are often quite serious. Common injuries sustained after a motor vehicle collision include:
Traumatic brain injuries (TBI).
Spinal cord injuries.
Burns, bruises, and cuts.
Internal bleeding.
Broken bones.
Loss of limbs.
Your emergency room doctor or primary care physician may use medical equipment including x-rays and CT scans during a physical examination in order to determine the sustained injuries and their severity, and the use of medical equipment such as these will more than likely be added to your medical bills.
Medical care that many accident victims usually require after their collision includes physical therapy, pain-relieving medication, and casting for broken bones. Severe injuries, including traumatic brain injuries, may require urgent medical attention and, in some cases, surgery. Car accident victims can also incur large medical bills from other expenses, including emergency room visits, overnight hospital stays, and ambulance services.
These expenses can sometimes be overlooked by accident victims as they tend to focus on the bills that involve direct medical treatment. However, these hospital bills can cost hundreds or even thousands of dollars, so it's important to take them into account when seeking compensation.
How Can a Car Accident Lawyer Win Compensation to Cover My Losses?
In order to win compensation for your car accident claim, your lawyer will lead negotiations with your insurance company as well as the insurance provider of the other driver if necessary. Under Florida Statute 627.7407, Florida is a no-fault state, meaning you'll have to first file an insurance claim with your own insurance company before seeking compensation elsewhere. As Florida operates under this law, it's important to have a personal injury lawyer who is prepared and has the experience to deal with your insurance company.
In Florida, drivers are required to have a minimum of $10,000 in personal injury protection (PIP) insurance. Claiming compensation through your PIP coverage can help recover a large percentage of the costs for medical expenses and lost wages. In the case that the damages you have sustained exceed your own insurance coverage limit, you may be able to file an insurance claim with the at-fault driver's insurance company. A car accident lawyer at The Law Place can advise you about how to do this and file a claim on your behalf.
Your insurance company's insurance adjuster will review the circumstances surrounding your claim, verify the evidence put forward, and determine what they believe to be a fair settlement for your car accident case. Insurance companies often try to devalue claims in order to avoid paying out large sums of money to their clients, which is why hiring an experienced car accident attorney to help win the compensation that you deserve is so important. Our team of lawyers has ample experience handling claims such as yours, and we know exactly how to deal with insurance companies, so you can rest assured that your case is in capable hands.
If we believe that your claim is strong enough, a car accident lawyer at The Law Place will fight your corner and ensure that the insurance companies involved in the legal process act fairly and reasonably.
How Can a Personal Injury Lawyer Prove Liability in a Car Accident Claim?
Proving who was liable for your auto accident is essential to get the compensation that you deserve. The State of Florida operates on using a comparative fault system as per Florida Statute 768.81, which allows multiple parties to be held liable for a collision.
An insurance company may try to prove that the claimant's own negligence was partially or fully responsible for the accident. For example, if it is found that you were texting while driving or were distracted in some way, you may be found 20% liable for the accident and therefore have your settlement reduced by 20%.
In order to obtain the maximum amount of compensation possible for your case, one of our car accident attorneys will need to hold the other driver responsible for the accident. In order to do this, your lawyer must prove:
The driver owed a duty of care to the other drivers on the road.
The driver breached their duty of care.
The breach of the duty of care caused the accident.
The damages you sustained were caused by the accident.
Car accident lawyers can prove liability by collecting valuable evidence. Evidence that is useful in strengthening your personal injury claim and proving liability of the at-fault driver includes:
A police report.
Medical records.
Video surveillance.
Eyewitness statements.
Photographs of the accident scene.
Once our car accident lawyers have gathered the necessary evidence to prove your case, they will help you file your personal injury lawsuit. If possible, we recommend keeping hold of evidence such as your police report, hospital bills, and photographs of your injuries. Although an attorney can collect this evidence themselves, it can speed the legal process along if the evidence is readily available for your lawyer to examine.
How Much Will a Lawyer at The Law Place Cost?
At The Law Place, we work on a no-win-no-fee basis. We don't charge our clients legal fees unless we successfully win their case. Once we have successfully won your case and obtained compensation, we'll take a percentage of the final settlement. In other words, you won't have to pay for our fees upfront and will only pay for our services from the money that we win for you.
The contingency system is monitored by The State Bar Association in order to ensure fairness for all those involved in the legal proceedings.
Contact The Law Place Today
Dealing with the aftermath of car accidents is difficult. Knowing what damages could be claimed and how to file a lawsuit can be challenging without the help and guidance of an attorney. In order to get the best possible outcome for your case, it's highly recommended to seek legal representation soon after your accident. Finding experienced legal counsel and filing a lawsuit soon after the crash took place increases the likelihood of receiving the compensation that you deserve.
At The Law Place, we offer a free case review for all our potential clients with no strings attached. We do this so that our clients can ask any questions and clarify any doubts they may have about using our services before hiring us.
We know how stressful having an ongoing legal battle can be for many of our clients. We believe that our clients deserve to rest and recover after being involved in an accident without having to worry about their case. Therefore, when we agree to take on your case, we also agree to deal with all the legal proceedings, file the necessary documentation, and gather the necessary evidence.
Most car accident lawyers at our law firm have the highest AVVO rating of 10.0, so you can rest assured that we know what we're doing when it comes to Florida law. We have 75 years of combined experience across multiple practice areas and are confident that we can get the best outcome for any personal injury claim.
Our phone lines are always open, so call us whenever you need! Contact us at (941) 444-4444 for a free consultation and find out how you can overcome the financial losses you have experienced as a result of your accident.