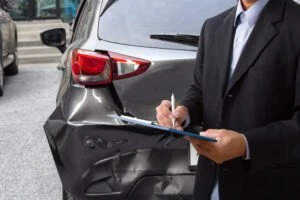 In the State of Florida, it's no secret that auto insurance policies and laws can be very confusing. This may be in part due to the fact that there are multiple kinds of car insurance policies that cover different types of damages. In short, liability insurance covers damages that the driver may have sustained, collision and comprehensive insurance cover repairs to your vehicle, and gap insurance covers any money you owe that exceeds your insurance company's maximum payout.
If you've been involved in a car accident or need legal help regarding your own car insurance policy, don't hesitate to contact us as soon as possible. At The Law Place, our attorneys have ample knowledge and experience in Florida insurance law. In fact, our fully-licensed lawyers have 75 years of combined experience serving clients in the State of Florida and helping them with their insurance policies. Insurance policies can be difficult to understand, which is why having an experienced and skilled lawyer is so important. Our team of attorneys can help answer any questions you may have about your auto insurance policy and explain the differences between the multiple types of car insurance available.
Our attorneys at The Law Place are ready and waiting to review your insurance policies and clarify any doubts you may have regarding your car insurance. Call us at (941) 444-4444 to schedule your free case evaluation with a member of our legal team.
Liability Insurance
Under Florida Statute 627.7407, Florida operates using a no-fault law system. This means that if a claimant wants to file an insurance claim after being involved in an accident, they must first file it with their own insurance company. Even if the claimant believes they were not at fault, they will still have to file their claim with their own insurance provider.
In the State of Florida, the Florida Highway Safety and Motor Vehicles (FHSMV) requires all drivers to have a minimum of $10,000 in personal injury protection (PIP) insurance as well as $10,000 in property damage liability (PDL) insurance.
PIP insurance covers up to 60% of lost wages and 80% of the medical bills that you may have incurred as a result of having your injuries treated. Claimants have 14 days from the day of the accident to seek medical attention for their injuries. Under Florida Statute 627.736, if a claimant fails to seek medical care before the 14 days have passed, they may be unable to file an insurance claim.
PDL insurance covers damage to the other driver's property in the event of a car accident. For example, if you have been involved in a car accident and the other driver's vehicle has been damaged as a result, then PDL insurance may cover the costs to repair their vehicle. Please note that this insurance does not cover any damages that the policyholder has incurred.
Another car insurance policy that Florida drivers can purchase is bodily injury liability (BIL) insurance. BIL is optional insurance coverage that covers the medical costs to treat the injuries of the other driver injured in the accident. This insurance does not cover damages that the policyholder has incurred.
Comprehensive Insurance
Although the title may suggest that comprehensive insurance offers full coverage in the event of an accident, this is not strictly the case. Comprehensive insurance coverage cover is designed to cover damage sustained to a vehicle that doesn't involve a collision with another vehicle. For example, if a car is damaged after a tree falls onto the vehicle, then comprehensive insurance may cover this damage.
What's more, comprehensive coverage pays the replacement vehicle costs in the case that a vehicle is stolen. Similarly, acts of vandalism can be covered under comprehensive auto insurance. For example, if your car windows were smashed in the act of vandalism, you may be able to receive compensation to cover the costs to repair them. Other damages covered under comprehensive coverage include:
Natural disasters.

Fires and explosions.

Damage from impact of animals in the road.

Damage from falling objects.

Terrorism.
Drivers wanting to purchase comprehensive insurance cover usually have to pay an insurance deductible. An insurance deductible is the amount of money you have to pay before the comprehensive policy kicks in. For example, if the damage your vehicle has sustained costs $5,000 to repair and your comprehensive policy is subject to a $1,000 deductible, then the claimant will pay the first $1,000, and the car insurance provider will pay the remaining $4,000.
Because of the deductibles involved in this type of car insurance coverage, comprehensive coverage is unnecessary for minor damage to a vehicle. For example, if the cost to repair a broken window after an act of vandalism is $500 and the deductible is set at $1,000, your insurance provider won't pay to cover the repair costs.
Collision Insurance
Collision insurance is a type of insurance that covers any damage that was sustained to a vehicle in a car crash. This normally involves a car accident with 2 or more vehicles. However, it can also involve accidents that only involve a single vehicle. Collision auto insurance can cover:
Collision with another vehicle.

Colliding with a stationary object such as a streetlight.

Crashing into a ditch.

The vehicle flips over.
Both comprehensive and collision coverage normally involve paying insurance deductibles. The price of the deductible is often negotiated between the driver and their insurance provider. Generally speaking, the lower the deductible is, the more you'll have to pay for your insurance premiums.
Having collision insurance can be very useful for those wanting to have their vehicle repaired soon after the accident occurs. It can often take a long time to receive compensation from the liability insurance coverage provided by the other driver as liability must be proven by legal representatives and insurance companies. If the claimant has collision coverage, the process of claiming this compensation is often quick as the money is awarded automatically.
Comprehensive vs. Collision Insurance
The main difference between comprehensive and collision insurance is that comprehensive coverage pays for damages incurred to a vehicle not related to a car crash, whereas collision coverage pays for damage caused in a collision.
In other words, events in which the driver is in control or collides with another car are usually covered under collision insurance. In contrast, comprehensive car insurance is awarded to drivers who have been a victim of an "act of nature" at no fault of their own that doesn't involve a collision.
In some cases, it can be difficult to determine which insurance policy should be used when filing a claim. For example, imagine you are driving your vehicle and collide into a streetlight. Although this is an unfortunate accident, this accident would be covered under collision insurance. On the other hand, a person whose car was damaged as a streetlight fell onto the vehicle during a storm would be covered under a comprehensive car insurance policy.
In Florida, both collision and comprehensive coverage are optional types of insurance protection. However, drivers with a car loan may be required by their finance company to purchase comprehensive and collision insurance until their loan is paid off.
An attorney can determine which insurance policy best covers your specific accident and help answer any questions you may have when understanding the differences between comprehensive and collision coverage. Call our law firm to schedule your free case evaluation today.
Gap Insurance
Gap insurance is an optional insurance policy that drivers in Florida can purchase. This insurance coverage is particularly useful for drivers who have recently purchased or loaned a new car. Gap coverage can be used in the event that your vehicle is damaged beyond repair and you owe more on your loan than the actual cash value of the car.
The total value of your car depreciates as soon as you start driving it. If your vehicle has been totaled in an accident, your car insurance provider will factor in the depreciation of your vehicle in order to reduce the car value and therefore reduce the insurance payout. For example, if you have been involved in an accident, your insurance company will calculate the final settlement depending on multiple factors, including the current value of your car rather than the value at the time you purchased it. Because of this, the payout you may receive may be lower than what you owe to replace the vehicle. If the amount you owe to cover replacement costs exceed the payout from your insurance company, then gap insurance will usually cover the exceeding amount.
For example, imagine a driver purchased a new car for $40,000 a year ago, and their deductible is set at $1,000. The value of the vehicle will have depreciated over the past year and may now be worth $32,000. In the event that the car is totaled, the total amount that the insurance provider may payout would be $32,000 minus the $1,000 deductible. Therefore, the final settlement that the driver receives will amount to $31,000. Now imagine that the outstanding loan balance after one year since buying the car is $36,000. This would leave the driver with $5,000 to pay off. If the driver has gap coverage, then this insurance will cover the exceeding $5,000.
What Happens If I Was Involved in an Accident With an Uninsured Driver?
If you've been involved in an auto accident with an uninsured driver, you still have the right to file an insurance claim. In order to successfully sue a motorist, your attorney must prove that the driver was liable for your accident. In order to do this, the motorist must have driven negligently. In order to prove negligence, your lawyer must prove that:
The motorist owed you a

duty of care

.

The motorist breached the duty of care.

The breach led you to sustain damages, which you can then claim.
As Florida is a no-fault state, you are required to claim with your own insurance provider first. In the case that the damages you have incurred exceed your maximum policy limit, you can normally file a claim with the other driver's insurance provider. However, if the other driver was driving their vehicle while uninsured, this can be difficult to do. A judge may be reluctant to charge an uninsured driver a large sum of money as they may not have much money to spare.
Your attorney may be able to find evidence of hidden assets of the uninsured driver to prove that they are financially able to pay out a compensation settlement from their own pocket. Your lawyer can carry out a credit check in order to find more information on the other driver's economic situation.
Also, Florida drivers can purchase uninsured motorist insurance coverage. If the at-fault driver doesn't have the required insurance, then this type of coverage will cover the policy holder's medical bills, income loss, pain and suffering, and wrongful death. If you have any questions regarding your rights after being involved in a motor vehicle accident with an uninsured driver, don't hesitate to call our law firm. Our attorneys have ample experience navigating Florida's insurance laws and have knowledge about auto insurance coverage policies.
Insurance Laws in Florida
Under Florida Statute 768.81, the State of Florida operates under comparative fault laws. This means that a claimant's final settlement may be reduced depending on the percentage of their liability in their accident. In other words, more than one party can be held liable for an accident. For example, if it can be proven that you were speeding before the collision occurred, it may be determined that you were 20% responsible for the accident. If this is the case, your total settlement will be reduced by 20%.
Imagine a driver is awarded $30,000 to cover the damages they have sustained as a result of their car accident, but they were found 20% liable for the accident. In this case, the claimant's settlement would be reduced by $6,000, so the final settlement awarded to the claimant will be $24,000.
Car insurance companies often try to hold claimants partially responsible for accidents they are involved in order to decrease the final payout. Insurance companies are businesses that prioritize making a profit over the needs of their clients. Therefore, it's highly recommended to have an attorney fight your corner and ensure that the settlement that you receive from your insurance provider is fair.
Will My Insurance Coverage Pay for My Legal Fees?
If you have been held responsible for a car accident, then your car insurance policy may cover your lawyer's legal fees. In the case that you were not at fault for the accident and are seeking compensation, we highly recommend hiring legal representation as soon as possible.
At The Law Place, we operate on a no-win-no-fee basis as monitored by The State Bar Association. This means that our clients are never charged for our legal services if we're not able to win compensation for them. If we're successful in winning your case, we'll charge a percentage of what the insurance provider awards you with.
Exceptions to an Insurance Company's Duty to Defend
If a driver is being held liable for an accident, then the car insurance provider has the duty to defend their clients and pay for their legal fees. However, in some cases, an auto insurance company can deny a client's right to have their legal fees paid for by the insurer under the following circumstances:
The accident was caused intentionally by the client

– In the case, the accident occurred due to the intentions of the client, then the auto insurers have the right to deny their services.

The insurance provider wasn't notified about the accident soon enough

– If an accident results in death, injury, or damage worth more than $500, then the driver involved must report it within 10 days under

Florida Statute 316.066

. If the driver fails to do this, the insurer's duty to defend may be voided.

The damages exceed the policy limit

– The insurance provider only has to pay the damages within the client's policy limit. If the damages incurred exceed the client's policy limit, then the insurance provider does not have to pay their legal fees.
Contact The Law Place Today
At The Law Place, we understand that navigating the Florida legal system can be difficult. We also recognize that auto insurance policies can be extremely confusing. States such as Florida require drivers to have a minimum insurance policy but also allow them to purchase additional coverage, which can make the laws surrounding insurance in Florida incredibly confusing. Our lawyers can inform you on what insurance you are required to have, and we can recommend which insurance policies are most beneficial for our clients.
Our experienced attorneys can help you understand your own car insurance coverage and answer any questions you may have. At The Law Place, most of our attorneys have the maximum AVVO rating of 10.0. This means that we have ample knowledge of the legal system and know what we're doing when it comes to insurance laws. So, whether you're having difficulty understanding the difference between comprehensive and collision insurance or aren't sure if you're required to have certain insurance policies under Florida law, our legal team is here to help.
At The Law Place, we believe in open and consistent communication. Therefore, we keep our phone lines open day and night so that our clients can contact us whenever they need to. Call us at (941) 444-4444 to schedule your free consultation with one of our top attorneys today to have your questions answered and your doubts clarified.