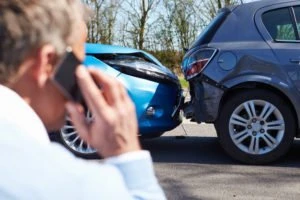 Car accidents can be some of the most stressful periods in a person's life. During these times, you not only have to deal with the physical injuries and mental side effects caused by the accident, but you often also have to deal with the insurance companies and their claims adjusters hounding you. This can be difficult, especially for the majority of people who have very little knowledge when it comes to Florida car accident or personal injury law.
As a result of all of this, many people will turn to hire a good car accident lawyer to represent them on their behalf. Such as those found at The Law Place. This takes the stress away from the victim, which allows them to focus on their recovery. When you are hurt, and it wasn't your fault, it isn't right that you should suffer, you deserve compensation for your medical bills, lost wages, and any other damages. A good car accident attorney will be your best shot at obtaining the settlement you are owed. Our phone lines are always open, so phone us today on 941-444-4444 for a free consultation.
Is it Worth it to Get a Lawyer for a Car Accident?
Due to the power and size that large insurance companies wield, you will be fighting an uphill battle from day one if you are pursuing a claim without an attorney fighting your corner. On top of that battle, you may be dealing with injuries or the stress and shock that follows a serious accident.
We recommend that everyone involved in an accident, regardless of who is at fault, should at least have a free consultation from a reputable law firm.
According to Florida Statute 627.736, following a road traffic accident, regardless of who was at-fault, you are required to initially seek compensation from your own insurance company, up to the limits of your coverage. As a result, you have to take great care when speaking to both your own insurance company and the other parties' insurance.
Regardless of the money, the injuries from car accidents can take a long time to heal, and car accident cases can take a long time to resolve. Large insurance companies did not become large insurance companies by paying out large sums of money often. They will spend huge sums and hire strong, dedicated legal teams who have the sole job of preventing you from seeking your rightful compensation. The only way to combat this is to fight them with a skilled and aggressive lawyer, one who isn't afraid to stand toe to toe with the insurance company and their legal teams.
By hiring a reputable Florida car accident lawyer, one that can prove that they have fought battles like this before and won, you level the playing field.
Even if you believe your injuries and damages are minor, you should still try and consult with a lawyer. Even if you do not go on to hire them, you can still get some unbiased legal advice during your free consultation. Afterward, you should be much clearer minded and confident in your next steps.
What Should Your Attorney do for You?
When you hire an attorney to represent you on your behalf, they become your advocate. What this means is that from that point on, they are fighting on your behalf to shield you and your legal interests. They will, to the best of their ability, shield you from any external or internal party that is looking to influence your decision or impair your judgment.
One example of when this becomes extremely valuable is in regards to insurance attorneys. In an attempt to shift liability or lower their payouts, an insurance company lawyer may try and contact you directly. During this correspondence, they might try and get you to slip up. This is their job, and you should expect this to come whether you have representation or not.
Your lawyer will not only protect you from others, but they will also try and protect you from yourself. Emotions run high after a car crash, shock and adrenaline can make you act irrationally, perhaps making some hasty decisions. It is your attorney's job to spot this and to advise against anything that they think is detrimental to your health or to your case. Your personal injury lawyer should be the voice of reason, giving good clear-headed advice when you need it most.
Finally, your personal injury lawyer will represent you. Just as they protected you from yourself and external parties, they will also fight for you. They will stand up to the other parties and are not afraid to ruffle some feathers.
As you can see, your personal injury attorney will be a vital ally. This is why we highly recommend that anyone who has been in an accident, to hire a car accident lawyer. The sooner you contact them after an accident, and agree to representation, the sooner they can start putting their protective measures in place.
Is it Worth It to Hire a Lawyer for a Car Accident?
We have just talked about how valuable a personal injury attorney can be to your case. Those reasons are why we highly recommend that anyone who has been in an accident should hire one. They make life a lot easier for those trying to claim. They give clear-headed advice and do the hard work for you.
That is not to say that you cannot seek compensation following an accident alone. Every year lots of victims do just that. You should bear in mind, however, that your chances of winning, and your chances of a higher payout, are much higher with representation by a lawyer. Research has shown that on average, 90% of personal injury cases where the victim was represented by a lawyer, ended up in a payout. On average, the payout was $60,000 more per person who has a lawyer representing them too. This shows that the old mentality of a lawyer costing too much to be worth it is wrong.
The importance of a lawyer goes up drastically when the accident resulted in serious injuries. If you have broken bones or injuries that are affecting your life, or if you are claiming due to the death of a loved one, we highly suggest hiring a lawyer. They are the best chance you will have to seek the maximum and full compensation that you deserve. When you have severe injuries, the costs can add up extremely quickly, and it is not fair that you should be out of pocket when it wasn't your fault. Your lawyer will be able to seek recovery of medical bills, medical treatment, transport, and loss of quality of work.
What is the Average Settlement for a Minor Car Accident?
The amount that you will receive after a car accident can vary depending on a range of different factors, such as:
How severe the injuries are.
How high the medical bill cost is.
The past and potential future medical expenses.
The fault.
The age of the injured parties.
How much the accident has impacted your day-to-day life.
All of these factors can be measured and are classed as quantifiable. This means they will be given a grade depending on the severity. All of these grades will then be run through a computer, which will then calculate what settlement you should be entitled to. This is where the insurance company will most likely make you a settlement offer. You should make sure that you keep hold of your medical records, vehicle repair bills, and anything else that may be relevant to your case.
You then have the choice of accepting if you agree the settlement is a fair and reasonable one or declining and moving into the lawsuit stage. If this is your decision, your lawyer will begin preparations to file a lawsuit case against the other party.
How Much Does It Cost to Hire Lawyer for a Car Accident Case?
If you are considering hiring a lawyer for your car accident case, you may be wondering how much it is going to cost. With a car accident lawyer with The Law Place, you will hire them on a contingency basis. This means you do not have to pay anything upfront as the fees will be deducted from your eventual settlement payment. If you lose the case, you do not have to pay anything.
Contingency work is monitored by the State Bar Associations, which lays down guidelines for how your lawyer can charge and what they can and cannot do. Your car accident lawyer should outlay the costs clearly and concisely in the early stages. As a claimant, you should not accept anything until you are crystal clear on the terms and fee arrangements for your personal injury case.
Contact The Law Place Today!
Your decision to hire a car accident lawyer could be a decision that affects the rest of your life. If you have received injuries that could be life-changing, you need to make sure you seek compensation aggressively and relentlessly.
Here at The Law Place, we have a skilled team of knowledgeable accident lawyers who are ready to fight for you. They will represent you to the best of their ability and will stand up to the other insurance company and make sure you are treated fairly. We have over 70 years of combined experience, dealing with cases just like yours across the state of Florida.
We offer a free consultation with no strings attached. We will give you the best advice we can, and then you can make an informed decision on your next steps. That way, you can focus on your recovery.
Don't deal with this journey alone; let us carry some of the weight. Contact The Law Place today on 941-444-4444.