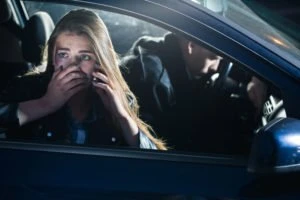 Passenger vehicle accidents can have deadly consequences for both passengers, drivers, and other vehicles involved.
As a passenger in a vehicle, you have the legal right to be kept safe by other motorists on the road. So, if you were a passenger injured in a car accident, you have a number of legal options, including suing the individual who caused the crash. However, you'll need to work with a qualified car accident lawyer to get the best case outcome and achieve the right level of compensation.
Here at The Law Place, we help our clients all over the State of Florida to understand their legal rights after any kind of traffic incident. We can help you to file a claim or lawsuit, liaise with your insurance company and support you through the legal process.
So, if you were a passenger in a car accident, call today for your free case evaluation on (941) 444-4444.
Criteria for a Successful Personal Injury Lawsuit After a Car Accident
If you were a passenger involved in an accident, you can sue another party and file a personal injury lawsuit. However, in order to win your case and claim compensation to recover damages, your lawyer will need to fulfill certain criteria.
The requirements for a negligence or personal injury lawsuit include:
Proving That You Were Owed a Duty of Care
Firstly, in order to prove that negligence occurred, it will need to be established that somebody involved in your car accident owed you a duty of care. A duty of care means that an individual was in some way responsible for your safety.
This is important because if you were solely responsible for your own safety and nobody else was legally obligated to act in a way that preserved your safety, there are no grounds for a personal injury claim or lawsuit.
In traffic accidents, proving duty of care is usually straightforward. Drivers, pedestrians, and passengers on any road or highway in the State of Florida have a duty of care to keep themselves and others safe. By obtaining a license to operate a motor vehicle, they consent to this law.
Individuals that owe you a duty of care could include:
The driver of the vehicle in which you were a passenger.
Other drivers involved.
Pedestrians crossing the road.
The State of Florida.
Transportation companies.
Prove That This Duty of Care Was Breached
Your lawyer will need to prove that the individual who owed you a duty of care breached this duty. An individual could neglect their duty of care if they acted unsafely or if they failed to act in order to prevent something from harming you.
An individual may have breached their duty of care if they:
Were driving whilst under the influence of alcohol or narcotics.
Had their normal functions and reactions impaired due to prescribed medication.
Were driving recklessly or dangerously, such as weaving in and out of traffic.
Ran a red light or a stop sign.
Fell asleep at the wheel or drove whilst fatigued.
Failed to adequately maintain roads or highways.
Failed to make sure that equipment such as traffic lights or signage was well-maintained and functioning.
Prove That You Were Injured by This Breach
Next, your lawyer will need to prove that the breach in duty of care directly caused your injuries. This can be slightly more difficult to prove in car accidents because injury victims can often be partially at fault for an accident. So, if you were distracting a driver who caused another vehicle to crash into them, it could be ruled that you were responsible for your own injuries.
Therefore, your lawyer will be investigating every driver, passenger, and other vehicle involved in your case to help prove that another individual's negligence caused your injuries.
Prove That You Suffered a Serious Injury
In order to be compensated for your accident, it will need to be proved that your injury was serious. According to Florida Statute 316.027, serious bodily injuries are those which:
Cause real risk of death.
Impact the function of any organ.
Cause significant disfigurement.
Our team of dedicated attorneys fight and win for Floridians.
What Compensation Could I Receive for a Car Accident?
There are a number of ways to pursue financial compensation, including:
Compensation From Your Own Insurance Company
According to Florida Statute 627.736, it is a legal requirement for all Florida drivers to possess available insurance coverage for $10,000 in Personal Injury Protection and $10,000 in Property Damage Liability. Therefore, if you've suffered injuries in a traffic accident, the first way to claim any damages is to contact your own insurance company.
PIP insurance will cover you for:
80% of medical costs.
60% of any lost wages.
Wrongful death benefits for deceased policyholders.
In addition, it is possible that you could possess multiple insurance policies. For example, as well as PIP, you could have Uninsured Motorist coverage. This will cover you if you are involved in a car accident where the other driver does not have any insurance. According to statistics from the Insurance Information Institute, over 20% of drivers in the State of Florida are uninsured. So, although it is not legally required, it's a good idea to take out Uninsured Motorist insurance.
Compensation From the at-Fault Driver
There are some circumstances in which the at-fault driver's insurance company will cover you for compensation. Whilst it is not compulsory in the State of Florida, many drivers possess Bodily Injury Liability insurance. This could be the case if they chose to take out this type of cover or if they were previously involved in another car crash and were required to take out this insurance.
Bodily Injury Liability insurance is paid to an injured party if the policyholder causes a traffic accident.
In addition, every driver in the State of Florida is required to possess $10,000 of Property Damage Liability insurance. This is designed to cover any property damage if a driver gets into an accident. So, this could also be owed to you by an at-fault driver.
Compensation From a Personal Injury Claim or Lawsuit
If your costs exceed your insurance coverage, you could choose to file a personal injury claim or pursue a lawsuit. Your lawyer will be able to help you decide what the right choice is for your case.
These types of legal action will help you to recover a higher amount of damages, including:
How Can a Personal Injury Lawyer Help Me?
If you want to achieve the right level of compensation for your case and avoid jeopardizing your claim or lawsuit, you'll need to find a personal injury lawyer as soon as possible. They'll provide a number of services, including:
Making an insurance claim on your behalf.
Liaising with your insurance company, as insurance companies can be difficult to deal with.
Negotiating a fair settlement out of court.
Filing a lawsuit and defending you in court.
Filing any paperwork.
We're Florida's top litigation team with over 75 years of combined experience
Contact The Law Place
If you were a passenger injured in a car accident, get into contact with The Law Place today for legal advice. In most cases, you will be able to sue a driver who is at fault or any other individual who caused your accident.
Attorney client relationship is one of our core values here at The Law Place. So, we work with your best interest in mind because we want you to be confident that you're working with the best legal professional for the job. However, don't just take our word for it. You can check our credentials at AVVO, where many of our team have received the highest possible rating of 10.0.
We also offer a free legal consultation to all our new clients. So, call today to receive your free case review and to speak with a licensed attorney on (941) 444-4444.