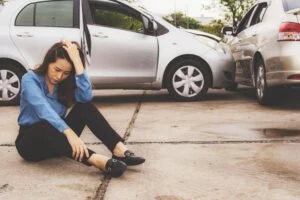 Most people associate the consequences of a Florida car accident, slip and fall, medical malpractice case, or any other personal injury accident with only the actual physical injuries. These people fail to consider the emotional distress this level of trauma causes to most accident victims. In truth, many people who suffer a severe enough bodily injury usually also suffer from some level of psychological trauma alongside it. For many severe injuries, this can make it just as difficult to resume normal life after a Florida accident as if the victim had suffered an actual physical impairment or disability.
Luckily, here at The Law Place, our personal injury lawyer team understands exactly how emotional trauma can be as serious as a physical injury – and the good news is that you can still recover compensation for emotional distress that results from a physical impact. To find out how, Florida victims can call our personal injury attorneys today and arrange a free consultation at no obligation, with all their details protected by the confidentiality of the attorney-client relationship. All our personal injury cases are no-win-no-fee, and the phone lines at our law firm are always manned.
For more information and free legal advice at no obligation, give our office a call on (941) 444-4444!
How Is Mental Anguish or Emotional Distress After an Accident Defined by Florida Law?
An emotional distress claim under Florida law refers to the psychological repercussions of living through a traumatic event.
As the brain of every person involved in a serious accident is different, the wide range of symptoms and effects can be just as different for each individual. However, if you would like to save time and speak to a personal injury lawyer directly about the emotional distress inflicted upon you, simply call us today for a no-obligation consultation.
Accidents That Commonly Result in the Possibility of an Emotional Distress Claim
Any accident that causes mental pain and suffering is grounds for a personal injury case to seek compensation for that mental pain. Most commonly, our personal injury team see claims for mental pain and suffering from the following accident types:
A bicycle, motorcycle, truck, or car accident.

An aviation or maritime accident.

Slips, trips, falls, or other property negligence cases.

Construction accidents or other on-the-job accidents.

Defective product accidents.

Cases of medical malpractice.
The truth is that any accident can leave victims entitled to make personal injury claims for emotional pain and suffering. If you have any of the following symptoms, you could be entitled to make a Florida pain and suffering claim. Call us today to find out more.
Feelings of Anxiety and Depression After an Accident
Depression is usually defined as a period of sadness that lasts longer than the usual passing emotion, usually for periods of several days, weeks, or months continuously. Depression can exhibit itself as both physical and emotional symptoms in the following ways:
Low energy levels, increased fatigue, or a consistent feeling of sluggishness.

Having a hard time concentrating, decision making, or focusing/recalling events.

Physical symptoms, such as cramps, physical pain, aches, or gastrointestinal issues with no seemingly clear cause.

Impacts on weight and appetite.

Dramatic changes in sleep schedule or the ability to achieve sleep.

Loss of pleasure/interest in long-term hobbies and activities.

Consistently feeling sad, empty, worried, pessimistic, or hopeless.

Suicidal thoughts or suicide ideation.
Anxiety is similar, and in many cases, overlaps with depression. Yyou may be able to achieve a personal injury case for chronic anxiety if you experience the following prolonged symptoms after an accident:
The same fatigue, decreased focus, or sleep issue symptoms as depression, listed above.

Consistent muscle tension or a racing heart.

Grinding teeth or clenching jaw habitually.

Irritability, feeling on edge, and restlessness.

Difficulty keeping fears and worries under control.

Dread and panic.
Sleep Issues After an Accident
One common way even the hardiest minds process emotional trauma is through sleep. This means that after an accident, even if it didn't cause a serious injury, many people suffer from disturbed sleep.
This may express itself as difficulty getting to or staying asleep or may go the other way and lead to a victim sleeping much more than usual, which has the ability to severely impact the victim's life.
Furthermore, trauma may often replay itself through vivid nightmares or even night terrors, which disturb the victim's sleep cycle. These may sometimes be indicative of larger issues.
One of the main problems with disturbed sleep is that it can heighten your risk of other accidents. This is because not getting enough sleep impacts your focus and reaction times.
Trauma Disorders After an Accident
The emotional distress caused by a traumatic injury experience can cause disorders that long outlast any physical injury, such as post-traumatic stress disorder (PTSD).
PTSD is usually developed in the first month or so after the accident occurs, although some people may unintentionally repress or suppress the symptoms or causes for much longer. The symptoms may be consistent, periodic, or have specific triggers that can prevent people from being in their accident situation again.
The symptoms of this type of emotional distress can be far-ranging, complex, and debilitating. Usually, they may express themselves as the following.
Reliving the traumatic event as uncontrollable flashbacks, which can happen during consciousness or express themselves as nightmares or night terrors.

Invasive, intrusive, or obsessive thoughts, including distressing mental images and sensations.

Uncontrollable physical sensations, such as trembling, nausea, sweating, or actual physical pain.

Problems remembering the accident correctly, or feelings of doubt that prevent the victim from coming to terms with their emotional pain.

Becoming lost in distractions to numb the emotional distress and avoid the issue.

Hyperarousal, which is defined as over-awareness and may lead to anger, irritability, sleep issues, and difficulty focusing.

Self-destructive tendencies, such as self-harm and drug and/or alcohol abuse. These are particularly dangerous as they can lead to severe self-inflicted injuries or serious criminal charges, such as

driving under the influence

.
Other Common Types of Emotional Distress After an Accident
While the above types of emotional pain and mental distress are the most common symptoms our personal injury attorneys see following Florida accidents, they are far from the only possible outcomes, as everyone processes trauma differently.
Some accident victims may experience their emotional distress as persistent feelings of humiliation and embarrassment, for example. This, or other factors, can go on to cause emotional injuries and phobias, such as agoraphobia (the fear of being outside/in wide-open spaces), which can severely impact the victim's lifestyle.
Similarly, mental suffering can lead to long-term emotional instability. This can manifest itself in mood swings or even dramatic changes in personality.
If you have experienced severe emotional distress after your Florida accident, even if the symptoms are not explicitly listed above, you may still be entitled to make a personal injury claim. Call our office as soon as possible to find out more.
How Florida Laws Allow You to Seek Financial Compensation for the Infliction of Emotional Distress
Victims who have suffered mental distress after an accident can recover damages by making personal injury claims or even filing emotional distress lawsuits.
The most common way to do this is to seek pain and suffering damages. Pain and suffering claims usually use the length and physical pain level of the recovery process from physical harm, as well as considerations for economic damages, to calculate the pain and suffering damages awarded. This means that lost wages due to time spent off from work dealing with emotional distress can also be considered as pain suffering damages.
Additionally, long-term lifestyle alterations and permanent impairments are also used to calculate pain and suffering. Many mental injuries fall under this umbrella. It may also be possible to seek compensation for emotional distress-related costs, such as medical bills for trauma-related care.
How Are Pain and Suffering Damages Usually Calculated by Insurance Companies and Florida Courts?
There are two common ways to determine the personal injury payout for pain and suffering, although other methods exist, and your insurance company or judge is at no obligation to use any particular method over another to calculate fair compensation.
The first of these methods is the per diem method. This is based on the Latin for per day, meaning that it uses the length of the recovery process to calculate pain and suffering compensation. This means it is less useful for fairly calculating impacts that may last long into the future.
The second method is the multiplier method. This method seeks to name quantifiable figures for the victim's damages as a result of the accident.
Usually, these damages are calculated by looking at lost income, the cost of medical treatment, the level of emotional distress, the extent of property damage, and other factors.
Once a quantifiable figure has been reached, it is multiplied by a certain figure. This figure is usually between one and five, although it can go higher. The higher the figure, the higher the severity in terms of physical or emotional damages. The resulting figure will be the pain and suffering payout amount.
There are other methods used to calculate pain and suffering, such as advanced computer programs or referring to the precedent set by previous damages for a similar type of accident.
What Is the Statute of Limitations for Claiming for Pain and Suffering in Florida?
Under Florida Statute 95.11, accident victims only have a period of four years in which to make a claim for personal injury damages. This period begins on the exact date on which that accident took place.
While this may seem like a long time in which to raise your pain and suffering claim, the truth is that the sooner you start the process, the more your claim is likely to be worth. This is because, over time, evidence gets lost, and rival legal teams have time to build solid cases against you. Furthermore, the more time you give the experienced lawyers at our firm to build your case, the stronger it will be.
What Is the Impact Rule in Florida and How Does It Affect Your Mental Anguish Claim?
The impact rule is the legal term for the situation that requires most emotional distress claims to prove that the claimant was also physically hurt in some way by their accident. This can make it more complicated to recover damages for emotional distress. Although the impact does not necessarily have to be a bodily injury, it can also be mental distress that manifests itself physically.
This usually means that those wishing to make a mental anguish claim should see a doctor in order to get medical records or psychiatric records that will act as proof of the impact. Furthermore, you should always seek medical attention after an accident, both for your physical well-being and because Florida Statute 627.736 requires you to seek medical assistance within 14 days of an accident in order to be entitled to compensation.
Examples of Exceptions From the Florida Impact Rule
If your accident did not result in tangible impacts from the physical contact but still severely impacted you mentally, all is not lost. In recent times, the Florida supreme court has been making increasing exceptions to this rule.
These exceptions include cases where:
The victim has ingested contaminated food or drink.

When a psychiatric professional violates the privacy or confidentiality of their patient.

When there is negligent infliction or intentional infliction of emotional pain and suffering involved.

For family members who witnessed a particularly distressing situation, such as those who witnessed a serious injury be inflicted or had grounds for a wrongful death claim under

Florida Statute 768.21

.
The best way to find out if you have grounds for an emotional pain and suffering case is to arrange a free case evaluation with one of our lawyers today. We can tell you everything you need to know and show you the path to maximizing the compensation you are owed.
Contact The Law Place Today
If you have experienced an accident in the past four years that left you with lasting emotional trauma or damages, it is likely that you are entitled to recover a compensatory sum for your suffering. The sooner you begin the claims process, the more likely you are to be able to maximize your compensation.
Here at The Law Place, our legal team has 75 years of combined experience. Many of our lawyers are rated a perfect 10.0 on the AVVO scoring system, and all of our personal injury cases take place on a no-win-no-fee basis. This is because we believe there should not be any level of risk involved in seeking the compensation that you deserve for your suffering.
To start the process, all you need to do is call today for a free case evaluation. This free consultation will be at no obligation and completely confidential, and we will be able to tell you what to expect from the process, as well as your approximate final payout. We keep our phone lines open around the clock so that you can call at a time that is convenient for you.
For more information, free legal advice, and to speak to an experienced personal injury attorney today, call our Florida office on (941) 444-4444!