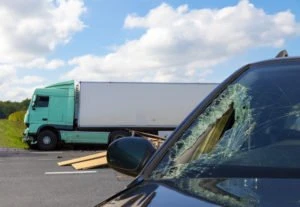 Truck accidents can be more devastating than car accidents in the State of Florida. Due to the size of vehicles, they usually lead to more severe injuries, more property damage, and the legal process can often be more complicated as you could be dealing with trucking companies as well as individual drivers.
If you've been involved in an accident due to truck driver negligence, seeking professional legal counsel as soon as possible should be your top priority. Our team of Florida personal injury and truck accident lawyers can give you legal advice, support you through the claims process and help you to win compensation for damages, including medical expenses, lost wages, pain and suffering, and more.
For a free consultation with an experienced Florida truck accident attorney, call our office today at (941) 444-4444.
Proving Liability for a Truck Accident
If you're planning to pursue a personal injury or negligence claim against another individual in order to receive compensation for your accident, your attorney will need to find who is at fault.
There are a number of people who could be responsible for a truck accident, such as:
A Truck Driver
The first place your attorney will look in order to find fault is the truck driver who hit you, as this is the most likely culprit for the incident.
Truck drivers are often required to drive long distances and haul heavy equipment. So, it's far easier for them to cause an accident than a driver of a standard vehicle if they do not remain alert. For example, if a truck driver became fatigued whilst driving late at night or because they skipped a rest break, they would be at fault if they collided with another vehicle or a pedestrian.
Another leading cause of truck accidents is for truck drivers to operate their vehicles whilst intoxicated. In fact, according to Responsibility.org, in recent years, nearly 20% of all traffic accidents in the State of Florida were caused by intoxicated drivers.
According to Florida Statute 316.193, it is against the law to operate any motor vehicle with a blood-alcohol level of 0.08 or more grams of alcohol per 100 milliliters of blood or a breath-alcohol level of 0.08 or more grams of alcohol per 210 liters of breath.
Truck drivers could also cause accidents if they:
Were driving recklessly or dangerously, such as weaving in and out of traffic, skipping stop signs or red lights, or engaging in road rage behaviors such as tailgating.
Did not possess the correct license for the weight or type of load they were towing or for the type of vehicle they were driving.
Failed to properly secure the load that their vehicle was towing or carrying.
A Trucking Company
If you were hit by a commercial truck driver, the company who employed them might also share some fault for the accident. This could be the case, for example, if:
A company pressured one of its drivers to skip their rest break or cut it short in order to make deadlines, resulting in a fatigued driver.
A company responsible for hiring an unqualified or under-qualified truck driver or for providing inadequate training.
A company provided unsafe equipment or did not conduct necessary safety checks to ensure everything was in working order.
If you were involved in a commercial truck accident, this makes the legal process much more complicated as you'll need to make a claim against a company that will often have its own experienced legal teams. So, this makes it even more important to find an experienced attorney as soon as possible.
A Manufacturer
In some cases, it is also possible for a manufacturer to share some liability for a truck accident. This could be the case, for example, if the incident was caused by the vehicle load becoming dislodged. If an equipment manufacturer was to blame for providing faulty load-securing mechanisms or parts, you would be able to file a claim against them. However, this is often difficult to prove as the responsibility for checking, and testing equipment can also lie with a trucking company or a truck driver.
A Pedestrian or Passenger
Truck accidents don't necessarily have to be caused by drivers. In some cases, they could be caused by a pedestrian behaving unsafely around a road, causing drivers to swerve into traffic. Alternatively, a passenger could cause an accident if they distracted the driver of the vehicle.
An Injured Party
In addition, it's not unusual for accident victims themselves to be partially or even fully responsible for truck accidents. For example, if you fell asleep at the wheel or you were driving recklessly, this could have been the main factor that caused an accident even though another driver collided with you.
Florida operates under a Comparative Fault rule for cases such as these. According to Florida Statute 768.81, the comparative fault rule makes it possible for damages to be shared with both parties involved in an accident in proportion to their share of liability. So, for example, if it is ruled that you were 10% responsible for causing your accident or making it more severe, you would only receive 90% of the damages.
If you feel you were partially responsible for your truck accident, you should never assume that you aren't entitled to receive any compensation. Here at The Law Place, we can help you to pursue compensation and also defend you against any liability claims from other drivers.
Filing a Truck Accident Claim
As Florida truck accident lawyers, it's our job to help you claim compensation for any damages you've suffered during a private or commercial truck accident. So, when it comes to making a claim, you'll have two avenues to choose from: claiming compensation from your own insurance provider and pursuing a claim against a negligent party.
Claiming Against Your Own Insurance Company
According to Florida Statute 627.7407, Florida is a no-fault state. This means that if you get into an accident, you'll be able to file a claim with your own insurance company in order to receive an initial amount of compensation. This will come from your Personal Injury Protection insurance, which all drivers in the State of Florida are required to possess in order to operate a motor vehicle in accordance with Florida Statute 627.736.
You should bear in mind that your injuries will need to be severe enough to receive a maximum pay-out. Florida Statute 316.027 classifies serious bodily injuries as:
Significant damage to the head, brain, or any organ.
Severe disfigurement.
Substantial risk of death.
Claiming Against an At-Fault Driver
If your medical expenses are more expensive than what is covered by your Personal Injury Protection insurance, if you have extensive property damage, or if you have suffered severe emotional trauma due to the extent of the truck accident you were involved in, you could file a claim against the at-fault truck driver.
Here, your lawyer will negotiate with the at-fault driver's insurance company and legal team to try and reach an out-of-court settlement. This means that you will receive a monetary amount to cover accident damages. However, you will be asked to sign a document that states you will not file a lawsuit later down the line.
Alternatively, you could choose to sue the at-fault individual. All personal injury cases are different. However, it's likely you'll receive a higher amount of compensation by filing a lawsuit. However, this is generally a more time-consuming and more expensive process as you will need to work with an attorney who is trained in litigation. Your lawyer will be able to help you determine the best option for your case.
According to Florida Statute 95.11, the Statute of limitations for personal injury cases is 4 years. However, claims and lawsuits can often take a long time to become settled, especially if you are required to wait for a court date. So, the sooner you can find legal representation and start the claims process, the better the chance you'll have of recovering damages.
What Compensation Could I Receive for a Truck Accident Claim?
The types of compensation you'll be able to receive from a Florida truck accident claim are mostly the same whether you claim against your insurance provider or an at-fault driver. However, the amounts differ substantially, and there are some key differences.
Compensation From Your Own Insurance Company
All drivers in the State of Florida are legally required to possess a minimum of $10,000 in Personal Injury Protection Insurance. So, if you possess this level of insurance coverage, you'll be able to claim:
Up to 80% of medical bills.
Up to 60% of lost wages.
$5,000 in death benefits and funeral expenses if the policyholder is killed.
After a truck accident, you'll need to file a report with your insurance carrier within 24 hours to let them know that an accident has occurred in order to be eligible to receive PIP benefits. However, we always recommend speaking to a qualified attorney first. They will be able to give you legal advice about exactly what to report to your insurance company to make sure that you don't say anything to harm your claim.
In addition, you'll need to have sought medical attention within 14 days following your accident to be able to recover damages through your PIP insurance. So, it's always a good idea to have yourself checked by a doctor after an accident even if you think you feel well. You could have injuries you are not yet aware of, especially if you still have adrenaline in your system or you are in shock following the accident.
Compensation From a Claim or Lawsuit Against a Driver
By filing a claim or a lawsuit for a truck crash, you could be entitled to higher amounts of compensation which can cover:
Initial medical costs following an accident, including X-rays, doctors' bills, ambulance travel, medication, and more.
Future medical costs, for example, if you become disabled or severely injured leading to ongoing treatment such as rehabilitation, or if you need long-term medical treatment.
Wrongful death benefits if a spouse or a loved one passed away as a result of a truck accident.
Pain and suffering for mental trauma and distress caused by being involved in the accident. These benefits also cover the emotional result of a lifestyle change due to being injured or permanently disabled.
Loss of consortium if your physical or romantic relationship was negatively affected by your partner or spouse being injured in a truck accident.
What Evidence Will Be Used in My Personal Injury Claim?
Whether you're claiming compensation through your own insurance company or pursuing a claim against the truck driver who caused your accident, there will be an investigation involved. Your insurance company, the at-fault driver's insurance company, and your own attorney will use the following types of evidence during this investigation in order to inform their decisions about who is liable for damages:
Accident Reports
Accident reports are crucial to any Florida truck accident case as they can shed valuable light on negligence that occurred as well as who may be liable. Both your insurance company and your attorney will pay close attention to this document.
An accident report for a trucking accident will include:
The time and location of the accident.
License and vehicle information of all vehicles involved.
A police officer's account and statement of the accident, including what they believe the contributing factors were, who they believe caused the crash, weather conditions, the mental and physical states of all individuals involved, and more.
A crash report diagram of the incident.
Witness Testimonies
When the police arrive at the scene of a trucking accident, they will likely interview any witnesses to take a statement. Witness statements can shed light on why the accident occurred as well as who caused the accident.
Witness testimonies are not the most reliable pieces of evidence because generally, anyone who witnesses a car accident will only view the incident from one angle and will not likely be trying to take in every single detail. However, these statements will still be taken and could be used later on to support a claim.
Video Surveillance Footage
One of the most crucial pieces of evidence in truck accident cases is video surveillance footage. This type of evidence can show exactly how the accident occurred, as well as the details of the individuals and vehicles involved in the incident. Video footage can also be used to track down anyone who may have witnessed the case.
Vehicle Recorders
Many commercial trucks in the State of Florida are fitted with Event Data Recorders (EDRs.) These are also known as 'black box recorders,' and they can provide crucial information, including:
The speed of the vehicle before the accident.
How long the vehicle had been in operation without a rest break.
The condition of the vehicle mechanics such as brakes.
The angle of the steering wheel.
The depth of the accelerator pedal.
Whether a seatbelt was used.
Whether airbags were deployed.
It's important to work with an attorney as they will be able to send preservation requests to any trucking companies who may be involved. This will stop them from being able to lose or destroy any evidence which could be used in your case.
Reconstructions
After trucking accidents take place, insurance companies and legal teams can often use reconstruction to try to shed more light on why the accident occurred as well as who may be liable. During this process, a crash expert will attempt to reconstruct the accident scene through 3D animations or sketches so that all factors can be assessed.
An auto accident reconstruction could take into account:
The weather conditions at the time of the accident.
The exact positioning of the vehicles at the time of collision.
Road skid marks.
Vehicle recording data such as the EDRs in commercial vehicles.
Any driver errors or negligence.
The condition of the road as well as any signage or road equipment.
Contact The Law Place – Florida Truck Accident Lawyers
Florida truck accident cases can cause serious injuries and even permanent disability. After an incident such as this, it can be difficult to know where to turn, leaving accident victims feeling helpless and confused.
If you've been injured in a private or commercial truck accident and need advice about making a claim, get in touch with The Law Place today. Whilst every truck accident case is different, we are confident we can help you achieve a favorable case outcome and win the compensation you deserve.
Our team of qualified attorneys has a strong track record of success but don't just take our word for it. You can verify our lawyers online at AVVO, where many members of our team have received the highest possible rating of 10.0. In addition to results, our attorney-client relationships are equally as important to us here at The Law Place. We want to make sure you're working with someone you feel can understand and support you through this difficult time.
Call us today to speak with a truck accident attorney near you and to book your free consultation on (941) 444-4444.