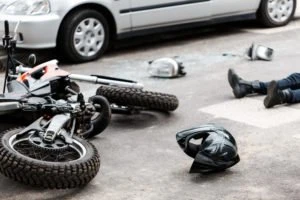 Florida may seem like the ideal place for motorcycle riders. The scenic routes and beautiful views can make it extremely appealing to motorcycle drivers. Tampa is, in fact, one of the most dangerous places for motorcycle accidents in the US. According to the Florida Department of Highway Safety and Motor Vehicles (FLHSMV), there are over 400,000 motor vehicle accidents every year in Florida alone, and over half cause injuries serious enough to warrant a hospital visit, and 300 end in fatalities. This does not bode well for Tampa road users.
Changing lanes unsafely is another major cause of accidents in Tampa. More often than not, both drivers come away unscathed, but not all the time. Usually, these accidents are caused by one party being distracted from the road. They may be looking at their phone, changing the radio station, or even just eating. While engaging in any of these tasks, the driver's full attention is not on the road, and it makes it very difficult for other road users to predict what they are about to do.
According to research completed by the Society of Automotive Engineers (SAE), in 50% of lane changes, the driver forgets to indicate. This endangers everybody else on the road at the time.
If you or a loved one has been in a Tampa motorcycle crash that was caused by an unsafe lane change, then contact us today. Our team of experienced motorcycle accident attorneys is ready to take your call. They have a wealth of experience in all kinds of personal injury cases and will do everything in their power to get you the compensation you deserve.
Call us today at (941) 444-4444 and get the ball rolling on your case.
Common Examples of Unsafe Lane Change Motorcycle Accidents in Florida
Unsafe lane changes are very dangerous and can cause serious accidents, but what exactly is an unsafe lane change in Tampa? Below are some examples of the causes of unsafe lane change motorcycle accidents:
Changing lanes while other road users are not aware of your actions.
Not looking in your mirrors or failing to check your blind spots and missing an oncoming motorbike.
Intentionally not using your indicators to notify other drivers of your intention to change lanes.
Straddling more than one lane for more time than is reasonable.
If you have been involved in a motorcycle crash and think that one of these reasons was the cause, then contact The Law Place today and book a free consultation.
What Damages Can Be Claimed in a Tampa Unsafe Lane Change Motorcycle Accident?
If you are riding a motorcycle and find yourself in an accident, you are much more likely to suffer a serious personal injury. So, with that in mind, the damages you can claim for following a motorcycle crash tend to be higher. Due to the increased risk of a motorcycle accident in Tampa, riders are expected to wear a lot of safety equipment while riding, but it is not always enough to save you from another driver's negligence.
When a motorcycle accident occurs as the result of an unsafe lane change, the party at fault may have to deal with criminal charges as well as civil ones. Here are some examples of the damages that the victim of an accident can claim for:
Medical expenses – The party found at fault will be responsible for paying the other party's medical expenses. This includes and is not limited to surgery, medication, doctor's appointments, and even travel to and from the hospital.
Future bills – If, as a result of the Tampa motorcycle accident, the victim has a lasting health condition, then the party at fault shall be liable to pay damages.
Loss of enjoyment – If the motorcycle accident has made it impossible for you to do something that you once enjoyed; you could be due some compensation.
Property damage – The party at fault will be liable to pay for any damage caused to the other party's car/motorcycle.
Pain and suffering – This can be claimed for any mental suffering caused by the accident
Wrongful death – If a Tampa motorcycle accident leads to the death of a loved one or spouse, then you are entitled to claim compensation for the funeral expenses.
Loss of consortium – If the accident results in the death of a spouse or parent, you may claim compensation for the loss of income in your household.
While this may seem like a lot of information to take in, do not worry. An experienced Tampa motorcycle accident attorney will make it all very clear for you. They will offer you a free consultation and use that time to get to the bottom of your claim.
How to Deal With Insurance Companies Following Your Florida Motorcycle Accident
When dealing with insurance companies, it is very important to watch what you say. All calls will be recorded, and anything you say can and will be used against you. As with all big businesses, the insurance company will be trying to save as much money as possible. They will have a team of experienced claim adjusters on hand to devalue and even disregard your claim entirely. Having a professional Tampa motorcycle accident lawyer on your team could prove invaluable if this happens to you.
Our advice is to contact The Law Place before having any communication with an insurance company. You are required by Florida law to notify your insurance company that you have been involved in an accident. In most cases, you have a grace period of 24 hours to do this, which will be outlined in your insurance policy.
If you must speak to your insurer before contacting us, then we advise you keep your sentences short and stick to the facts. Avoid discussing your injuries with them, as you may not know the full extent of them yet and could run into problems down the line.
What Can a Tampa Motorcycle Accident Lawyer Do for You?
When you contact The Law Place, you will be offered a free consultation, during which we will ask you a series of simple questions to see if you have a valid claim. A personal injury attorney from our law firm will offer you some no-obligation, free advice so you can make an informed decision. At The Law Place, we strive for transparency and have your best interests at heart, so if you decide not to enlist the help of our team, that is not a problem.
If you do decide to allow us to fight your case, then we will arrange an in-depth interview. Where we will meticulously gather all the evidence we need to get you your compensation. We will explain our fee structure and outline the steps we plan to take to help you through this hard time. We understand how stressful times like this can be, so we will take over the details of your case and give you time to heal.
How Much Will a Florida Motorcycle Accident Attorney Cost Me?
At The Law Place, we are sympathetic to your plight. We understand how stressful motorcycle accidents can be, and we strive to shoulder some of that burden for you. That is why all of our work is done on a contingency basis. This means that you will not be charged a penny upfront. All fees will be deducted from your settlement upon winning your case. If we are not successful, then you will not be charged a thing. All fees will be explained to you during your free consultation, so you will not receive any surprise bills.
All contingency work is monitored by the Florida State Bar Association. They set the guidelines for what an attorney can legally charge a client. At The Law Place, we follow these guidelines to the letter.
Contact a Florida Motorcycle Accident Lawyer at The Law Place Today!
Have you been the victim of an accident caused by an unsafe lane change? Has your motorcycle accident led to serious personal injury? Then book in a free consultation today. Here, at The Law Place, we will do everything we can to ensure you get the compensation you deserve. We strive to take the weight off your shoulders and give you the time you need to heal from your injury.
Our team of experienced Florida accident lawyers has combined experience of over 75 years. This covers a wide range of practice areas, so you can feel safe in the knowledge that we are looking after your case. We set ourselves apart from other law firms in our area by working together. This means you will benefit from all of the experience that our attorneys have under their belt.
Do not feel that you must face your claim alone. Call us and tell us about your accident, and we will fight for you until we have collected every penny of the compensation you are owed. Get the ball rolling on your personal injury claim today. Contact us at (941) 444-4444.