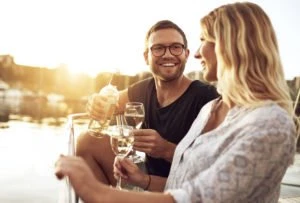 As it is located in a state famous for its pristine waterways and expansive lakes, North Port in Florida naturally sees a large amount of boating-related crimes each year. One crime that often takes many people by surprise is boating under the influence. Many people – especially tourists visiting Florida on holiday – presume that boating while under the influence of alcohol is a minor offense, if anything at all. However, boating under the influence can quite easily result in felony charges if committed multiple times. Also, if any person receives a serious bodily injury, a felony charge may be given for a first-time offense.
If you are a person who is facing charges for operating a boat while under the influence of alcohol and/or drugs, it is essential that you seek representation by a criminal defense attorney with years of experience. If not approached properly, a BUI charge can result in huge fines, a permanent criminal record, and even jail time.
When you choose The Law Place for your BUI defense, you are selecting a law firm with a lawyer team boasting over 75 years of combined experience dealing with similar cases. We are happy to offer you a free consultation over the phone, completely secured by the boundaries of the attorney-client relationship.
To get started on your criminal defense process, call our law firm on (941) 444-4444 at any time of the day or night, any day of the week.
Defining Boating Under the Influence in North Port, Florida
To the surprise of many people, boating under the influence in the State of Florida is treated very similarly to driving a regular motor vehicle under the influence of alcohol or drugs, otherwise known as a DUI.
The laws surrounding boating under the influence in Florida are contained in Florida Statute 327.35.
This statute states that a BUI charge can be issued when a person is operating a water vessel in the following circumstances:
While having a breath alcohol level or blood alcohol level (known as a BAC) that measures or exceeds .08%.
While being under the effects of alcohol, drugs, or a combination of both, resulting in your normal faculties being impaired. This is usually determined with a field sobriety test.
For further clarification, Florida law determines a vessel to include any type of watercraft, including airboats, barges, and other forms of water transport, capable of carrying people. The sole exception to this is seaplanes.
What Counts as Having Your Normal Faculties Impaired in a North Port BUI Case?
The laws surrounding the exact definition of impaired faculties are explicitly in Florida Statute 316.1934.
This statute states that a person is considered to have impaired faculties when their ability to walk, talk, see, hear, and make judgments are impacted.
When Is a North Port BUI Likely to Result in Felony Charges?
Not every BUI charge received in North Port, Florida, will result in felony charges. Usually, a conviction for a first or second BUI offense is likely to result in a misdemeanor charge.
However, the following circumstances may lead to a felony BUI charge:
The presence of multiple BUI or DUI charges on your criminal record.
The blood or breath test recorded a level of alcohol in your system that was deemed excessively high.
The BUI resulted in serious injuries to another person.
The BUI resulted in the accidental death of another person, making it a BUI manslaughter charge.
If any of the above describes your experience, it is imperative that you seek a BUI defense lawyer with years of experience to help you avoid the worst possible consequences of a conviction of this kind.
The criminal defense team at our law firm has a wealth of experience fighting to get those accused of a DUI a more lenient sentence or even getting their charges dropped entirely. For more information, contact us and receive a free consultation at your convenience.
Criminal Charges for Repeat BUI Offenses in North Port, Florida
As with a standard, land-based DUI, the severity of the consequences you can expect to receive from your BUI case will scale with the presence of any similar past offenses.
If it is your first time boating under the influence offense, this will most likely be considered a second-degree misdemeanor and may result in:
Between $500 and $1,000 in fines.
A potential maximum of 6 months in prison.
A further 6 months sentence of probation.
50 hours of community service.
Potential impoundment or immobilization of the offending vessel for a period of 10 days.
However, if you are in possession of a clean criminal record and a good criminal defense attorney, it is highly unlikely that you will be sentenced to jail time for a first-time offense.
The second time someone receives a conviction for operating a water vessel under the influence, they can still expect a second-degree misdemeanor as the most likely result. For a second offense, the likely consequences increase to:
Between $1,000 and $2,000 in fines.
A higher likelihood of spending up to 90 days in jail.
These consequences become more severe if it is your second DUI or BUI within a period of 5 years. If this is the case, it is likely that you will be up against a mandatory sentence of 10 days in jail, and your vessel may be impounded for up to 30 days.
Again, things are treated more severely if it is your second conviction with a blood alcohol level that exceeds 0.15% or if you had passengers under the age of 18 onboard your vessel either time. In these circumstances, the consequences of your case may include:
Between $2,000 and $4,000 in fines.
Up to a year of jail time.
Felony-Level Repeat Boating Under the Influence Charges
If you are caught operating a boat under the influence of drugs or alcohol three times, you are much more likely to receive a felony-level criminal charge. However, the law will differ depending on when these different criminal charges took place.
If you have been caught by law enforcement committing the criminal act of a BUI or a DUI three times within 10 years, it is most likely that you will receive a third-degree felony charge.
The consequences of a third-degree felony charge of this type include:
A jail sentence as high as 5 years.
A fine as high as $5,000.
You may also be required by law to spend a minimum period of 30 days in jail.
However, if there has been a period of 10 years between this third case of operating a boat while under the influence and your previous cases, you will likely get away with a criminal misdemeanor charge. The chances of this increase if you employ a criminal defense lawyer with years of experience defending criminal charges.
A criminal misdemeanor charge of this type will likely result in a maximum of:
12 months in jail.
A fine between $2,000 and $5,000.
In almost every case of a third DUI offense in Florida, you can expect to have your boat or vessel impounded for 90 days.
BUI Cases Resulting in Serious Injury
If your North Port intoxicated boating incident only resulted in minor injuries or property damage to another person, it is likely that with the support of an effective criminal defense lawyer, you should be able to escape with a misdemeanor charge.
However, if you were driving a boat while intoxicated and caused serious injury to another person, you could be looking at a third-degree felony.
As with repeat BUI felony charges, the consequences, in this case, will be:
Up to five years in prison.
A fine of up to $5,000.
The specific legal information surrounding the fines for various levels of felony and misdemeanor charge can be found in Florida Statute 775.083.
If you are looking at a felony charge, it is essential that you seek legal advice and the support of a criminal defense lawyer with years of experience in a relevant field. Otherwise, your charge could haunt you for the rest of your life.
The Consequences for BUI Manslaughter in North Port, Florida
Even when it is an accident, there is no getting around the fact that the loss of human life is a truly tragic event. As such, you can expect the consequences of a BUI manslaughter criminal charge to be proportionally severe.
If you comply properly with law enforcement and legal protocol following your BUI manslaughter, you will be looking at a second-degree felony charge for your actions. The consequences of this will be a maximum of:
15 years in prison.
A $10,000 fine.
However, there are circumstances in which the consequences for BUI manslaughter in North Port, Florida, can be more severe.
For example, if you willingly obstruct the course of justice or fail to provide the appropriate level of aid to the person on the receiving end of the incident, you can be charged with a first-degree felony. This includes situations where you fail to report the incident to law enforcement, despite being fully aware that the incident occurred.
A first-degree felony criminal charge for BUI manslaughter of this kind can result in:
A maximum of 30 years spent in prison.
A fine capped at $10,000.
Obviously, any amount of time spent in jail can be life-changing, especially when it comes to the long time stretches associated with a felony charge. To stand the best chance of getting the charges leveled against you reduced, you need to employ a Florida criminal defense lawyer accustomed to defending people in your position.
At The Law Place, our law firm has a team with years of experience defending people just like you. Call today for a free consultation and case evaluation, and we can explain exactly how we will be able to give you the best chance at having your charges lowered in severity or perhaps even dropped entirely.
Why Is It So Important to Avoid a Felony Charge in Florida?
It goes without saying that any stretch of time spent behind bars or any amount of money you are fined could have devastating effects on your life. However, there are several aspects of a felony charge that can truly change the trajectory of your future if not fought hard enough.
Unlike misdemeanor charges, a felony charge cannot be expunged or sealed from your record, even by the most skilled criminal defense lawyers. The law simply doesn't work that way. This means that your felony charge will remain on your criminal record forever.
Furthermore, this criminal history will follow you outside the bounds of the State of Florida. All over America, this criminal felony charge will be accessible.
How a Felony Charge Can Impact Your Future
As your felony charge will remain on your record forever, it will be viewable by many important people in your future and will make several things increasingly difficult for you.
The presence of a felony in your criminal history can impact the following situations:
You will find it more difficult to find worthwhile and competitively paid work, as your future employers will be able to see your criminal past.
You will find it harder to secure loans and to access credit.
It can be more difficult to obtain certain types of licenses.
In certain areas of family law, such as custody battles, the presence of a felony in your criminal history can be used as evidence against you.
As you can see, you should explore all available legal avenues to avoid being labeled a felon for the rest of your life.
The best way to get started with this process is to contact the team of lawyers at The Law Place. We are able to offer you a free case evaluation, which is completely confidential and at no obligation, any time of the day or night. From there, we can work together to figure out the best path to getting the severity of your charges decreased.
What Are the Common Criminal Defense Strategies for Those Accused of a BUI?
As the lawyers at The Law Place in Florida have years of experience, they have defended many people against their criminal BUI charges. This means they have a large precedent of successful defenses to draw from when tailoring your personal defense plan.
It should be noted that The Law Place believes in tailoring each client's defense to their specific circumstances. This is because every criminal defense case is unique and different.
However, your lawyer may combine and use elements of the following proven criminal defense strategies in a BUI case:
The manner in which the law enforcement officers stopped or searched your vessel was illegal.
The way the field sobriety test was carried out was improper. There are many ways an officer can carry out a test that would make the results are inadmissible.
There was a flaw, error, or inconsistency with the breathalyzing equipment used to measure your alleged intoxication.
Even if you feel your situation is hopeless, a lawyer can help you. If we are not able to get your charges dropped entirely, our lawyers will do their best to get the charges reduced – possibly even to a misdemeanor level. This would mean a much smaller impact on your life going forward.
Call today and find out how an attorney from The Law Place can help you.
How Much Will Representation by The Law Place in North Port, Florida, Cost You?
Unfortunately, as every case is different and unique to the circumstances surrounding it, it will be impossible to give you a quote through a website. The amount your criminal defense process costs will vary based on the severity of your alleged criminal act, the presence of a criminal history, and several other variable factors.
However, you should not be discouraged. The costs of fines and wages lost to jail time are financially devastating enough on their own. Not to mention the permanent impact on your earning potential that is sure to come with a conviction for a felony-level crime.
The attorney team at The Law Place will work together with you to negotiate a fair price for your defense. If you are struggling financially, we can also work together to formulate a payment plan that suits you.
When it comes to defending your freedom and financial security, the money you spend on quality lawyers pays for itself.
Contact The Law Place Today
If you have been arrested for operating a boat under the influence of alcohol or a controlled substance and are facing felony-level charges, you need to secure the support of an attorney with years of experience fighting similar charges as soon as possible.
Luckily, this describes the team of lawyers at The Law Place exactly. Our legal team has a combined level of over 75 years of experience fighting the corner of people just like you. We know the ins and outs of criminal defense and will work together with you to tailor-make the highest-quality defense possible.
To get the process started, simply call one of the lawyers at our office and arrange your free consultation. All of our calls are strictly protected by attorney-client privileges, and the legal advice we give you will be at no obligation. For your convenience, our phone lines are open around the clock, 7 days a week. So call today for your free consultation at (941) 444-4444.