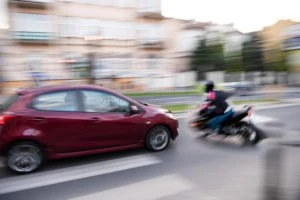 With scenic routes and beautiful scenery, the Florida roads attract many motorcyclists every year. Florida is the ideal place for motorcycle riders to go for a drive. However, with such great numbers of motorcycles on the road in Florida, it comes as no surprise that motorcycle accidents are not uncommon. The National Highway Traffic Safety Administration (NHTSA) published the saddening figures that in 2018, 4,985 people in the United States lost their lives in motorcycles crashes. Motorcycle accidents can be very dangerous. However, most will not result in fatalities. Most accidents will leave victims suffering injuries.
Motorcyclists and car drivers changing lanes unsafely in Bradenton are one of the main causes of motorcycle crashes. If you or a loved one has been involved in a motorcycle accident and have been injured in a motorcycle accident, you should speak to experienced motorcycle accident attorneys. At The Law Place, we have a skilled legal team who have over 75 years of combined experience. Our motorcycle accident attorneys have helped countless clients win the justice they deserve after suffering an accident. Our law firm is available 24 hours a day, seven days a week. If you have been injured in a motorcycle crash, contact us today to schedule a free case evaluation with one of our motorcycle accident lawyers. Call us today at (941) 444-4444.
Should I Get a Personal Injury Lawyer for a Motorcycle Accident?
If you have been involved in a motorcycle accident in Bradenton, you may be wondering whether it would be worth hiring a personal injury lawyer. The decision to hire a personal injury lawyer in Florida is completely yours. However, doing so will greatly improve your chances of receiving the compensation you deserve.
You are legally allowed to represent yourself in your personal injury case in Florida without any input from motorcycle accident lawyers. However, we strongly recommend that you at least speak to reputable personal injury lawyers if you are thinking of filing a compensation claim. By having a reputable motorcycle accident lawyer on your case in Bradenton, FL., there is a far greater chance that you will receive the maximum amount of compensation that you are entitled to. Additional reasons why we would recommend hiring a motorcycle accident lawyer in Bradenton are as follows:
To avoid your insurance company pushing and pressurizing you into accepting a settlement offer much less than what you deserve.
To prevent an insurance company from denying your personal injury claim for compensation.
To ensure that your insurance company understands that your injuries were directly related to the motorcycle accident you suffered.
What Is the Average Payout for a Motorcycle Accident?
All motorcycle accidents in Bradenton, FL., are different. Therefore, it is very difficult for a motorcycle accident lawyer to accurately state what the average payout for a motorcycle accident is. Several factors can impact how much compensation victims of motor vehicle accidents in Florida can receive in a payout. Some of these factors are:
The severity of the injuries you sustained in the auto accident.
The severity of property damage suffered to your motorcycle or motor vehicle.
The particular policies of your insurance company.
The insurance company policies of the parties at fault in your auto accident.
The best thing you can do if you have been the victim of a motorcycle accident in Florida is to speak to a motorcycle accident lawyer. If you phone our office to schedule a free consultation, one of our Bradenton lawyers will be able to briefly examine your accident case to give you a rough idea of what your kind of case could expect to receive in compensation. Our lawyers will also be able to help you file a claim for compensation and give you all of the legal advice that you may need.
Who Is at Fault in Most Motorcycle Accidents?
It may surprise you that in most motorcycle accidents, car drivers are to blame and not motorcyclists. However, in all accident cases, the actions of all drivers involved will be examined to determine who exactly was at fault. In accidents caused by unsafe lane changes, it is typically the drivers who changed lanes incorrectly who are to blame.
No matter who you think may be at fault in your accident; whether it be a motorcyclist or car driver, we highly recommend that you contact a motorcycle accident attorney. It is wise to have an experienced Florida motorcycle accident lawyer build you a strong case to prove your innocence to ensure that a court will rule in your favor. Our law firm can offer you a free case evaluation if you have any questions about negligence and who may be at fault in your accident.
What Are the Odds of Surviving a Motorcycle Accident?
You may be relieved to know that most motorcycle crashes do not result in fatalities. As we have already established, The National Highway Traffic Safety Administration (NHTSA) published that 4,985 people lost their lives in these motorcycle accidents in 2018 in the United States. This is a truly heart-breaking number of lives lost. However, it is a relatively low number when the number of motorcycle accidents that occur each year are considered.
Therefore the odds of serving a motorcycle accident are fairly high. Despite this, motorcyclists are at a far greater risk of dying in accidents than other motor vehicle drivers. This has been proven by The Insurance Information Institute (III), who have reported that motorcyclists are twenty-seven times more likely to suffer a fatality in motor vehicle collisions than other vehicle drivers. It has also been reported that motorcyclists are eight times more likely to suffer injuries in a collision. This is a very sad fact. If you have suffered injuries and/ or lost a loved one in a road accident, our law firm would like to share our deepest condolences with you. No one should have to suffer because of an accident that they couldn't control. Our lawyers can help you win the justice that you truly deserve.
Why Is It More Likely That I Will Suffer an Injury on a Motorcycle?
As we have already established, the chances of motorcyclists losing their lives or suffering injuries in a motor vehicle collision are far greater than other drivers and riders. The main reason for this is because motorcycles do simply not have the same kind of safety features that other road vehicles have. For example, motorcycles do not have airbags that can absorb the impact after a collision.
Not only this, but the fact that a motorcycle does not have an outer shell means that it is common for a rider to be thrown off their bike in a road crash. It, therefore, comes as no surprise that motorcyclists are more likely to suffer injuries in accidents than other road users. Some more reasons why it is more likely that a motorcyclist will be injured in a crash are as follows:
Motorcycles are difficult to see because of their size, especially at night.
A motorcyclist does not wear a seatbelt.
Drivers typically forget to look out for motorcyclists on the roads.
What Are the Most Common Injuries Sustained in Motorcycle Crashes?
Motorcycle accidents are incredibly serious and are highly likely to result in victims being seriously injured. If you have been injured in a motorcycle accident, you should seek medical attention no matter how serious you deem your injuries to be. Your health should be your main priority. You do not have to worry about medical bills. A personal injury lawyer will be able to help you claim back all of your expenses later on.
Some of the most common injuries that victims of motorcycle crashes suffer in Florida are:
Back injuries.
Neck injuries.
Traumatic head injuries.
Traumatic brain injuries.
Broken bones and fractures.
Internal organ injuries.
Cuts, burns, lacerations, bruises, and sprains.
What Compensation Am I Entitled to After an Accident in Florida?
If you have been injured in an unsafe changing lanes accident in Florida, our legal team can help you file a claim for compensation. We can contact your insurance company and the insurance companies of the negligent party to win you a fair settlement. Some of the damages that our legal team can help you claim are:
Medical treatment.
Past, present, and future medical expenses.
Loss of income.
Reduced earning capacity.
Pain and suffering.
Wrongful death.
What Should I Do if I See a Florida Motorcycle Accident?
If you see a motorcycle accident in Bradenton, it would be a good idea to try and help the people involved if the paramedics and police are yet to arrive. You must check to see if anyone has been injured. If it looks like someone has been severely injured, don't try and move them as you could cause further harm. If you can do so, however, try and escort everyone to a safe location. Once you are all safe from oncoming traffic, you should call 911 and await the first responders.
It would also be wise to give your contact information to either the victims or police at the scene. You could be able to provide a witness statement later on that could greatly help the victims receive compensation for their accident.
Why Do Drivers Make Unsafe Lane Changes in Bradenton?
It is not unusual for a driver to make an unsafe lane change in Florida. Unsafe lane changes are very dangerous. A driver who changes lanes unsafely acts both recklessly and negligently. There are many reasons why a driver will make an unsafe lane change. These are some of the commons reasons:
Driving under the influence (DUI) – It is illegal to operate a motor vehicle in Florida under the influence of drugs and/or alcohol. Florida Statute 316.193 clearly outlines the penalties for offenders. Driving under the influence can greatly affect a driver's ability to make rational decisions.
Distracted driving – This is becoming an increasingly common reason for unsafe lane changes in Florida. It is easy for drivers to get distracted by their phone, food, passengers, and navigation system, for example, causing them to drive recklessly and cause an accident.
Negligent or reckless driving – Some drivers will change lanes unsafely simply because they are overconfident and/ or allow their frustrations to get the better of them.
Who Investigates Motorcycle Accidents in Bradenton, Florida?
In Florida, motorcycle crashes will typically be investigated by the local police and/ or Florida Highway Patrol. Although law enforcement may be investigating an accident, at The Law Place, we strongly recommend that victims also call an accident lawyer to investigate their case too. It can be helpful to have someone investigating your accident who you can trust and work alongside closely with. There is no harm in having a lawyer complete their own investigation, and that is why we would recommend it. You will be ensuring that your accident is investigated thoroughly so that you can build the strongest case claim you can.
Do I Need to Act Quickly?
If you or a loved one has been injured in a road accident, you must act quickly. Florida's statute of limitations is outlined under Florida Statute 95.11. The law states that accident victims only have four years following the date of their accident to file a claim for compensation. Once these four years have passed, you will not be able to file a claim as your case will be barred. This means that you will not be able to receive any compensation.
The statutes of limitations are even tougher in cases where someone has died. Families who have lost a loved one in an accident will only have two years to file a claim of wrongful death.
How Much Will a Florida Motorcycle Accident Attorney Cost Me?
At The Law Place, our legal team works on a contingency basis. This means that you will not have to pay a penny upfront. All of our legal fees will be taken away from the final settlement achieved. This also means that if we are unsuccessful in winning your case, we won't charge you for any of our legal fees.
We strictly follow all of the rules set out by the Florida State Bar Association who monitors the contingency work of all law firms in Florida. If you have any further questions about our legal fees, give our office a phone today, and one of our lawyers will happily answer them for you.
Contact The Law Place!
If you have been injured in a motorcycle accident in Bradenton, you should phone us today. Our legal team has over 75 years of combined experience, so we will be able to help you win the settlement you deserve.
An attorney-client relationship at our law firm is one of immense loyalty and commitment. You can trust that we will do all that we can to ensure that you win the justice you are entitled to. To schedule your free consultation with a skilled motorcycle accident lawyer, call us today at (941) 444-4444. Phone lines are open 24/7.