Florida is a motorcycle-loving state, and it is no surprise with the popular bike routes and large motorcycle rallies that we have so many motorcycles on the road. Motorcycles give riders a sense of freedom whilst driving around. However, this means traumatic motorcycle accidents occur on our Orlando roads far too often. An Orlando motorcycle accident lawyer is experienced and valuable in dealing with motorcycle accident claims.
Sadly, motorcycle riders are more likely to suffer severe injuries than victims of an auto accident involving a car or van. Motorcycles do not have the external protection other auto vehicles have, and this can leave motorcycle drivers more vulnerable in a motorcycle crash.
Our team of experienced motorcycle accident lawyers know that any auto accident can change a person's life significantly, especially if a victim is severely injured. We know motorcycle accidents are the worst, and bikers are at far more risk of serious injuries. If your life has been changed in detrimental ways by a motorcycle accident, contact one of our Orlando motorcycle accident attorneys at The Law Place.
Schedule a free consultation today at (941)-444-4444. Our Orlando motorcycle accident lawyers are ready to hear about your case and answer any questions you have.
Orlando Motorcycle Accident Facts and Statistics
Floridians enjoy their motorcycles. Approximately 620,000 vehicles were registered for motorcycle use in 2020 in the Sunshine State. Florida also hosts Daytona Bike Week, an annual motorcycle rally that has continued for almost 70 years. Sadly, Florida has a dubious reputation in the country as the state with the most motorcycle accident deaths. In 2020 there were around 8,045 motorcycle accidents and 552 motorcycle accident fatalities.
Florida is arguably a dangerous state for motorcycle riders. There are many reasons why motorcycle accidents occur, and with busy highways and sometimes unpredictable weather conditions we can see why Florida has some of the worst motorcycle accidents in the country. In 2020 we saw around 231 deaths caused by motorcycle accidents where a driver was not wearing a helmet.
Our team of dedicated attorneys fight and win for Floridians.
What Factors Make Motorcycles Dangerous?
A motorbike is small in size and very maneuverable, which is part of the attraction for so many people. Motorcycles are more compact, have fewer features, can be ridden easily, and lack the protection of another vehicle. Standard automobiles have enclosed spaces with occupant protection features which ultimately increases safety whilst driving. Sometimes you won't find airbags on a motorcycle.
As motorcycles are smaller, they are usually found in blind spots and may not be visible under normal weather conditions, such as fog or heavy rain. Ultimately, this increases the likelihood of a motorcycle accident and raises the chance of serious injuries.
Motorcycle Laws in Florida
There are certain laws defined in Florida that all motorcycle owners must abide by. These laws are designed to keep motorcyclists and all other drivers safe on the roads.
Endorsement
In Florida, you must also have a motorcycle endorsement alongside your driver's license to operate a motorcycle. This is to allow you to operate a two or three-wheeled motorcycle with a 50cc or larger engine. To receive a motorcycle license you are required to pass a test and complete a Bike Rider Course.
Lane Splitting
Lane splitting is illegal in Florida. According to Florida Statute 316.209, the law prohibits motorcyclists from overtaking and passing a vehicle in the same lane it is already occupied. This also protects motorcyclists from other vehicles doing the same thing. The law states that all motorcycles have access to the full lane, and no other vehicle should restrict them from doing so. Additionally, it is prohibited for two motorcyclists to be driving two abreast in one lane.
Wheelies
Florida Statutes 316.191 prohibits stunts like wheelies. Florida law states a motorcycle must have both wheels on the ground with the driver facing forward and always remaining in their seat. If you are caught stunt driving, it could lead to a fine from the state.
Insurance
Florida's no-fault insurance laws do not apply to motorcyclists. This is a key difference compared to other auto accidents. In simple terms, it means a motorcyclist cannot rely on personal injury protection if they have been seriously injured in a motorcycle crash. Motorcycle owners must file liability insurance claims to recover any medical expenses or damages.
Safety Equipment
While driving a motorcycle in Florida, you must wear eye protection for safety, which the Department Of Transportation approves. Other safety features include bike characteristics like taillights, mirrors, and reflectors. You also must have your headlights on while operating the vehicle.
We're Florida's top litigation team with over 75 years of combined experience
Do You Have to Wear a Helmet When You Ride a Motorcycle in Orlando?
Florida laws state that if you are under the age of 21 you must wear an approved helmet while driving a motorcycle. However, if you are over the age of 21, you have the choice. If you decide to not wear an approved helmet you will need to have medical insurance with a minimum of $10,000 coverage. This is to cover the expenses of driving without a helmet.
Although helmets are not mandatory after the age of 21, you should always be vigilant on the road. Not wearing a helmet can lead to serious injury if you become a victim of a motorcycle accident.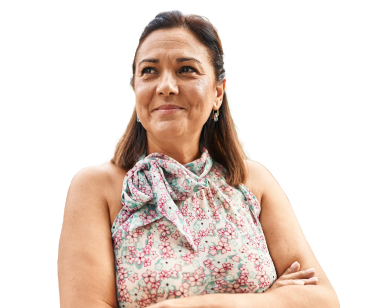 From the initial call to updates on your case status, we are here to get you answers.
Compensation for Florida Motorcycle Accident Victims
If you have been involved in an Orlando motorcycle accident that wasn't your fault, then you may have a right to compensation. These rights could include:
Compensation for medical bills both past and future.
Compensation for pain and suffering.
Reimbursement for income losses.
An Orlando motorcycle accident lawyer will be able to help determine what you may be owed.
Common Causes of Motorcycle Accidents
There are many reasons why motorcycle collisions happen, but many motorcycle accidents arise at the fault of a negligent driver. When a driver makes a wrong decision on the road, it can lead to catastrophic consequences for most people involved.
According to our Orlando motorcycle accident attorneys, the most common causes of a motorcycle accident in Orlando include:
Changing lanes.
Blind spots.
Unsafe driver.
Distracted driving.
Speeding.
Hazards on the road.
Sometimes it might not be as simple as one factor, but our accident attorneys can investigate all contributions to an Orlando motorcycle accident.
Unsafe Lane Changes
A lane change accident is often caused by a driver who makes a careless decision and is negligent. Motorcycles are very maneuverable through traffic, which makes quick lane changes part of everyday life for a motorcycle owner.
Lane changing can become dangerous when larger vehicles like vans and trucks do not check mirrors for potential motorcycles coming up in the next lane. Motorcycles also end up in blind spots for larger vehicles. If a larger vehicle was to pull into a lane suddenly, not checking its mirrors, it could end up causing a motorcycle to be knocked or swerve out of the way and lose control.
When facing a larger vehicle that is moving into your lane, it may be your first reaction to speed up or slow down to avoid an accident. However, when there are numerous vehicles on the road, sometimes a motorcycle crash is unavoidable and too often devastating for its victims. If you have been driven off the road and an accident has been caused by unsafe lane changes by a negligent driver, you may be owed compensation.
Why do Drivers in Orlando Make Unsafe Lane Changes?
Many motorcycle accidents happen in Orlando as a result of lane changes. Risky lane changes can cause severe accidents that leave victims with life-changing damages. Some of the reasons for motorcycle crashes when drivers dangerously change lanes include:
Negligent Driving – Reckless behavior and driver negligence can have serious consequences. Sometimes if a driver is over-confident, they might not have any consideration for other drivers on the road and lane change without checking their mirrors and with no hesitation.
Distracted Driving – Driving with distractions like eating, drinking, and using a mobile phone can put your own life and other lives in danger. Many drivers will lose concentration when using a phone or eating.
Driving Under the Influence – Also known as a DUI, Florida Statute 316.193 makes it illegal to drive a motor vehicle while under the influence, yet too many Orlando motorcycle accidents are at the hand of a driver under the influence. Drinking and driving will affect your ability and judgments when driving and can cause fatalities that can be avoided. This is Florida law, and if someone is found to be under the influence of alcohol or drugs while driving, the consequences can be severe.
Our team of Orlando motorcycle accident lawyers has over 75 years of combined experience in these types of cases. If you or a loved one are victims of a motorcycle accident caused by a dangerous lane change, contact us as soon as possible.
If you are a motorcycle accident victim and have lost a loved one in a devastating accident caused by a driver under the influence, contact our lawyers at The Law Place today. You may be entitled to compensation, and you shouldn't suffer alone.
Most Common Types of Orlando Motorcycle Accident Injuries
Unfortunately, most motorcycle accidents will end with drivers suffering severe injuries. Some serious injuries motorcycle accident victims suffer too often include:
Head injuries.
Traumatic brain injury.
Spinal cord injuries.
Neck injuries.
Face and jaw injuries.
Broken ribs/bones and fractures.
Cuts and burns.
Abdominal injuries.
Loss of limbs.
Elbow and shoulder grazes.
Road rash.
Soft tissue damage.
Permanent scarring.
Internal bleeding.
Post-traumatic stress disorder (PTSD).
Nothing prepares you for the damages and suffering caused by a traumatic collision. We understand sometimes injuries suffered can be emotionally challenging, and we have dealt with many victims that have suffered from PTSD.
Injuries Suffered in an Orlando Motorcycle Accident Can Be Catastrophic
Our Orlando motorcycle accident lawyers know the dangers of motorcycle accidents inside out, and we understand life-changing and long-term injuries can be suffered. It is crucial to seek medical treatment as soon as you can after a motorcycle accident.
You might seem to not have any external injuries, but sometimes the most life-threatening injuries may be internal. Traumatic brain injuries can sometimes take days to show symptoms, and it could be the difference between life and death. Seeking medical attention should take priority. Look after your health and we can look after your Orlando motorcycle accident case.
Orlando Motorcycle Accidents FAQS
How Can an Orlando Motorcycle Accident Attorney Help My Case?
An accident attorney in Orlando will give you the best chance at recovering any losses you have incurred from a traumatic accident. We recommend speaking to a motorcycle accident attorney first before your insurance company.
Our accident lawyers can go through all the evidence you have collected and build your claim accordingly. Types of evidence you can collect can include witness statements, police reports, and any records of damage and medical bills. Many motorcycle accident victims can struggle to recover compensation, so the stronger the evidence, the better your claim to compensation.
What Compensation Could I Be Entitled to for My Suffering?
Motorcycle accident injuries can rack up your medical expenses, we know how stressful it can be to pay medical bills when you're already going through a harrowing situation. Medical expenses are a key example of the damages you may be able to recover.
Your motorcycle accident claim can define any past and future expenses you have, this is so you can be covered for any future medical bills or loss of earnings you may have from long-term suffering. A few more examples of damages you can seek to recover are here:
Medical bills.
Lost wages.
Pain and suffering.
.Motorcycle damage and repairs.
Permanent disability.
Wrongful Death.
The amount of compensation you are owed will be determined on a case-by-case basis and will depend on injuries and other damages you have suffered.
Who Are the Potentially Liable Parties in an Accident?
After a motorcycle accident there could be multiple liable parties including a driver, manufacturer, or government entity. In most cases, negligent driving causes motorcycle injuries and damage to vehicles. However, all factors will need to be investigated to pursue a claim to determine where the fault lies. Our motorcycle accident attorney may need time to investigate all contributions to a motorcycle crash before a motorcycle accident claim is filed.
Will Wearing a Helmet Affect My Orlando Motorcycle Accident Claim?
Luckily, the fault of the accident is not determined by whether you wore a helmet or not. A claim can still be made even if you were not wearing a helmet in your motorcycle accident. However, be aware that your insurance company may use this against your claim to reduce your payout, as an injury could have been prevented if a helmet had been worn.
It is illegal for someone under the age of 21 to ride without a helmet. Your motorcycle accident attorney would be able to go over the legal process with you in cases like this. Whenever possible, you must protect yourself from serious damage. A helmet could be the difference between a not-so-serious injury and a life-changing one.
How Long do You Have to File Your Motorcycle Accident Claim in Orlando?
Florida gives you up to four years to claim against another party. It is crucial you make a claim within these four years, or you risk the court dismissing your case and rejecting any compensation you are owed. Our motorcycle accident attorneys can work with you and ensure your motorcycle accident lawsuit is filed within the given time. It is important to speak up as soon as possible so there is no delay in filing and all available evidence is protected.
What If I Can't Afford an Experienced Motorcycle Accident Lawyer?
Here at The Law Place, we take great pride in telling you we work on a no-win-no-fee basis. We only take our attorney fee when we have been successful in recovering compensation. There are no hidden upfront costs; you won't need to worry about any surprise bills from us.
Our team of experienced lawyers wants you to feel supported, and we offer any motorcycle accident victim the chance to speak up and pursue fair compensation.
Speak to an Orlando Motorcycle Accident Attorney
An Orlando motorcycle accident lawyer is ready to speak to you! The Law Place has an invaluable team of attorneys with years of experience in motorcycle accident and personal injury claims.
It can be daunting and scary to make the first step to fair compensation, and that's why we're here. To take the pressure and stress off you and your family and hopefully make a difference in your life.
We are ready to help you recover the compensation you may be rightfully owed. All you have to do is call our office for your first free consultation. We can then assign you a motorcycle accident lawyer, and your journey will begin.
Our office operates 24 hours a day and 7 days a week. Don't hesitate to get in touch.
Call us today for a free consultation at (941)-444-4444, we are here for you!