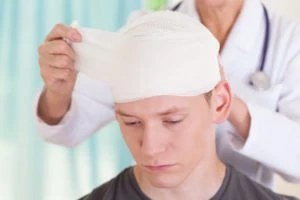 The term 'brain injury' refers to various injuries related to the brain, scalp, and skull. These injuries can happen in any kind of accident, so it is important you are aware of what they are. The possible complications of a brain injury and the treatment required to help you will depend on how the injury was acquired, the location of the injury, and the overall severity of the injury. If you or a loved one has been involved in an accident that has resulted in a concussion or brain injury, knowing the difference may be crucial for your personal injury case.
If you or a loved one have been involved in an accident that has caused either a brain injury or concussion, you should seek legal advice immediately. An experienced lawyer can fight for your legal rights in this situation and help you obtain the compensation that you are deserved. These injuries can be life-changing, and you need someone in your corner that will be able to help. At The Law Place, we have over 75 years of combined experience in dealing with Florida's legal system and reaching a settlement agreement that benefits our clients in personal injury cases. As a law firm, we work tirelessly to ensure that our clients receive the compensation that they rightfully deserve.
If you would like to seek legal advice from one of our experienced attorneys, contact our law firm today. Our telephone lines are open 24 hours a day, 7 days a week, 365 days a year, meaning that someone will always be available to take your call. Contact The Law Place via telephone on (941) 444-4444 to schedule your free consultation today.
What Are the Main Types of Traumatic Brain Injuries? (TBIs)
Medically speaking, there are four main types of TBIs. Listed below is the appropriate information regarding each and the medical attention required for them.
Concussions
A concussion is defined as a minor brain injury. The cause of a concussion is by shaking, impact, or a sudden movement change to the head, such as whiplash. In many cases, concussions are not visible through an imaging test. However, they should still be considered as serious, and appropriate measures should be made to treat them. Concussions can have lasting medical effects such as headaches, problems with concentration, disorientation, and memory loss. In a traumatic event, it is possible to sustain more than one concussion, and this can be incredibly dangerous as the lingering pain from the first might not be healed when a second one happens.
Brain Contusions
Brain contusions refer to bruising of the brain tissue, similar to when you bruise your skin. Just like a regular bruise, contusions are caused by the leaking and breaking of small blood vessels in the brain. On a skin level, a blood leak under the skin is what causes your bruise to color, but on the brain, this leaking can cause a range of issues that relate to a building of pressure on the brain.
Contusions are caused by any kind of impact to the head. For example, a contusion can occur in a car accident when the driver hits their head on the steering wheel, a slip and fall accident where the person's head impacts against the ground, or even in a sports-related accident where the brain takes a severe impact.
Similar to concussions, contusions can range from minor to severe. Severe contusions can cause a loss of consciousness, tiredness, confusion, agitation, or emotional distress. More severe contusions may cause a skull fracture, brain swelling, or the prevention of oxygen to the brain.
Penetrating Brain Injuries
Penetrating brain injuries happen when some kind of object manages to pierce into the skull. This process can lead to making contact with the brain, which results in serious injuries to a concentrated or larger part of the brain. Penetrating brain injuries can be caused by any external force or object that is strong enough to break through the skull. Examples include:
Slip and fall causing the skull to crack.
Motor vehicle accidents where something penetrates or breaks the skull.
A gunshot wound to the head, which is the leading cause of TBIs.
Sports-related injury due to excessive force or impact causing a head injury.
Anoxic Brain Injuries
Anoxic brain injuries refer to the moments when the brain doesn't receive enough oxygen in order to function properly. For a normal brain function, it cannot go without oxygen. Even just four to five minutes without oxygen means that brain cells will die, and serious injury will follow. Oxygen is carried to the brain through blood transmission, and anoxic brain damage occurs when there is a blockage of this blood flow.
Blockages can occur as a result of a blood clot, heart attack, stroke, or serious trauma. In some cases, the blood flow reaches the brain, but the blood itself is not carrying enough oxygen to sustain normal functions. This happens as a result of poisoning, drowning, choking, suffocation, or carbon monoxide poisoning.
Florida Statute of Limitations Regarding Brain Injuries
In Florida law, the statute of limitations is in place in order to set a limit on how much time can pass after an accident for you to make a personal injury claim.
As per Florida Statute 95.11, personal injury victims have four years from the date of the accident in order to make a claim. If you fail to do so within that time period, you will not be able to receive any compensation for your injuries.
It is of vital importance that you start this process sooner rather than later. The sooner you make a claim, the quicker your personal injury lawyer can get to work on your case. They will be able to fight your corner and make sure you receive the maximum amount of compensation that you are entitled to.
Contact The Law Place today for a free case evaluation with a personal injury lawyer. Our telephone lines are open 24/7, meaning no time is a bad one to get in touch with us.
What Are the Common Damages That Follows a Traumatic Brain Injury?
Brain injury-related symptoms may not always be obvious, thus making them more difficult to prove. If you suffer a moderate TBI, symptoms such as mood swings, blurred vision, headaches, disorientation, and many other factors might only be visible to people who are close to you.
This is why you need an experienced personal injury attorney on your case in order to fight your corner. They will be able to prove that the other party is liable for your injuries and can show the impact that this accident has had on your life. Listed below are the various damages you can receive compensation for following a TBI:
Lost wages – In the aftermath of your personal injury case, it might have caused you to miss work, resulting in a loss of wages. This includes both present lost wages and future lost wages, depending on the period of time it will take for you to recover. Another factor that should be taken into account is lost earning capacity. This refers to a situation where your job might be physically demanding, and your injury means that you are no longer able to fulfill this requirement. It also includes the costs of having to be trained for something new in your job.
Medical bills – All of the medical treatment you receive should be compensated for. Medical bills can include things such as physical therapy and doctor's visits. If your brain injuries require ongoing treatment, it is important that you get an estimate from your doctor of the costs of future medical expenses. It is also crucial that you keep any letters or receipts of payments to give to your attorney. They can use this as evidence for your claim.
Property damage – If the accident results in the damage of your property, you are entitled to claim back any replacement and repair costs in the financial damages settlement.
Pain and suffering – Pain and suffering include both physical and mental suffering that resulted from the accident. This can also include discomfort, inconvenience, and emotional trauma sustained from your personal injury. Pain and suffering can be highly subjective, making it difficult to prove. In most cases, insurance companies will use it as a cause to decrease the compensation rewarded because of a lack of evidence. However, do not worry. In the negotiation process, if you have a strong personal injury attorney on your side, they will help you receive the full compensation you are entitled to.
What Can a Personal Injury Lawyer Do for My Personal Injury Claim?
Maximizing the compensation you receive after a personal injury claim will rely heavily on you having an experienced attorney. At The Law Place, we strive in all of our work to develop a strong attorney-client relationship. This attorney-client relationship is at the heart of the work we do and is not something we take lightly. We understand the trust you have placed in us to deal with your case, and from the beginning, we will work with you to develop a working relationship where you feel safe and protected. Your attorney will also gather the appropriate evidence necessary to help fight your corner.
At The Law Place, we understand the stress of dealing with the legal system. For most people, this will be a new experience and, understandably, a daunting one. If, following your free consultation, we believe that your claim is valid, and you agree on us to represent you, we will get to work right away. We will cover everything – paperwork, contracts, legal documentation, and deal with the insurance companies, so you don't have to. As a reputable law firm, we pride ourselves on having over 75 years of combined experience in Florida law and will do everything possible to maximize your personal injury claim and ensure you get compensation for the damages incurred.
Most personal injury claims can be settled outside of the courtroom. However, it is important for you to know that if your case does need to go to court, we have a team of fully prepared attorneys who can represent you fairly in front of a judge or jury.
How Much Will a Personal Injury Lawyer Cost Me?
At our law firm, we work on a contingency basis. This means that our fee is deducted from the eventual settlement when you are successful. If your claim is unsuccessful, we will not charge you a thing.
Our contingency work is monitored by The State Bar Association. There are no hidden charges, and all of our costs are upfront. You will never receive a surprise bill from us.
In the majority of cases, once you subtract the attorney fees, those personal injury victims who have legal representation will end up with a higher amount of compensation in the end. It is often the case that insurance companies will offer a larger financial settlement simply because you have legal representation, as they know that they can't pull tricks in order to decrease their offer amount.
Contact The Law Place Today
At The Law Place, most of the attorneys on our team have a 10.0 rating from AVVO. This is the highest possible rating an attorney can receive. Our attorneys have gotten such a high result from years of service, awards, and positive client reviews. This means that when you are with The Law Place – you are in safe hands.
Call our office today via telephone at (941) 444-4444 for a free consultation with an experienced attorney and start your legal process today.