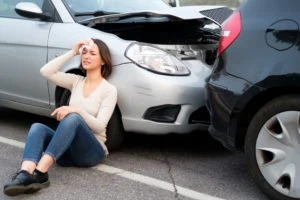 Rear-end collisions are a common everyday occurrence and, even at reduced speed levels, can cause serious injuries. They happen when one vehicle collides into the back of the vehicle ahead of it.
According to the Insurance Information Institute, in 2019, there were 2,346 fatal crashes, of which 7.1% involved a rear-end collision. Many people underestimate the seriousness of the impact they have suffered after a rear-end car collision.
Here at The Law Place, we have over 75 years of experience in helping our clients recover from their ordeal by providing them with exceptional legal service. We help protect your legal rights and ensure that you receive the best compensation available for your case.
Contact The Law Place on (941) 444-4444 today to schedule a free consultation.
Whiplash and Neck Injuries
Whiplash is one of the most common injuries that can result from a rear-end collision. This is a neck injury caused by a violent, sudden, and rapid back and forth movement of the neck and head. This motion can injure bones in the spine, disks between the bones, ligaments, muscles, nerves, and other tissues in the neck. Symptoms usually manifest within days of the injury and might include fatigue, sleep disturbance, neck pain and stiffness, headaches, and migraines. Some people also experience blurred vision and memory loss issues. In most cases, this type of injury heals after a sufficient rest period.
Our team of dedicated attorneys fight and win for Floridians.
Spinal Cord Injuries and Back Injuries
Some of the most serious injuries after a car accident involve the spinal cord. A myriad of muscles surrounds the spinal cord and vertebrae. If any of these muscles are damaged, it can result in back pain that ranges from moderate to agonizing.
The spinal cord is an integral component of the human anatomy. Without the spine, we would be unable to stand. Spinal cord and back injuries can severely diminish the quality of life experienced by the victim. Both may require years of physical therapy, and surgery is often the last resort. Therefore, it is essential that medical assistance is sought after these types of injuries because, if neglected, an injury to the spinal cord could lead to long-term complications.
Head and Brain Injuries
Hitting your head on the dashboard, steering wheel, window, or car frame can cause head injuries. The severity of the injury can range from a mild concussion to a severe injury that results in a coma or even death. According to data cited by the National Highway Traffic Safety Association, 1.7 million people suffer a traumatic brain injury each year, of which 52,000 sadly die.
As with whiplash, the initial warning signs may not surface immediately. It may take days or weeks before there are any signs of a traumatic brain injury. This is why any injuries to the head must be taken seriously, and you must seek medical attention immediately.
Treatment for mild brain injury may need rest and medication, whereas, in the most serious cases, surgery, intensive care, and rehabilitation may be required to relearn skills.
Symptoms Include
Impaired cognition.
Loss of conscience.
Dizzy spells.
Persistent tiredness.
Abnormal changes in behavior.
Impaired speech.
Facial Injuries
Hitting the face into the steering wheel could result in a broken nose, jaw, and cheekbone. Eye injuries can be some of the most worrisome injuries after a car accident. Short and long-term vision problems are not uncommon.
A rear-end collision can cause objects in the car to catapult toward the face or can propel the face forward onto an object. This can result in facial injuries such as bruising, lacerations, and even nerve damage. In the most serious high-impact car accidents, the face could be permanently scarred or disfigured.
Broken and Fractured Bones
Cracked and broken bones are common injuries in a rear-end collision, as are arm and wrist injuries. In a serious high-impact rear-end car crash, accident victims may suffer multiple fractures.
Symptoms of Broken or Fractured Bones Include
Pain that worsens when moved or touched.
Pain when putting weight on the injured area.
Redness, swelling, and tenderness.
Bruising or discoloration.
Visible bone exposure.
Visible deformity.
Wearing a cast and taking some time to heal may be all that is needed in some cases of broken bones. However, some individuals may require surgery and months of physical therapy to repair the damage.
Damage to Internal Organs
Rear-end crashes can cause a variety of injuries to internal organs. Seat belts offer protection, but wearing a seat belt incorrectly is hazardous, as it can be responsible for causing internal injuries.
During a rear-end crash, victims may suffer injuries to their lungs, liver, heart, bowels, and muscles in the torso. In severe cases, there may be internal abdomen or chest injuries, leading to serious health complications. If left untreated, internal organ damage can become life-threatening.
These injuries can be more complicated to diagnose as there are not always outward signs of injury. This is another reason why it's important to seek immediate medical attention after a car accident.
Psychological Injuries
The most common injuries cited after a car accident tend to be physical. However, psychological injuries can also result from a rear-end collision.
Seeking medical treatment for psychological injuries after a rear-end accident is as important as it is to seek treatment for physical injuries. The emotional effects following a traumatic event such as a car accident are more difficult to treat than broken bones and fractures.
For many people, the stress suffered from an accident dissipates over time. For many others, their thoughts and feelings post-accident might be so strong that they can be debilitating. Strong feelings that endure for a long time and affect everyday life are symptoms of post-traumatic stress disorder (PTSD).
The memories from the accident can trigger long-term mental and emotional health conditions, such as panic attacks, anxiety, and depression. Following a car accident, some people may become afraid of traveling again due to bouts of anxiety.
If you have post-traumatic stress after a car accident, you experience some of the following problems:
A persistent underlying feeling of uneasiness.
Anxiety about driving.
Fear of medical tests or procedures done.
Irritability or excessive worry/anger.
Nightmares or insomnia.
Ongoing repetitive memories of the accident.
If you have any psychological injury, such as anxiety after a car crash, then contact a lawyer from The Law Place. Your injuries are as valid as any physical injury, and you deserve to be compensated. We want you to know that you have every right to make a personal injury claim for the psychological impact of a car crash.
Essential Steps to Take After a Rear-end Collision Accident
Immediately after a rear-end collision, it may feel challenging to regain composure. However, the sooner you can create some calm, the better, as you will need to gather important evidence that will help reduce further stress later on:
Capture the scene of the accident with as many photos of the damage from various angles. Property damage may form part of your insurance claim against the at-fault driver.
Exchange information with the other driver(s). Make a record of their name, insurance details, phone number, and license plate number.
Make sure the incident is logged by a law enforcement officer.
Seek urgent medical attention, even if the accident was minor and you think you feel fine. This is vital. Many of the injuries discussed above may not show symptoms immediately, such as soft tissue damageand brain trauma. Do not plow through any type of pain, as it could be a warning sign of a far more serious injury.
Get legal advice from an experienced law firm such as The Law Place. You may be entitled to some form of compensation, even if you contributed to the accident to some degree. Find out what your rights are.
How to Prevent Rear-End Collisions
Rear-end accidents are common, so we have included several tips to help prevent such accidents and keep you and your loved ones safe:
Do not drive too close to the car ahead of you. Leave plenty of room between you and the driver in front of you. The more space you have between you means that the stopping distance is increased, giving you and the other driver enough time to react.
Distraction is one of the leading causes of accidents on the road. Remove all distractions. Do not use your cell phone, do not eat or adjust a radio station or interfere with a navigation device while you drive.
Pay attention to the weather conditions and avoid driving in severe weather. Should you need to drive, remain highly alert throughout your journey.
Check your mirrors regularly so that you are aware of the cars behind you.
Always brake in enough time so that it allows the driver behind you adequate time to react.
Slow down as you approach traffic lights, and be prepared to stop if necessary.
Make sure that your vehicle has a regular service so that the safety features on your car are in perfect working order, such as your indicators and brake lights.
Compensation for Rear-End Accident Injuries
If you have suffered an injury in a rear-end car accident, you may be entitled to compensation. This could help you with medical bills and living expenses during your recovery period, especially if you are not able to work.
With the help of one of our highly skilled lawyers, you can seek compensation for any of the following:
Loss of income.
Medical treatment expenses.
Living expenses.
Physical pain, impairment, and suffering.
Psychological injuries, impairment, and suffering.
Loss of enjoyment and impaired quality of life.
Talk with one of our lawyers as soon as possible. They will advise you accordingly, making sure you receive the maximum compensation for any injuries sustained.
We're Florida's top litigation team with over 75 years of combined experience
Contact The Law Place Today
If you are suffering personal injuries as a consequence of a rear-end car accident that was not your fault, you must act immediately. We know that making a claim can feel intimidating.
When you hire the services of a lawyer from The Law Place, we assure you that you will be in safe, compassionate hands. Believe us when we tell you we have seen it all. Between us, we have a multitude of experiences when it comes to road traffic accidents and personal injury cases.
A personal injury lawyer at The Law Place will help you to evaluate the extent of your rear-end collision injuries. Contact us on (941) 444-4444 to get started on your case!