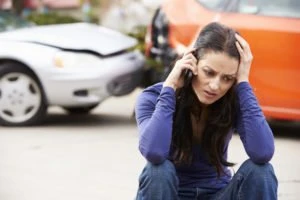 Car accidents need to be reported as soon as possible in the State of Florida. This may sound obvious when it comes to serious collisions, but in the case of some fairly minor accidents, you might assume that all you need to do is exchange insurance details with the other driver. In reality, it isn't so simple.
It is in your best interests to report an accident immediately. This is because it will help support your insurance claim later. Plus, a car accident involving property damage, bodily injury, or death requires a police report under statutory duties in the State of Florida. If you or someone close to you were involved in a car accident and you think that you do not need to report it, then you should seek legal counsel with a lawyer as soon as possible. It's better to be safe than sorry.
The team of lawyers at The Law Place has a positive reputation for handling client cases with skill and expertise. Every day we deal with cases involving car accidents, and you will prevent any future problems from occurring by learning about what happens if you fail to report a car accident and how you can best avoid these consequences.
For legal support, contact The Law Place on (941) 444-4444 to schedule a free case evaluation today. A lawyer will be able to discuss the details of your case and answer any concerns you may have.
Minor Car Accidents
There is a myriad of minor car accidents that happen every single day in the State of Florida. In most cases, many of these car accidents result in only property damage. And for many others, the accident may not involve a car other than their own.
Here are some examples of typical minor car accidents that occur daily:
Backing into a parked car.

Failing to stop for the car ahead.

Incorrectly judging the distance between you and the car in front.

Sliding on roads that are wet and running into a mailbox or parked vehicle.
No one thinks that they will get into a car accident when they are driving down the road, but they can happen when least expected. The above examples are just a few cases of minor auto accidents.
Not Reporting an Accident Can Have Serious Repercussions for Your Insurance Claim
If the accident was minor, and there were no injuries, then you may think it doesn't need to be reported. In reality, injuries from a car accident can take days or weeks before they show up. You may start to feel some physical discomfort when you least expect it. It's not uncommon for injuries as severe as neck or spine complications to appear from something as minor as a rear-end accident.
The same applies to your vehicle. Everything may appear to be fine after the accident, but later your vehicle starts to make spluttering sounds, and you notice that it is not running as smoothly as it did before.
This is why a police report is essential, as it is an important document when it comes to proving injuries and damages. It can be difficult to prove that the injury or property damage was related directly to the accident without a police report. The information within the report includes:
The location of the accident with the exact time and date.

The weather conditions.

The road conditions.

A detailed description of the vehicles involved.

Statements from the drivers.

Eyewitness statement.

Photographs of the damage to the vehicles.
An insurance claim can still be filed without a police report, but it will take longer to process. Insurance companies will want to conduct intensive investigations of their own, which can result in serious delays. Car insurance claims that do not have a police report can also lead to a reduced insurance payout.
An attorney from The Law Place will be able to help you. Our lawyers will find alternative ways to collect and present evidence that your insurance company will accept. We will do our best to remove all of the obstacles in the way when dealing with insurance providers, even without a police report.
Not Reporting a Car Accident Could Get You in Trouble in Florida
Filing a police report is a legal requirement, especially when it concerns significant property damage, physical injuries, and in the worst-case scenario, fatalities. If you fail to report a car accident, then you will face criminal prosecution or a steep fine in the State of Florida.
Furthermore, in a court of law, you could face a grueling interrogation. The judge may assume you had something to conceal, and that was why you chose not to report the accident to the police. For example, the judge might think that you were drunk driving or that you had drugs in your possession. Therefore, it is always in your interest to report an accident.
Time Is of the Essence When Filing a Report
Under Florida Statute 316.061, it is a legal requirement to call the police after a car accident has occurred.
The rules make it clear that you must park your car in a vicinity that does not obstruct traffic and call the police. A police officer will then write a report when they arrive at the scene of an accident, which means that the requirement will have been fulfilled. In the case of a minor accident, there are no requirements for the police to have to attend. In this case, there are options available to you. You may be able to file a report with the police online, but not all precincts have this option, so you will need to do some research. In any case, you can go down to your local police station and file a report there. The driver of any vehicle involved in a collision must report an accident within 10 days, regardless of the method that they choose.
Filing a report as soon as possible is important because you do not have much time. The report will support your insurance claim for damage to property and any personal injuries you sustain. You are advised to seek the opinion of a medical expert within 14 days of the accident. If you don't do this, then it will make a claim for personal injury more difficult to link to the accident. Time is of the essence.
Guidelines on Reporting Vehicle Accidents in Florida
Florida has rules for reporting vehicle accidents. For car accidents involving only property damage, Florida Statute 316.061 and Florida Statute 316.063 state that all drivers must:
Immediately park their car in a vicinity close to the scene of the car accident that does not obstruct traffic, and make a report.

The driver must notify the owner of the vehicle or the owner of the damaged property, leaving their name, address, and vehicle registration number.

Find and notify the owner of the damaged property in the case that it has been left unattended.

If the driver cannot locate the owner, they must write a note providing their name, address, and vehicle registration number and attach this securely in a place that can easily be seen.

Once this is done, they must notify the police of the accident.

When requested to do so, show their driving license.

Provide relevant documents and information to the police who attend the accident.
For a Florida car accident involving bodily injury or death, Florida Statute 316.062 and Florida Statute 316.027 state that all drivers must:
Stop their vehicle as close as possible to the location of the crash.

Provide their name, address, and vehicle registration number to the other driver involved in the accident.

When requested to do so, show their driving license.

Provide relevant documents and information to the police who attend the accident.

Offer reasonable assistance to the injured individual, such as getting them medical treatment. This might include taking the individual to the hospital or making arrangements for them to be taken to the hospital.

Report the accident to the police.
Regardless of who was at fault, these statutory duties and responsibilities apply to every individual involved in a car accident in Florida.
Notifying Your Car Insurance Provider
You will also want to make sure that you get in touch with your insurance company after contacting the police. The amount of time that you have to contact your insurance company after an accident will be specified in your policy. It can vary between providers, although it can safely be assumed that they will want you to contact them as soon as possible. If you plan on seeking compensation for damages or injuries, then you should not discuss the details of the accident in depth. You should keep in mind that insurance companies are notorious for wanting to pay as little compensation as possible.
Circumstances Under Which You May Not Want to Make a Report
There are a few very limited circumstances where you may choose not to submit a car accident report. One of those situations would be where the only vehicle involved in the accident was your own, and no injuries were sustained.
If the damage to your vehicle is fairly small, you can arrange to make a repair on your own. However, if the repair costs to your car are too high, then you may find that your insurance coverage will be useful.
You are entitled to not make a police report if the accident involves only you and your car. Any situation involving someone else will require you to follow the legal requirements of contacting the police to make a report.
Filing a Delayed Report
If you were legally obliged to contact the police after a car accident in Florida, but you failed to do so, then you have two options:
Contact your local police station and file an accident report.

Submit a report online or via mail by filling in this

form

.
Contact The Law Place Today
If you were in a car accident and you do not think that you should report it or you have failed to report it on time, then you should get in contact with a car accident lawyer as soon as possible. A car accident lawyer will be able to explain your legal rights and tell you what steps to take after a Florida car accident. 
The Law Place has over seventy-five years of combined experience when it comes to handling cases involving vehicle accidents, DUIs, traffic violations, and personal injury claims. We have had the privilege of assisting many clients, helping them to achieve the best outcome for their cases.
Our legal team has the necessary knowledge, expertise, and resources to guide you through the legal system. We will make sure that you receive the maximum amount of compensation so that you can move forward with your life. If you have questions in regard to your case, then you should call one of our car accident lawyers now. They will offer you a piece of advice to help you make the best decision for yourself and your family.
Our phone lines are open twenty-four hours a day, seven days a week. Contact us now at (941) 444-4444 for a free consultation.