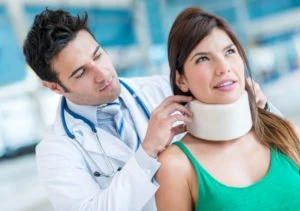 Following an accident, you need to be concerned about both your neck and your back. Neck and back injuries following car accidents or slips/falls are common, and they can have long-term and serious health consequences.
While most injuries are immediately apparent, it is not uncommon for neck pain to be delayed. Following an accident, you should seek immediate medical attention to get an accurate evaluation of your physical condition. If you are not treated properly quickly, you could worsen your injuries.
If you or a loved one has suffered a neck injury due to someone else's negligence, then you should seek help from a personal injury attorney. At The Law Place, we will give you the personal attention you can expect from a small intimate law firm, with the resources and experience of a larger firm. With over 75 years of combined experience, you know your case is in good hands.
Call us at (941) 444-4444 to schedule your free consultation today.
Neck Muscles
Over 20 muscles are connected in the neck. These muscles work together to support the head and facilitate movements of the neck, head, upper back, jaw, and shoulders.
Healthy muscles are comprised of muscle fibers that are responsible for muscle movements. When the muscle stretches too far, small tears can form in the connective tissue, tendon, or muscle. The worse the injury, the more neck pain and inflammation, and the longer the recovery period.
More extensive the neck sprain, the more inflammation, which leads to more swelling, pain, and a longer recovery period. The strained muscle's strength while the injury is healing largely depends on how many muscle fibers were torn.
The two neck muscles that are most commonly strained are:
Levator scapulae – This muscle runs down the side of the neck, from the top of the cervical spine to the shoulder blade. It enables you to bend and rotate your neck to the side, so when this is injured, it can lead to restricted movement and neck stiffness.
Trapezius – This muscle starts at the bottom of the skull and reaches over halfway down the back and out towards the shoulders. The upper trapezius helps facilitate many movements, including head tilts.
Any muscles in the neck can become strained, and it is possible for more than one muscle to be affected by the same incident.
Causes of Neck Strain
Common causes of neck strain include:
Car accident – Neck injuries are common following car accidents. The sudden impact can cause the neck to move too quickly, leading to whiplash and other forms of neck injuries. Following a car accident, it is essential that you seek immediate medical attention. If you were in a car accident that wasn't your fault, then you may be owed compensation. Contact The Law Place today to find out how we can help.
Slip and fall – Slip and fall accidents can also cause the neck to move too quickly. If you fell on someone else's property, then you may be owed compensation. Contact The Law Place today for a free consultation about your case.
Poor posture – Neck pain can also be caused by poor posture, especially for those that work at a desk or spend a lot of time looking down at their phone. Poor sleeping positions can also put a strain on the neck over time. Stretching and strengthening exercises, as well as becoming aware of your posture and taking steps to improve it, could be essential to your long-term health.
Heavy lifting – Lifting something that requires too much work for the muscles can cause neck strain and poor spine health. If your job requires heavy lifting, then it is essential that proper measures are put in place to keep you well. If you have been injured at work, then you should seek a free consultation from our law firm to find out if you could be owed compensation.
Repetitive movement -Even for motions that neck muscles can handle, doing too many repetitions can eventually cause strain.
The Course of Neck Strain
Neck pain can be felt as soon as the injury occurs, though it may take several hours before the symptoms appear and can worsen in the days following the incident.
If your neck pain worsens, then you should seek medical advice. While most injuries will heal within a week or two, more severe injuries may cause ongoing pain and require professional treatment.
When to See a Doctor for Neck Strain
Most neck pain can be treated with self-care such as rest and gentle stretching. However, if the injury was caused by a trauma such as a car accident or a slip and fall, or if the injury worsens within a few days, or is accompanied by symptoms such as numbness or tingling in the arms or legs, or difficulty with balance, then you should seek medical advice.
It is important to note that following a car accident, in order to claim compensation for an injury, you must have sought medical attention within 14 days of the incident, in accordance with Florida Statute 627.736.
Initial Treatments for Neck Pain
When neck pain first develops, the following treatments are recommended:
Rest – Resting the neck or refraining from strenuous activities for a couple of days can help the neck start to heal. However, total bed rest or a neck brace is not typically recommended as it could weaken the neck muscles and lead to a longer recovery period.
Cold and heat therapy – Applying an ice pack within the first 48 hours can help to reduce swelling. After 48 hours, heat or ice can be applied. A heating pad can help improve blood circulation and brings nutrients to the damaged tissues. It is important to have a layer between the skin and the source of heat or cold to protect the skin, and applications should be kept to 10-20 minutes at a time.
Pain medication – Taking over-the-counter anti-inflammatory medicines, such as ibuprofen, reduces inflammation, which in turn can reduce pain. Pain relievers, such as paracetamol, may also be useful.
Gentle stretching – If a doctor advises that your injury will allow you to start exercising, then you should practice gentle stretches as soon as possible.
Treatments for Neck Pain That Lingers
If neck pain lasts more than a few days or an injury is more serious, then other treatments may be needed. For example:
Physical therapy – Physical therapy may be needed to strengthen the muscles in the neck. Typically, a physical therapist will give their patients regular exercises to do over a period of weeks or months, and then the patient will be required to continue on their own at home.
Manual manipulation -A trained medical professional may make manual adjustments to the cervical spine to improve the neck's range of motion, realign joints, and reduce pain.
Massage therapy – Massage can increase blood flow to the muscles and help them to loosen and relax, providing relief from neck pain and stiffness.
Acupuncture -Based on the theory that blockages of energy within the body contribute to pain, strategic placements of thin needles in the body may restore balance and flow. Although this is not a scientifically proven method, many people experience pain relief in acupuncture.
Prescription medications – Sometimes, prescription medication is required for neck pain. For example, stronger pain medicine or muscle relaxants may help alleviate pain and lead to better recovery.
Neck surgery – For injuries following severe trauma, sometimes surgery is needed. This will often lead to a prolonged recovery period.
Neck Injury Caused By Negligence
If your neck injury was caused by an accident that was not your fault, then another party may have acted negligently. Perhaps you were in a car accident with a drunk driver, you fell on a spillage in a supermarket that should have been cleared away, or you were injured at work due to poor health and safety standards. In all of these scenarios, you may be able to claim compensation for your injury.
In order to prove negligence in Florida, four things must be established:
Duty of care – First, it must be shown that another party owed you a duty of care. For example, all drivers have a duty of care to follow the rules of the road and keep those around them safe. Employers also have a duty of care to their employees and property owners to visitors on their property.
Breach of duty – Next, it must be shown that the duty of care was breached. For example, when a driver breaks the rules of the road, they breach their duty of care.
Causation – Then, it must be proven that the breach of duty caused your injuries. This could be an action, such as drinking while driving, or inaction, such as failing to clean up a spill.
Damages – Finally, it must be shown that your injuries caused damages, i.e., medical bills and lost wages.
Damages You Can Claim From Your Personal Injury Case
If you have been involved in a personal injury case such as a car accident, a slip and fall, or an accident at work, you should not be left with financial burdens. It is essential that you claim the damages you deserve. When your injury is caused by someone else's negligence, a personal injury lawyer can help you claim compensation for things such as:
Medical bills – A personal injury lawyer will help you to claim damages for all medical bills and expenses, including the cost of any future treatment, such as physical therapy.
Lost wages – If your injuries caused you to miss work, then you are owed compensation for your lost wages. If you are required to change the type of work you do because of your injury, then you could also be compensated for the loss of earning potential and the cost of retraining.
Property damage – If any of your property was damaged in the incident, such as a phone or a car, then you should be compensated to have it fixed or replaced.
Pain and suffering – A trauma such as a car accident can lead to a lot of emotional distress, and this should be compensated for. Furthermore, a neck injury can be incredibly painful and may lower the quality of your life for some time. Although these types of damages are highly subjective, a personal injury attorney will work to make sure that you are properly compensated.
Is It Expensive to Hire a Personal Injury Attorney?
At The Law Place, we make hiring a personal injury lawyer affordable and accessible. We work on a contingency basis, which means that if your case is unsuccessful, you will not pay us anything. If we successfully secure your compensation, then we will take a percentage of your settlement, which will be agreed upon with you before you agree to representation from us.
The Florida State Bar Association monitors the contingency work we do, so you know your case is in safe hands. We promise clarity and no surprise bills.
Statute of Limitations
The statute of limitations in Florida sets out how much time you have following an accident to make a claim, as laid out in Florida Statute 95.11. For personal injury cases, you have four years from the date of the incident to make a claim.
Four years sounds like a long time, but the sooner you seek legal counsel, the better, as evidence will be stronger, and your attorney will be better able to build a strong case on your behalf.
Contact The Law Place Today
If you have suffered a neck injury in Florida due to someone else's negligence, then you should seek compensation.
We offer a free consultation at no obligation to you, so you can ask any questions you have and get all the information you need before you agree to representation.
At The Law Place, we pride ourselves on going above and beyond for our clients. When you agree to representation from us, one of our attorneys will become your advocate and will be by your side to guide you through the legal process and handle the legal battle on your behalf. Most of our attorneys have the highest AVVO rating of 10.0, based on client reviews, years in service, awards, and more, so you know your case is in safe hands.
With your permission, we will also share details of your case with our team so that your case will benefit from a team of attorneys with a range of experiences and skills. We will do everything possible to secure you maximum compensation.
Call our law office today at (941) 444-4444 for a free consultation.