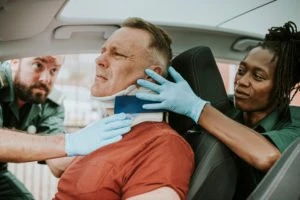 Healthcare can be extremely expensive in the United States, and people often wonder whether they need Personal Injury Protection as well as health insurance. The short answer is yes. You do need PIP coverage regardless of whether you already have regular health insurance.
Personal Injury Protection (PIP) is a type of insurance that pays for medical and rehabilitative costs for you or your passengers in the case that you are involved in a car accident. PIP is also known as 'no-fault' insurance and is required by law in all no-fault states, including Florida.
In Florida, every vehicle and vehicle owner much carry a minimum of $10,000 PIP coverage on their auto insurance policy. This law is in place to protect drivers. It is a sad reality that car crashes are all too common in the State of Florida, where the National Safety Council estimates that in 2019 alone, there were 3.1 million car crashes, where those accidents led to 4.5 million "medically consulted injuries."
Personal Injury Protection can cover the car accident injuries of you and your passengers, regardless of who was to blame for the accident. This type of insurance is a legal requirement as part of Florida's no-fault insurance laws. This means that it would be illegal to drive in Florida without PIP, even if you have another type of health insurance.
Florida's no-fault insurance laws can be confusing. If you have questions or would like some advice regarding PIP coverage in Florida, then contact us today for a free consultation with one of our attorneys.
Our phone lines are open 24 hrs a day, 7 days a week. Call us today at (941) 444-4444.
What Is the Difference Between PIP and Health Insurance?
There are several key differences between health insurance and PIP. Firstly, regular health insurance does not cover non-medical expenses like lost wages and funeral costs, unlike PIP, which can cover you in most circumstances (unless you opted for a work exclusion policy). Your medical insurance coverage will depend on your particular health insurance policy.
Secondly, it is often the case that your health insurance plan will have 'deductibles,' which you would be required to pay before you can access the policy's benefits. In contrast, PIP policies vary: there could be a $1,000 deductible, $500 deductible, or even no deductible, depending on the policy.
Another key difference between PIP and health insurance is what happens when there are passengers in your vehicle or members of your household who do not have their own insurance policy. If you have PIP insurance, then this will also cover a non-driver in your vehicle or anyone who qualifies for resident relative status (i.e., a person related by blood, marriage, or adoption with whom an insured party shares, or usually shares, a residence).
In the case of an accident, you would first make a claim for damages on their PIP policy, and only after those benefits have been exhausted would your medical provider bill your regular health insurance if the practitioner is a participating provider in your health insurance network. If the damages exceed the coverage of your PIP and you don't have health insurance, then you would have to pay the remaining costs yourself or try to make a claim against the car insurance of another driver who was involved in the accident.
If you have a comprehensive health plan, then you may only wish to buy the lowest amount of PIP coverage. If, on the other hand, you do not have health insurance, then we recommend that you purchase a higher amount of PIP to save you money and stress later on in case of a car accident.
What Does PIP Cover?
If you have full personal injury protection in Florida and your PIP policy has no deductible, then you will be covered for 60% of your total lost wages, 80% of your medical bills, and 100% of replacement services. If your policy has a deductible, then you will be required to pay this before you can access your PIP benefits. It is possible to amend or extend your PIP in order to increase your PIP medical coverage to 100% and your lost wages coverage to 80%.
Medical Expenses
If you are injured in an auto accident, your PIP will be able to cover most types of medical costs, with the exception of practices that are not widely accepted. Acupuncture and massage therapy, for example, are not covered under PIP in Florida.
Your PIP policy will cover the following medical costs:
Surgical services and hospital expenses.
Medical services.
Medication.
Diagnostic services such as x-rays.
Ambulatory services.
Dental and prosthetic devices.
Rehabilitation costs.
Therapy.
Remember that in the State of Florida, your PIP will cover 80% of your emergency medical care. This means that if your injuries cost a total of $10,000, then your PIP will cover medical expenses up to $8,000. If your injury is not considered an emergency, then you will only be entitled to $2,500 worth of benefits. For the remainder of the medical expenses, you may be covered by your health insurance, or you may have to pay them yourself.
An important point to note with PIP insurance is that you have limited time to seek medical care for your injuries if you wish to claim these damages on your insurance. In accordance with Florida Statute 627.736, you must seek medical attention within 14 days of your accident. Following an accident, you may feel fine and not believe that you need medical attention. However, we always recommend that you seek medical treatment as soon as possible following your accident, even if you do not consider your injuries to be very serious. This is to prevent your injuries from getting worse, as some types of injuries take some time to manifest, so you may have injuries that are more severe than you realize. It is also true that you may not experience pain immediately following a car accident due to the shock and the adrenaline. It will also be much easier for a personal injury lawyer to help you fight for compensation if you seek medical attention immediately following the accident, as it will give insurance companies less chance to try to devalue your claim. They could otherwise claim that your injuries were not very severe or that they were not caused by the accident in question.
Your PIP policy will generally cover the injuries of the policyholder as well as anyone residing in their household. However, you should check your particular policy, as you may have selected a cheaper PIP which only covers the person who takes out the insurance.
Lost Wages
If you are injured or disabled in an auto accident and required to take time off work, then your personal injury protection will pay for 60% of your lost wages, up to $10,000. This will also include services that you are no longer able to do, such as chores, laundry, pet care, and housework. In order to receive your lost wages benefits, you must complete a form and submit it to an adjuster. The adjusters then have 30 days to pay this bill from the day they receive it. We encourage you or your attorney to submit these bills as soon as possible.
You should check your individual policy regarding your lost wages protection. There is an option you can select for work exclusion when you buy your auto insurance coverage, which gives you a lower insurance cost. If you have opted for this type of coverage, then the policy will not include coverage for lost wages. If your PIP policy excludes coverage for loss of gross income and loss of earning capacity for named insured and resident relatives, then neither the named insured nor their dependent resident relatives will be covered for lost wages following an auto accident. You may have chosen to only exclude the named insured for your particular policy, in which case only the policyholder will be affected by this work loss exclusion.
If you are selecting PIP insurance, we generally recommend that you do not opt for the loss wage exclusion option, although the policy will be cheaper. If you later have a car accident that causes serious injuries and forces you to take time off work, then you could find yourself in a tough financial situation later on.
Death Benefits
Personal injury protection in Florida also gives the individual coverage of $5,000 for death benefits. This means that if a person dies as a result of the ownership, maintenance, or use of a motor vehicle, then their policy will most likely pay up to this amount for burial and funeral expenses. The $5,000 will be paid to the next of kin of the deceased.
This PIP death benefit also applies if the person was hit by a car while riding a bicycle.
There are some cases in which this PIP death benefit will not apply. This includes cases where the PIP holder died in a crash while they were:
On a motorcycle.
A passenger in a taxi.
Hit by a public bus.
There are other cases in which the PIP policyholder and their family members will not be entitled to death benefits. If you are unsure, we recommend that you contact our law firm. One of our experienced attorneys will be happy to give you free legal advice on the specifics of your case. Call The Law Place today to arrange a free case consultation.
How Much Does PIP Insurance Cost?
The cost of your no-fault insurance will depend on your policy's coverage limit and deductible. Every driver is required to have a PIP minimum of $10,000, but the premium you pay will depend on whether you opt for a higher deductible, if you choose to exclude work loss, and if you choose to cover only yourself instead of including your household residents on your policy. The cost of your PIP will also depend on your insurance provider. If you are looking to buy a PIP policy, we always recommend that you compare quotes from a few different insurance providers in your area to ensure you get an affordable rate.
What Happens If I Am in a Car Accident That Wasn't My Fault?
Florida is a 'no-fault' state, meaning that every driver is required to have PIP insurance under Florida Statute 627.7407. This statute dictates that your PIP must cover you for a minimum of $10,000. If a person has been in an accident and wishes to file a lawsuit against another party to cover damages greater than $10,000, then the individual is required to first make a claim against their own insurance company. This is the case regardless of who was at fault for the accident.
If you file a PIP claim and the damages resulting from your accident exceed your PIP coverage, then you might choose to file a claim against your other insurance policies if you have health insurance or against another party. If you have been involved in a car accident that wasn't entirely your fault, then you could be eligible to claim compensation from the insurance company of the other driver, for example.
In the State of Florida, you can sue a driver who caused a car accident if you suffered a serious injury as a result of the crash. This applies to the following injuries:
Bone fracture.
Significant scars or disfigurement.
Permanent disability.
Significant or permanent loss of a bodily function.
Loss of life (wrongful death).
Florida works under comparative fault, as per Florida Statute 768.81. This means that if you are seriously injured in an accident in Florida that was caused by another person or company's negligence, then you have the legal right to seek compensation. Florida recognizes what is known as 'pure comparative negligence.' This allows a person injured in an accident to claim compensation proportionally to their share of the blame in the accident. If, for example, you were involved in a crash because another driver was speaking on the phone, but you were driving above the speed limit, then a court would decide what share of blame each driver had, and the damages you could collect would be proportional to this.
How Can The Law Place Help Me?
If you are struggling to understand Florida's PIP laws, we encourage you to book a free consultation with one of our attorneys. Here at The Law Place, we pride ourselves on excellent client services, and with over 75 years of combined experience, you can ensure that you are in safe hands. Call us today to arrange a free consultation with one of our attorneys. They can give you legal advice regarding insurance laws in Florida and answer any questions you might have.
Our phone lines are monitored 24 hrs a day, 7 days a week for the benefit of our clients. Call us today at (941) 444-4444.