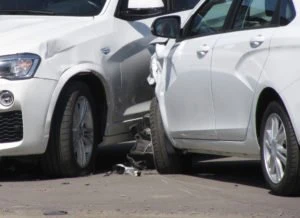 Side-impact collisions happen when the front of one vehicle hits the side of another vehicle, usually at an intersection when another vehicle is attempting to merge onto the road or when a car is making a turn. When these collisions occur, they can often cause serious injuries to the parties involved and severe property damage.
If you have been involved in a side-impact collision and are wondering whether you are in any way at fault for the accident, we recommend that you speak with a car accident attorney as soon as possible. It is possible that both parties were at fault for the traffic accident, but that doesn't mean you aren't entitled to compensation. Once it can be shown that you weren't 100% at fault for the car accident, you will be legally entitled to receive compensation for any harm you have suffered.
Here at The Law Place, we have over 75 years of combined experience in multiple practice areas, including many car accidents involving more than one at-fault party. Once you contact us, we will set up a free consultation with a personal injury lawyer from our firm who will help you determine fault in your T-bone accident. If you decide to proceed with us as your legal representatives, we will do everything in our power to ensure that you get the compensation you deserve.
Call us today to schedule a free case evaluation at (941) 444-4444. Our phone lines are open 24 hours a day, 7 days a week.
What Are Side-Impact Crashes?
As noted above, side-impact or T-bone crashes happen when the front end of one car crashes into the side of another passing vehicle. It is particularly common for these car accidents to happen at a traffic light, when a driver mistakes a red light for a green light and drives through, or when they intentionally drive through the signal in an attempt to beat oncoming traffic.
In a lot of these car accident cases, it is easy to establish which party is responsible. However, it is possible that both parties involved in the collision could share some portion of the liability. For example, if one vehicle speeds through a red light or a stop sign causing a crash, and the other driver is under the influence of alcohol or drugs, both parties may share a portion of the blame. In these cases, proving fault can be difficult, and it is recommended that you seek legal assistance from a personal injury attorney.
Common Causes of Side-Impact Accidents
Side impact collisions can occur due to an array of different reasons. It may have been entirely the fault of one negligent party, or both parties involved may have had a part to play in causing the collision. In order to determine fault, however, it is important that the cause of the accident is also determined. Some common causes of T-bone accidents include:
Human error

– For most car accidents in Florida, human error is the primary causing factor. This could include distracted driving, such as texting or talking, reckless driving, such as speeding or tailgating, or fatigued driving, which is especially common for truck and delivery drivers. When a driver fails to pay attention, they may run a red light and crash into the side of another passing vehicle.

Driving under the influence –

Being a drunk driver, or driving under the influence (

DUI

), is strictly forbidden throughout the State of Florida. However, it is still a leading cause of many car accidents, including side-impact accidents.

Mechanical problems –

It may be the case that your T-bone accident occurred due to a mechanical fault such as brake failure or tire blowout. When this happens, it could be the fault of either the mechanic responsible for maintaining the car or the driver themselves for failing to carry out necessary repairs.
Common Injuries Sustained in a T-bone Accident
T-bone collisions can cause victims to suffer severe injuries, and in some cases, even death. In fact, 23% of passenger deaths in 2018 were caused by side-impact crashes, as reported by the Insurance Institute for Highway Safety (IIHS). These accidents are so dangerous because there is a lack of protection at the side of the vehicle. So, if you are in a traffic accident where the other vehicle crashes into the side of your car, there may be no airbag there to protect you from suffering from severe injuries.
The severity of your injuries will, of course, depend entirely on how serious the car accident was and how fast the other driver was driving when they crashed into you. However, some of the most common personal injuries seen by our attorneys include:
Sprained, fractured, and broken bones.

Bruises, cuts, lacerations, and gashes.

Neck injuries, including

whiplash

.

Injuries to the head and brain, including traumatic brain injury (

TBI

).

Back injuries, including

paralysis

.

Spinal cord injuries.
Regardless of how serious your personal injury was from the side-impact accident, you should still be entitled to compensation. Filing a personal injury lawsuit can ensure that you are awarded the compensation you deserve for the harm you have suffered.
Is It Possible to Share Fault for a Car Accident?
Many accident victims are reluctant to file a car accident claim against the other vehicle involved in the collision as they believe they may share some portion of the blame. As is provided under Florida's no-fault laws, your own insurance company will be responsible for covering the costs of any personal injury you have suffered regardless of who was at fault for the accident.
This means that even if the other driver was entirely responsible for your car accident, you are required by law to contact your own insurance company first to seek compensation. This also means that even if you are partly or wholly responsible for the collision, your insurance will still cover the costs of any medical expenses you had resulting from your injuries.
However, in many traffic accidents involving serious harm, victims may need to file a legal claim against the insurance companies of the other drivers involved in order to get adequate compensation. This is because the minimum amount of personal injury protection (PIP) coverage drivers are required to take out under Florida law is $10,000, which is quite low. Furthermore, your insurance policy will just cover 80% of your medical costs, meaning that if you have had to pay more than $8,000 for medical treatment, and you have taken out the minimum amount of insurance required, you may have to seek compensation from the other driver involved.
Comparative Negligence Laws in Florida
If you have been involved in a car accident where both parties share a portion of fault, it is likely that Florida's comparative negligence laws will be taken into consideration. Comparative fault laws state that if you were at fault for a car accident, your percentage of blame would be deducted from the compensation you receive.
For example, if you were drunk when the accident occurred, and then it was determined that you were 40% at fault for the collision, your compensation reward will be reduced by 40%. This means that in a shared fault situation, where one driver is 60% responsible, they will receive 40% of the compensation they are entitled to, and they will be required to pay you 60%. This system of law is in place to ensure that both parties involved in a collision can receive compensation for any harm they have suffered, provided they are not 100% at fault.
It is recommended that you seek legal advice from a car accident attorney who can help you determine what your percentage of fault was for the side-impact crash.
What Type of Damages Can I Claim in a Personal Injury Claim?
In order to recover compensation for any type of car accident, it is necessary to show that you suffered damages. Some of the damages a car accident attorney from our law firm can help you claim include:
Medical costs –

You can recover compensation for any medical bills or costs for injuries that resulted from a T-bone collision. This can include bills for hospital appointments, any future medical care, and transport to and from these appointments.

Lost wages –

If you are unable to work due to the injuries you have suffered, you can pursue compensation to cover wages you've lost, including any future potential income.

Property damage –

You can seek compensation against the other driver to cover the costs of any damage to your property, including your vehicle and any valuable items contained inside.

Pain and suffering –

It is possible to pursue compensation for any emotional or physical distress you have suffered in a car accident. A lawyer can help you claim pain and suffering damages to compensate you for this distress.

Wrongful death –

No amount of compensation can remedy the pain of losing a loved one in a car crash. However, a lawyer from our firm can file a wrongful death claim to help you recover funeral costs and a

loss of consortium

to help relieve some financial stress.
What Should I Do Following a T-bone Collision?
If you have been involved in a T-bone collision, you are probably unsure about what you should do to ensure that you get compensation in your car accident case. Regardless of what type of accident you have been involved in on the road, it is extremely important that you take the following steps in the aftermath to ensure your own safety and to maximize your chances of getting compensation:
Notify the police –

Florida law requires that you contact law enforcement immediately following a car accident. They will file a police report with the information of the two vehicles involved and information about what happened. This report will be essential when determining liability for your injury claim.

Seek medical assistance –

It is recommended that you seek medical help following a traffic accident regardless of whether your injuries were serious. This medical report from the accident will be extremely important for your compensation claim.

Call your insurance office –

You are required to contact your insurance office immediately following an accident in order to be awarded any compensation. We recommend that you refrain from divulging too much information as they may use this to increase your level of fault and reduce the amount of money you receive.

Assess your legal options –

It is recommended that you speak with an attorney who is experienced in injury law following an accident. They can speak with your insurance company on your behalf and build a strong claim to ensure that you get the compensation you are owed. Schedule a free consultation with our firm today, and we can help you get compensation for your shared-fault side-impact collision.
Contact The Law Place Today
Vehicle accidents can be extremely stressful, particularly if you are partially at fault for the accident and are unsure whether you are entitled to compensation. It is very common for a vehicle to lose control and crash into the side of another car or for a driver to be distracted and make an improper left turn, resulting in a serious crash. However, these faults should not be a reason for you to be left without compensation following an accident.
Regardless of whether one driver was more at fault for a side-impact crash than the other, both parties are entitled to receive compensation to cover the costs of any harm they have suffered. Here at The Law Place, we can advise you on how much compensation you are owed for your side-impact crash. Our firm has over 75 years of combined experience in numerous practice areas, including many shared-fault cases. We can help you prove fault to ensure that you get adequate compensation. We offer a free initial consultation meaning you can come and get legal advice from a passionate lawyer from our firm with no strings attached.
Don't hesitate to call us for your free consultation. The sooner you do, the better chance we have at winning your case. Call us today to schedule a free legal consultation at (941) 444-4444. Our phone lines are always open.