Shoulder injuries are more common than we might think and are also quite difficult to heal since the shoulder is a very complex joint. Moreover, people with a torn labrum can experience a lot of pain and might even have life-long consequences, like a limited range of motion. If you sustained this injury as a result of somebody else's action or inaction, it's only understandable that you seek compensation for it. By claiming damages from the party at fault, you support your own recovery, of course, but also prevent it from happening to others.
The Law Place is a well-established law firm with more than 75 years of combined experience in Florida law. We are here to help you, whether you need to claim compensation from your own insurance company, negotiate a good settlement with the other party, or file a lawsuit. Most of our attorneys have been rated 10.0 by AVVO, and that's the highest score an attorney can get on this site. So, don't hesitate to contact us for a free consultation of your case. We are available 24 hours a day, 7 days a week, at (941) 444-4444.
What Is a Labral Tear?
The shoulder labrum is a cartilage that lines and reinforces the ball-and-socket shoulder joint. Together with the tendons and muscles of the rotator cuff, the labrum contributes to the stability of the shoulder joint. The labrum is quite strong, of course, but it can tear due to a strong impact to the shoulder, a fall on an outstretched arm, or a repetitive motion. Patients with a torn labrum usually experience severe shoulder pain, instability, and sometimes even a feeling of grinding, locking, popping, or catching while moving the shoulder.
There are three basic types of labral tears:
SLAP tear – The acronym SLAP stands for "superior labrum, from anterior to posterior" and refers to a tear that occurs at the front of the upper arm where the bicep's tendon connects to the shoulder joint. This type of tear is common among tennis or baseball players or car accident victims.
Bankart tear – Bankart tears occur in the lower part of the labrum and usually happen to younger patients who have dislocated their shoulder.
Posterior labrum tear – This type of tear occurs in the back of the shoulder socket. It's the least common type of labral tear and can happen due to a serious injury or when a shoulder dislocates posteriorly.
A torn labrum can be treated surgically and non-surgically. Non-surgical treatment is for less serious tears and usually involves 6-8 weeks of physical therapy and taking painkillers. In case of a Bankart tear, your coach or trainer might be able to pop the upper arm bone back to the shoulder socket. However, this should be followed by rehabilitation treatment to get everything back to normal. More serious tears require shoulder surgery followed by immobilization of the shoulder and prolonged physical therapy. It takes around 9-12 months to completely recover from a torn labrum surgery.
Our team of dedicated attorneys fight and win for Floridians.
What Are the Main Causes of a Labral Tear?
As we explained above, there are several ways a person can sustain this particular type of shoulder injury:
Repetitive motion of the upper arm, straining the shoulder in extreme positions, a strong blow while reaching overhead (i.e., while playing tennis or baseball).
Direct hit to the shoulder (i.e., during a car accident).
Fall on an outstretched arm (i.e., when you slip and fall).
The first type is usually considered an accident because it can't be considered anybody's fault. The second and third types, however, might happen due to somebody's negligence. Another driver might have violated the traffic rules and caused a collision. Or a premises owner should have informed you of a hazard and failed to do so. There are many ways someone could be liable for your shoulder injury by their action or inaction. Even if you're not sure, contact The Law Place to speak to one of our personal injury lawyers. They have handled many personal injury claims, so they will be able to advise you regarding your next steps.
What Damages Can You Claim After a Shoulder Injury?
If you injured your shoulder joint due to somebody else's action or inaction, you deserve to be compensated for it. The amount of compensation you should receive varies based on the particular circumstances of your case. In general, you should be able to claim the following damages:
Medical bills – Your shoulder injury might require surgery, rehabilitation, and medication. However, these things aren't free in the U.S., and if somebody else caused you the injury, you shouldn't be the one paying for it. You should receive compensation not only for all your medical bills but also for related costs, such as travel expenses for getting to your doctor appointments.
Lost wages – A labral tear usually requires you to immobilize or at least rest your shoulder for a considerable length of time. However, restricted arm mobility might prevent you from doing your job and might force you to stay at home. Most people in this situation earn less than usual or even nothing. If this is your case, you should be compensated for it.
Pain and suffering – A shoulder injury doesn't only have physical and financial consequences. It can also affect you emotionally. You might suffer from PTSD after your car crash, or maybe you cannot continue with your hobbies due to the long-term consequences of the injury. You can get compensated for this as well. However, it is advisable to use the help of a personal injury lawyer since these damages are usually quite hard to claim.
It's hard to estimate an average settlement for a torn labrum. It can range anywhere between several thousand and several hundred thousand dollars since the exact amount depends on many factors. Your medical bills depend on the seriousness of the injury, your traveling costs depend on how far away the doctor's office is, your lost wages compensation depends on your salary, and your pain and suffering compensation depends on your lifestyle, mental predisposition, and interests. However, one thing is certain: hiring a skilled personal injury attorney significantly increases your chances of winning a fair settlement. If you want to find out more about your personal injury case, contact The Law Place right away and schedule a free consultation with us.
We're Florida's top litigation team with over 75 years of combined experience
How Can a Personal Injury Attorney Help With Your Shoulder Injury Claim?
A professional attorney can do a lot for you, regardless of whether you need to file a shoulder injury claim with your insurance company, negotiate a fair settlement with the other party, or take your personal injury case to court. They know the field and its rules. Furthermore, they also know how to deal with insurance companies to secure the highest possible settlement for their clients. Insurance companies are known to hire lawyers to devalue claims or to offer time-limited settlements and pressure their clients to take it. Our attorneys will be immune to these tricks since they know what a fair settlement looks like.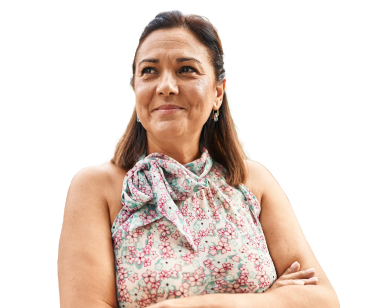 From the initial call to updates on your case status, we are here to get you answers.
How Does the Cooperation With The Law Place Work?
The Law Place offers a free consultation to every client. This way, you can contact us even if you're not sure whether you need a lawyer. You can meet with us and discuss your case without having to commit to anything. After our first appointment, you can decide whether you wish to be represented by us or not. If we agree on representation, we will meet again and discuss your shoulder injury case in more detail. You will also be assigned one lawyer who will become your advocate. However, all our personal injury lawyers work together, so you will benefit from the knowledge and experience of the whole team for the price of one lawyer.
After our second meeting, we will get to work on your case. Depending on your particular needs, we might call your insurance company and negotiate a higher reimbursement of your medical bills, initiate or take over the negotiations with the party that caused you the injury, or we might start working on a lawsuit on your behalf. We will work tirelessly to ensure justice for you or your loved ones.
How Much Does a Personal Injury Attorney From The Law Place Cost?
Logically, you might be concerned about your expenses since legal services tend to be quite expensive, and your injuries might prevent you from earning money at the moment. With us, you don't have to worry about that, because our company works on a contingency basis. This means that we don't get paid unless we win a settlement for you. The contingency fee is a standard remuneration type monitored by the State Bar Association. We will explain all the details to you during our first consultation.
Call The Law Place Today
Have you sustained a shoulder injury (e.g., a torn labrum) and need help in securing a fair settlement? Or are you just curious what an average settlement is supposed to be in your case because what was offered to you seems too low? Have you been involved in an auto accident that wasn't your fault? Or have you slipped and fell on private property and injured your shoulder? Then don't hesitate and call The Law Place right away to get fair compensation for your pain and suffering, medical bills, and lost wages. Let us take care of all the paperwork and uncomfortable negotiations so that you can focus fully on your recovery. You can reach us anytime at (941) 444-4444.