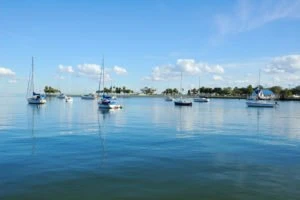 Venice, Florida, is a fantastic place for all boating enthusiasts. The possible activities are endless, and many people enjoy them with a beverage or two. Unfortunately, some people fail to refrain from driving after drinking and end up operating the vessel above the legal alcohol limit. As a result, this seemingly small pleasure may bring severe punishments and lifelong consequences.
The number of people convicted of boating under the influence (BUI) is constantly increasing, and a BUI conviction is not taken lightly, similar to driving under the influence (DUI). If you made that mistake and are now facing BUI charges in Florida, legal support from an experienced attorney is a must, and you should contact a criminal defense lawyer immediately.
At The Law Place, our team of dedicated criminal defense attorneys will do their best to have your charges reduced or eliminated if possible. If you would like to receive a legal consultation, call our law firm today and take advantage of over 75 years of collective experience. Contact our Venice office today at (941) 444-4444!
How Is Boating Under the Influence Defined in Florida?
According to Florida Statute 327.35, boating under the influence, or BUI, is defined as operating or controlling a vessel on any waters while intoxicated (under the influence of alcohol or drugs). The word "vessel" can be interpreted as a means of transportation that can be used on the water including seaplanes, boats, barges, and watercraft.
As outlined in the above statute, a person may be convicted of boating under the influence (BUI) if they get caught operating a vessel while having one of the following:
Blood alcohol or breath alcohol concentration (BAC) of 0.08% or above. This means that you have .08 grams of alcohol per 100 milliliters of blood in your body.
Impairment of the normal faculties due to alcohol consumption, drugs, or a combination of the two.
As written in Florida Statute 316.1934, the term normal faculties include but is not limited to seeing, talking, hearing, walking, judging distances, and making judgments. It also refers to common mental and physical acts of daily life. The term "normal faculties" is a broad term and may be applied to many more actions. It is the decision and judgment of law enforcement officers to decide if a person's faculties are impaired.
If you face BUI charges, we highly recommend seeking the legal representation of experienced boating under the influence (BUI) defense lawyer. Deciding if judgment is impaired can be open to interpretation, and law enforcement officers can make mistakes in their judgment.
That is why skilled attorneys' legal support is critical if you have been charged for boating under the influence of alcohol or drugs. Your BUI defense attorney will try to have your charges reduced or eliminated by challenging the law enforcement officers' judgment call.
Penalties for Boating Under the Influence of Alcohol or Drugs in Florida
Several factors may affect the degree of penalties when determining the effects of a BUI in Venice. The charges that an offender can face will depend on the following aspects:
If the boat operator has a prior conviction for boating under the influence (BUI) or driving under the influence (DUI).
If the BUI resulted in property damage, personal injury, or death.
If the operator had someone on board the vessel, who was under 18 at the time of the offense.
Whether the operator was found to have excessively high breath alcohol or blood alcohol concentration (BAC). The higher the blood alcohol level, the more considerable charges the boat operator may face.
First BUI Conviction Penalties
If this was your first BUI or DUI offense, you would probably face a second-degree misdemeanor charge. In the state of Florida, most first-time BUI convictions are treated as second-degree misdemeanors.
According to Florida law, following a second-degree misdemeanor charge, you may expect to pay fines between $500 and $1000 as well as a possible prison sentence of up to 6 months. The court is also required to place first-time offenders on probation for up to one year, regardless of any other charges imposed. The probation conditions may include participation in community service (up to 50 hours of work) and the impoundment or immobilization of the vessel operated by the offender for 10 days. However, the total time that a judge sentences a convicted person to probation and jail combined cannot exceed one year.
Unfortunately, penalties can be much worse if some additional factors were at play. Those factors include:
The blood alcohol concentration (BAC) of the boat operator was at least .15% (what is classified as excessively high alcohol level), or a minor under 18 was present on the vessel. In these circumstances, prison time can increase up to 9 months, and the fines will be worth between $1,000 and $2000.
The BUI led to an accident, which involved property damage or minor injuries to another person. In this situation, it will likely be classified as a first-degree offense. In this case, serving one year in jail and a $1,000 fine may be expected.
The BUI led to serious injury to another person. This incident may be treated as a third-degree felony and will likely result in 5 years in prison and a $5,000 fine.
If the BUI resulted in another person's death, it could be classified as a first or second-degree felony. In case of a first-degree felony, the BUI offender may face a sentence of up 30 years in jail. If the BUI accident is classified as a second-degree felony, the offender may expect up to 15 years in prison or a fine in the amount of $10,000.
Even if you have never been caught with BUI before, the additional circumstances listed above can bring significant consequences. However, a skilled defense attorney will do everything they can to limit the penalties you will face.
Second BUI Conviction Penalties
If you have been caught boating under the influence for a second time, you could be charged with a second-degree misdemeanor. This means paying a fine ranging between $1000 and $2000 and a potential jail sentence of up to 9 months.
If you are charged for a BUI for a second time within five years of your previous BUI or DUI offense, then as per Florida law, you will receive a compulsory prison sentence of a minimum of 10 days. Additionally, you must be prepared for impoundment or immobilization of your vessel for a period of 30 days.
If you had a BAC of .15% or above or had a minor under the age of 18 years old on board, then you could end up paying fines between $2,000 to $4,000 and serve up to 12 months in prison.
Third BUI Conviction Penalties
If you have been convicted for the third time, the penalties you will receive will depend on whether the prior BUI or DUI sentence occurred within the last ten years.
If the third conviction occurred within ten years of the previous offense, you could be charged with a felony of the third degree, which could result in up to 5 years in prison and fines of up to $5000.
However, if you are convicted for the third time and more than ten years have passed since your last BUI or DUI offense, you will be charged with a misdemeanor. It will still result in charges up to $5000, but the time behind bars will be no longer than 12 months.
Additionally, the boat's impoundment or immobilization for a period of 90 days will be required by the court for all third-time offenders.
If the third-time offender had a BAC of .15% or above or had a passenger under 18 years old present on their boat, the penalty for their BUI offense will be a minimum of $4,000.
Penalties for Under-21 BUI in Florida
When it comes to laws around underage drinking and boating, Florida implements a zero-tolerance policy.
The State of Florida is trying to deter as many underage people from drinking and boating as possible using the laws included in the Florida Statute 322.2616. Although the BAC limit for people over-21 is set for .o8%, this number is reduced to a level of .02% for underage drinkers.
Boating under the influence of drugs or alcohol while underage results in an immediate Boat Safety Permit suspension and 50 hours of community service in Venice Sarasota County. However, these are only minimum standard punishments set out in accordance with the zero-tolerance policy. The court may also sentence them to further punishments, depending on the additional circumstances during the BUI.
Does a BUI Affect Your Driver's License in Venice, Florida?
If you have been caught boating under the influence in Sarasota County, you do not have to worry about your driver's license being suspended. A conviction for BUI does not impact your driver's license in any way.
However, if you find yourself charged with a BUI, we highly advise seeking a legal representation of a criminal defense attorney. At The Law Place, we have been helping people in similar circumstances for years, and we know how stressful this situation can be for you. Our highly skilled attorneys will do everything in their power to see your charges reduced or even eliminated.
Can You Drive a Boat With a DUI in Venice, Florida?
Florida law does not prevent people charged with driving under the influence (DUI) from operating boats.
Nevertheless, if you are going to operate a boat after being convicted with a DUI, making the same mistake again but on the vessel may result in more severe punishments. Charges you may receive for boating under the influence are severe and can have lifelong consequences. You should never operate the vessel or any motor vehicle when under the influence of drugs or alcohol.
If you have any questions connected with a BUI or DUI, contact a Florida boating under the influence lawyer today. A trusted and experienced attorney will give you legal advice and answer all your questions and concerns. At The Law Place, we have a dedicated team of skilled criminal defense attorneys who have many years of experience in BUI, DUI, and personal injury cases and will do everything possible for your case.
Defenses That a Lawyer Can Use Against Boating Under the Influence Charges
In cases of boating under the influence, Florida lawyers may use common pretrial and trial defenses, which apply to many other criminal cases. However, there are also a few defenses that are specific only to the BUI case. Below we will explain some of them.
Unreliable Breath Test Results
It is very common for breathalyzer machines to give inconsistent and unreliable readings. The result from this device is one of the main pieces of evidence in your case. If your BUI lawyers discover that your breath test was carried out incorrectly or they have any objections to the maintenance of the machine, your results could be dismissed. This will significantly strengthen your case and increase your chances of winning in court.
Improper Field Sobriety Tests
Performing the field sobriety test on the boat may bring inaccurate results. The vessel may be rocking, or the windy weather may obstruct the test. Your BUI lawyers may be able to prove that the conditions in which you were asked to perform the test made the outcomes unreliable. Florida's state laws list strict guidelines that must be followed to issue the field sobriety test to the vessel's suspect operator.
Illegal Stops
Law enforcement officers can only stop your vessel if they have reasonable suspicion that you were violating the law. If your lawyers prove that stopping your boat was illegal, the evidence against you will be dismissed, and charges could be dropped.
Inadequate Probable Cause
A person can only be arrested when officers have probable cause that they were boating while intoxicated. If your lawyers can prove that the officer who stopped your vessel did not have probable cause, the piece of evidence the court held against you is likely to be dropped.
Improper Designation of Operator
According to Florida Statute 327.02, a boat operator is responsible for the safety and navigation of the craft and the people on board. Only the person who is the designated operator of the boat can be charged with BUI, usually the vessel owner. The other passengers who accompany the boat operator cannot be held accountable for BUI. However, if you were not the person operating the boat at the time of the accident and your lawyer can prove it, your BUI case could be dismissed.
Contact The Law Place Today!
If you have been charged with a BUI in Florida, contact us as soon as possible. In circumstances like this, it is important to receive support from a reputable law firm that can support you. We have over 75 years of combined experience defending people just like you.
Call The Law Place today and ask for legal advice from criminal defense attorneys. You can schedule a free case evaluation 24 hours a day, seven days a week, as our phone lines are always open.
Are you still hesitating? Do not wait any minute longer. We will do everything we can to give you the best support in Florida. Contact us today at (941) 444-4444 and get started with your case.