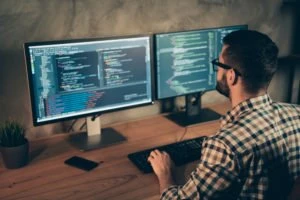 Across the United States, computer crime is on the rise, and therefore it is a focal point for federal and state law enforcement agencies across the government. Here in Venice, FL., this is no exception, as there is a sharp increase in complaints concerning crimes related to computer users within the last ten years.
If you are charged with an offense against computer users, this can be extremely serious. There is the chance you could face a number of years in prison, as well as having to pay thousands of dollars in fines if you find yourself being charged at a criminal trial. It is a tough decision to make when you are deciding which law firm you want to represent you in this type of case. Whoever you decide on as your criminal defense attorney, it is vital they are knowledgeable on the Flordia Statutes that concern computer crimes. They must also keep up to date with any rapid changes in enforcement and any punishments that defendants in these types of cases could face.
If you have been charged with an offense against computer users, then it is time for you to contact The Law Place today to begin your legal defense journey. Here at The Law Place in Venice, FL., we offer an excellent attorney-client relationship, providing you with the best legal services. We offer a free consultation with any of our Flordia attorneys, so you can gain more information on the legal route you will need to go down.
Contact us today by phone at (941) 444-4444, where our lines are open 24 hours a day, seven days a week.
What Does an Offense Against Computer Users Charge Mean in Venice, Florida?
Florida Statute 815.06 defines what counts as an offense against computer users. This statute says that anyone who willfully, knowingly, and without authorization or permission accesses or denies any access to either a computer or computer system will be facing an offense against computer users charge.
If you are unaware whether you have committed actions that could potentially count as an offense against computer users, then contact us here at The Law Place here today, where you will be able to find out more information from one of our qualified and experienced criminal defense attorney. After you call us, we will examine the facts of your individual case and then provide you with a realistic expectation of any charges you may incur.
What Are Some Terms Used in Offense Against Computer Users Charges?
Different terms may have specific legal definitions that differ from their standard use. Any of the following terms may be used in any charges that concern computer offenses. These include:
Computer – An electronic device that is used to process any type of information automatically.
Access – This is when any information or data stored in either a computer, computer system, computer network via instruction, communication, storage, or receipt has been used.
Data – This can either be an electronic or physical representation of either information, knowledge, facts, software, programs, or instructions.
User – This is an authorized person who is allowed to make use of their computer or computer system.
Computer network – This is either a digital or physical structure that has the ability to allow computers to communicate with each other. This includes communication to other types of peripheral technology, including printers, monitors, speakers, and any other electronic device that is able to connect to a computer system.
Computer program or software – These are digital instructions that allow a computer or a computer system to operate and perform tasks they are instructed to do.
Computer services – These are the tasks a computer is able to complete for the user, including time, data processing, or any storage functions.
Electronic device – This is either an appliance, tool, or type of peripheral technology that is able to communicate with another computer or computer system across a computer network.
Computer contaminant – This is any data, a set of instructions or programming that has the aim to damage, destroy or record both the input and output of a computer.
Intellectual property – This is the data or computer programs that are either owned by an individual or a corporate entity.
Property – This is anything valuable, either tangible or intangible.
Financial instrument – This is any form of a monetary guarantee, including a check, cash, draft, money order, credit card, or a letter of credit.
Whoever you get to represent you as your criminal defense attorney should know these legal definitions. Call The Law Place today to find out how any of this information may apply to the specific charge you are currently facing.
Is My Offense Against a Computer User Charge Considered a Felony in Florida?
Any offense that is made against computer users is taken very seriously by the governing body, both here in Venice and the rest of Florida. Any type of crime that counts under this category of criminal charges is prosecutable as a felony. Both the intention and results of a crime will be the determining factor for whether an individual is charged with a felony of either the third, second or first degree.
What Is a Third-Degree Felony?
When you disrupt the transmission of data from one computer to another.
When you willfully and knowingly do not have the permission of another to access a computer or computer system, but do so anyway.
When you damage, destroy, steal, or injure a computer, computer system, or any supplies for a computer or electronic device.
When you contaminate a computer, computer system, electronic device, or computer network.
When you access the video or audio input or output of a computer system without the permission of the user.
What Is a Second-Degree Felony?
You cause $5,000 or more in property damage, both tangible and intangible.
You defraud or intend to defraud computer users so you can obtain property or any sort of financial gain.
You either damage, destroy, or disrupt public infrastructures such as public transport, communications, the water supply, or a government project.
What Is a First-Degree Felony?
You endanger human life by committing any of the actions that are mentioned above.
You either disrupt, destroy, or damage a computer in any other way, including computer systems, computer networks, or electronic devices used to administer medical care.
What Are the Penalties for Offenses Against Computer Users in Florida?
The punishments for felonies charges are found under Florida Statutes 775.082, 775.083, and 775.084.
The types of penalties for offenses against computer users include time in prison and fines. A third-degree felony includes five years in prison and fines up to $5,000. A second-degree felony includes 15 years in prison and fines up to $10,000. Finally, a first-degree felony includes 30 years in prison and fines up to $10,000.
Can I Be Sued for an Offense Against Computer Users?
Although you may not be able to be sued for an offense against computer users specifically, there is the possibility you can still be sued for the effects the crime has had on people. This will be taken through the civil court, and you will be held accountable for any damage as a result of your actions.
For instance, if you publically release any personal information of someone on the internet, this could result in detrimental effects on either their career or personal life. In return, the victim may file a lawsuit in civil court for any pain and suffering they endured due to your crime. If a hacked computer or computer system resulted in a loss of income, then they can also sue for any economic damages.
Here at The Law Place, our legal team is experienced in both criminal and civil courts. If you have been served with a summons for your alleged offense against computer users, and you are due to appear in civil court, then you will need to contact us as soon as possible. One of our criminal defense attorneys can begin to prepare your defense for court. Alongside this, we can also work on your criminal charges and prepare for the possibility of a lawsuit.
What Are Some Possible Defense Strategies for an Offense Against Computer Users?
Luckily, here at The Law Place, our team of experienced attorneys has a few methods we can use to defend you from your criminal charges. This is dependant on the circumstances of your individual case, but we may be able to prove that you were:
Legally acting within the scope of your registered employment.
Participating in a government project or a security operation where you had the permission of relevant third parties involved with government entities.
Executing a search warrant or were given an exception to a search warrant that was handed down by the courts.
No need to worry if these do not apply to you, as these are not the only ways we are able to defend our clients from an offense against computer users charge. By consulting a qualified attorney here at The Law Place in Venice, FL., you can find out how we can help you in this situation.
Contact The Law Place Today!
Are you in a sticky situation where you have been charged with an offense against computer users in Venice, Florida? Were you unaware that any of your actions might be considered a felony, and are you afraid of what punishments you may face?
Our experienced and knowledgeable team here at The Law Place is here to help you. By contacting The Law Place as soon as possible, you will be able to get legal advice about your case and any charges you may face. Then we can work out what we can do about it. We will strive for the best outcome for you and your case.
At The Law Place, we offer you a free consultation with one of our experienced criminal defense attorneys. Through this, we will discuss our fee structure and also any potential defense strategies, both of which will be explained to you in full. You do not need to worry, as there are no hidden or surprise costs associated with our law firm. You will not find a better attorney-client relationship anywhere in Venice, or Florida for that matter!
Contact The Law Place today at (941) 444-4444 to book your free consultation. Phone lines are open 24/7.