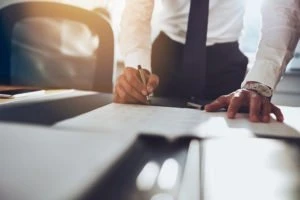 Unfortunately, battery crimes occur more often than not in Bradenton, Florida. The penalties brought against those that commit battery charges vary greatly according to the perpetrator's intentions and the extent of injury and damage caused. Penalties can include hefty fines, a criminal record, and potentially even jail time.
If you have been accused or charged with battery in Bradenton, then at The Law Place, we highly recommend you seek the expertise of a criminal defense lawyer. Our law firm has a team of experienced lawyers who will examine the details of your case and work at developing a strong defense strategy. Our phone lines are open around the clock, so we can be on hand to support you at any time of day. Call The Law Place today at (941) 444-4444 for a free consultation with one of our Bradenton battery lawyers.
What Is the Difference Between Assault and Battery?
Whilst battery and assault are often discussed collectively, in Florida law, they are defined as two separate crimes. According to Florida Statute 784.03, a battery offense occurs when a person intentionally causes bodily harm to others or touches or strikes someone against their will. Florida Statute 784.011 defines assault as an intentional attempt to threaten to injure a person by word or act. In simple terms, an assault charge refers to the threat of physical harm, and battery refers to the actual infliction of physical harm.
Simple Battery
In Bradenton, simple battery is when a perpetrator uses physical force to intentionally harm another individual. Simple battery is classified as a misdemeanor crime. If you are arrested or charged with simple battery, then you will receive a criminal record. Other penalties may include up to a year in jail or on probation, as well as a fine of up to $1000.
Aggravated Battery
Aggravated battery is considered to be a far more serious crime in Bradenton and is classed as a felony charge. Under Florida Statute 784.045, aggravated battery is defined as a perpetrator who knowingly or intentionally causes bodily harm to another person. In some cases, this involves the use of a deadly weapon. A deadly weapon is classified as any device, substance, or instrument that is used with the intention to cause injury and death or with which death can be readily produced. In Bradenton, penalties for aggravated battery can include a criminal record, a prison sentence of up to 20 years, and fines of up to $10,000.
In Bradenton, the severity of your punishments will vary greatly depending on the circumstances of the incident, including whether this is your first criminal offense or if you have a prior record, as well as the severity of injuries and damage caused. If you are facing criminal charges in Bradenton, then at The Law Place, we highly recommend you seek the expertise and advice of a criminal defense attorney as soon as possible after the incident.
What Are the Possible Defenses Against a Battery Charge in Bradenton, FL?
The defense that your criminal defense lawyer will put forward for your case will differ according to the circumstances that surround your case. However, a criminal defense lawyer will always consider the following:
Who was the victim?
Who was the perpetrator?
What was the nature of the conflict?
Depending on the answers to these questions, your lawyer may be able to put forward the following defenses:
The alleged battery was accidental.
You were acting in self-defense or in defense of another person or property.
The perpetrator and victim were mutually engaged in combat with each other.
The victim consented to the physical act.
There was no intent to cause physical harm to another person.
There is a lack of evidence showing you touched the alleged victim, or there is evidence that you did not touch the alleged victim.
The device, substance, or instrument used was not classified as a 'deadly weapon,' as defined above.
That physical contact occurred, but it was dependent on other circumstances at play.
How Can a Battery Lawyer Help?
As soon as you have been arrested or charged with battery, it is highly recommended that you seek the advice of a Bradenton battery attorney. The sooner that you contact a law firm, the more likely that a lawyer will be able to reduce or even drop your charges.
If you contact The Law Place in Bradenton, our law firm will offer a free consultation with one of our skilled lawyers. At this free consultation, they will check the legitimacy of your case and will offer some free, no-obligation advice. If you choose to proceed with your case, we will then explore your case in much more detail. We will investigate the possible defense strategies we could use to strengthen your case and reduce the penalties you are facing. At this consultation, we will also run through our legal fees, so you are left with no unexpected costs or surprise bills.
Contact The Law Place Today
If you are facing assault or battery charges in Bradenton, then you should contact The Law Place today. Our law firm has over 75 years of collective experience in defending the accused. We understand how daunting the charges you are facing may be and how much they can impact the lives of you and your loved ones. We are here to support you in any way we can. Our offices are open 24 hours a day, 7 days a week, so we can be on hand to help at any time of day. Contact our Bradenton office today at (941) 444-4444 and receive a free consultation with an experienced assault and battery lawyer.